The Santa Fe is one of the most recognizable nameplates under the Hyundai marque not just here in the Philippines, but around the world as well. Fun fact: It's the first SUV Hyundai ever built.
This year, the vehicle reaches a new milestone as it turns 20 years old. To mark the occasion, we take a look back at what the Santa Fe has been through over its two decades of existence.
The Hyundai Santa Fe was born at the start of the millennium when it debuted at the Geneva Motor Show. The first-generation model featured a rugged look that's a far cry from what we see today. In 2006, the second-generation version was launched at the North American International Motor Show. That Santa Fe looked a lot more refined, and it also came with a new diesel powertrain that was made available along with a petrol V6 in select markets.
ADVERTISEMENT - CONTINUE READING BELOW ↓
Six years later, in 2012, Hyundai introduced the third-generation Santa Fe, and it had a much more premium appeal than before. It featured smooth lines and 19-inch wheels on the outside, matched with a high-quality cabin and a myriad of new tech on the inside.
Then, fast forward to 2018, the fourth and current-generation model was launched. It saw drastic changes, albeit welcome ones, to its overall design. In addition to the new look, the Santa Fe now comes loaded with even more tech, including Hyundai's SmartSense safety features. Suffice to say, this SUV has come a long way.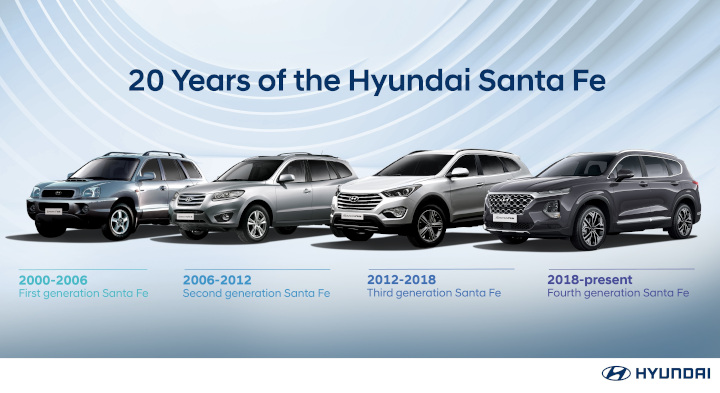 ADVERTISEMENT - CONTINUE READING BELOW ↓
Recommended Videos
Four different iterations and 5,260,000 units sold over the course of two decades—that's quite the life lived for the Santa Fe. Now, as we look at Hyundai's latest developments in recent years—as well as at the automotive landscape in general—one thing is for sure: It'll be interesting to see how the Santa Fe will evolve further in the years to come.