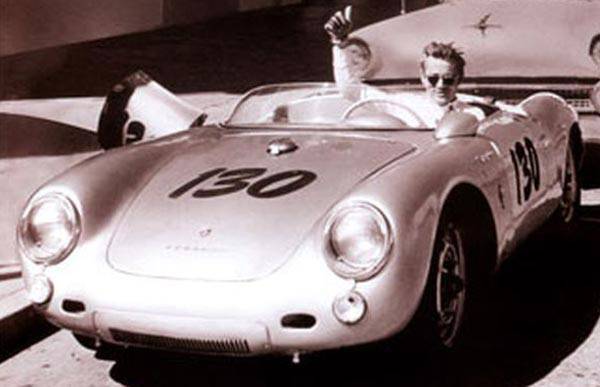 Those who've read Stephen King's novel about a possessed automobile might swear that Christine is the spookiest car ever. Probably true, except that story is fiction. When it comes to real-life cars, however, our vote for the "eeriest car ever" goes to the Porsche 550 Spyder owned and driven by James Dean all the way to his death on September 30, 1955. Apparently, Dean had traded his 356 Speedster--another Porsche--for it, and later named it "Little Bastard," in honor of the nickname bestowed upon him by his language coach.
Consider the following stories told about the car:
* It had a serial number of 550-0055, and Dean met his violent end in it in 1955 (the car's model name had nothing to do with the year; it was available in 1953 to 1956);
* Fellow actor Alec Guinness, upon seeing the car, told Dean: "If you get in that car, you will be found dead in it by this time next week." Accounts maintain that this conversation took place on September 23, 1955;
* Custom-car specialist George Barris, who designed the TV-series Batmobile in the '60s, bought the wrecked car. When Little Bastard was being unloaded at his place, it rolled off the carrier truck and injured a mechanic;
* A doctor by the name of Troy McHenry bought Little Bastard's engine and reportedly put it in his own Porsche race car. He died racing this car on October 22, 1956, according to Snopes.com; and
* Snopes.com also makes mention of another doctor who bought Little Bastard's transmission, only to also figure in a major accident; a man who purchased two of Little Bastard's tires, and crashed when said tires failed and blew out; and a truck delivery driver who was tasked to bring Little Bastard to a road-safety show, and got killed when the truck lost control.
ADVERTISEMENT - CONTINUE READING BELOW ↓
Little Bastard is now nowhere to be found. Reports say it was stolen. What do you think? Is this car truly the spookiest automobile ever, or are the above anecdotes purely coincidental (or even spurious)?
Whatever the case, we wish you a fun Halloween.
ADVERTISEMENT - CONTINUE READING BELOW ↓
Recommended Videos