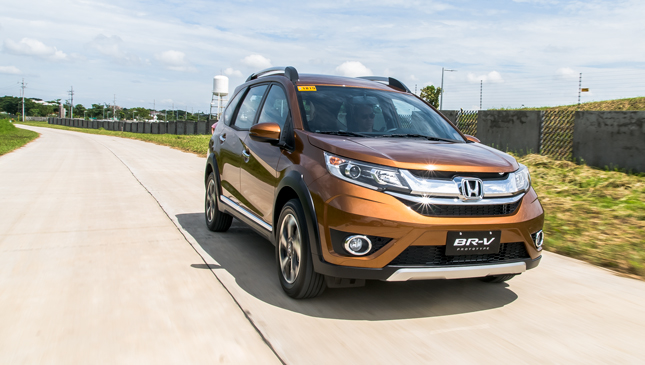 About a year ago, I wrote about how impressive the Honda Mobilio is in my Alpha Lane column. A very sensible, 7-seater wagon that had, to my mind, only one real issue: It's not very good-looking. That, of course, is a less-impolite way of saying that it's ugly. The profile is okay, if you don't mind the Dustbuster look that's so common now, but the fish face look is hard to love even with the "Modulo/RS" cosmetic upgrades.
ADVERTISEMENT - CONTINUE READING BELOW ↓
The BR-V aims to fix that and more, because in the grand scheme of economies of scale, it makes perfect sense to max out the Brio-Amaze-Mobilio platform with an upscale version of its compact family wago- oops, MPV. Thus, the BR-V looks less like the homely Mobilio and more like its swanky HR-V cousin. So, while the BR-V shares most of its essentials with its humbler siblings, you will probably forget about them the moment you get inside. Or even just look at it to appreciate the details.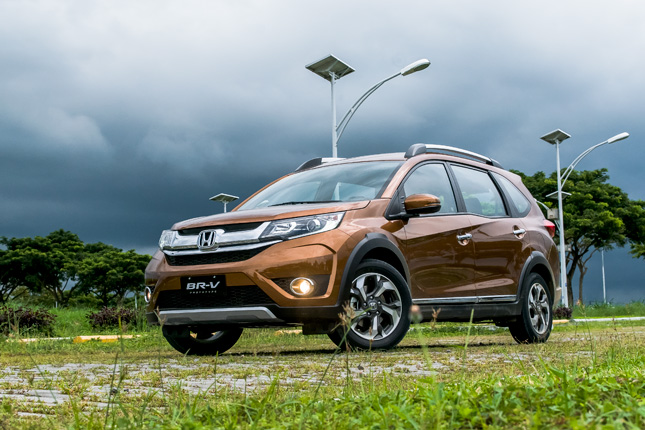 ADVERTISEMENT - CONTINUE READING BELOW ↓
Recommended Videos
The BR-V's squared off shoulders look a lot better paired with its chrome grille, avoiding the fish face look of the Mobilio. The flanks sport a little bit of cladding around the fenders, and you get the subtle creases to give this erstwhile mom-mobile some visual testosterone. And of course it has to have roof rails, #becausesporty.
With the adequately sized wheels and tires (not too big, not too small) and trademark Honda expanse of glass, it's a healthy combo of City-HR-V-Pilot aesthetic cues, and if one of the design objectives was to make it easily look several hundred thou' more expensive than the Mobilio, then Honda nailed it.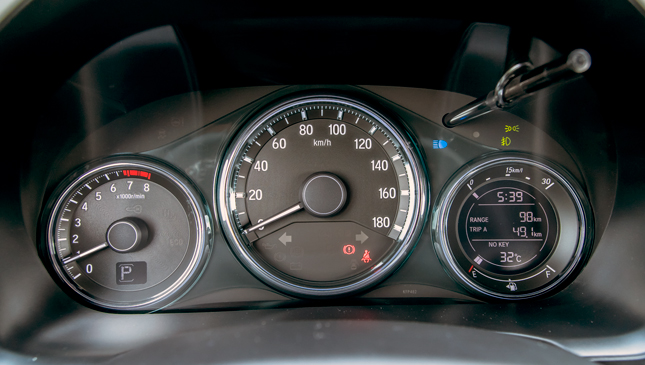 ADVERTISEMENT - CONTINUE READING BELOW ↓
The interior is similarly impressive, not because it sets any new design goalposts like the HR-V, but because it marries practicality with aesthetics. You get the big instrument panel with the beautifully lit gauges, a touch panel stereo/navigation system up top, and physical buttons for the A/C below.
It's not the full-on touch panel system of the high-end City/Jazz or HR-V variants, but it all works well enough and you likely won't pine for an HR-V just because of that. In any case, the conventional dashboard design yields a fair amount of space on the center console for coins, wallets, and cupholders; something in short supply in the HR-V.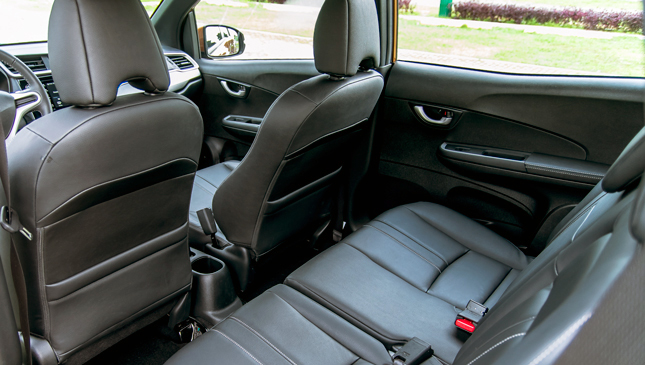 ADVERTISEMENT - CONTINUE READING BELOW ↓
The BR-V is definitely family-oriented with its generous assortment of cupholders, pockets and cubbyholders spread throughout the cabin. Once again, Honda's seating magic proves they're worth their weight in gold when it's time to transport large items. With all seven seats in use, passengers under 6' in height will be reasonably comfortable.
The third row seat is deceptively comfortable. Despite not having much more legroom than in an Innova, the bench's raised seating makes it bearable for perhaps an hour or two. And you still get a few liters of cargo space behind the third row. Fold and tumble all the seats, or mix-and-match to your needs, and you can fit giant flat TVs, bikes, potted plants, and other bulky cargo with minimal fuss.
If there's really one thing I wish the BR-V had, it's a bigger engine. Like the Mobilio, it gets by with a SOHC 1.5-liter mill. It's fine for city driving where you rarely ever reach 50kph, but load up the BR-V and the lack of grunt quickly makes itself apparent. You floor the accelerator, the revs climb, but the scenery doesn't go by much quicker than you'd hope for. The engine is breathing pretty hard just to maintain 120kph, and maintaining speed with a full load at the legal 100kph speed limit may also be a challenge.
ADVERTISEMENT - CONTINUE READING BELOW ↓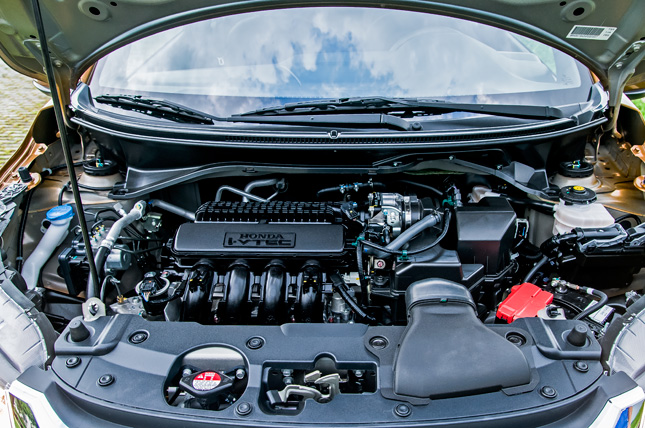 Honda Cars Philippines is only bringing in the petrol engine for this market, so we'll just have to keep wondering why the diesel in other markets doesn't make it here. At least the BR-V can be had with paddle shifters, a marked upgrade over the simpler setup of the Mobilio. Paddle shifters or manual mode shifting is rarely ever used in an automatic-equipped car, but it's very much appreciated when it finally comes into play. The ability to hold a "gear" is essential to keeping the car in its sweet spot, especially on a technical section or a long climb.
ADVERTISEMENT - CONTINUE READING BELOW ↓
As underwhelming as the BR-V's engine is, it's hard to fault the overall driving character. The steering is precise, the brakes have a lot of bite and are very linear and responsive, and the suspension is nicely balanced between firmness and comfort. It seems to have less floatiness at speed than the Mobilio, which could be down to firmer shocks and the lower profile tires.
Our prototype unit, which should be very close to the final production Navi CVT-spec, came fairly loaded with all the modern conveniences and safety kit you'd expect these days: dual front airbags, ABS, Hill Start and Vehicle Stability Assist. You can turn off the latter if you ever want to play Tito Drifter on loose soil, but really, there's only so much action you can get even in a BR-V.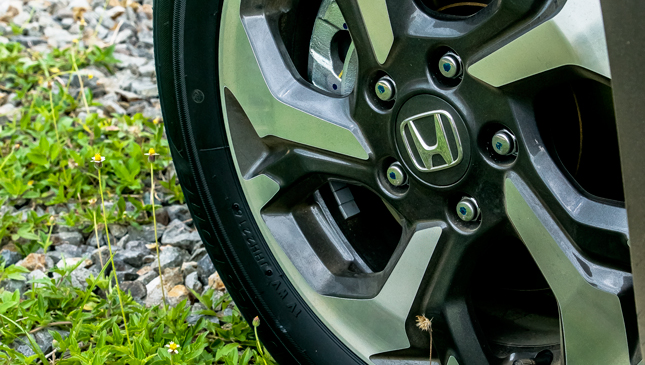 ADVERTISEMENT - CONTINUE READING BELOW ↓
The BR-V rides on 60-series, 16-inch tires and independent front and rear beam-axle suspension; fairly standard stuff these days. Ground clearance of just 201mm is fairly modest, so don't go playing Das Boot with this Honda, or even rolling up and over a pesky curb unless you want to damage the underside. It does come with a snazzy front skid plate for some protection, but let's not kid ourselves. If you want to play Off-Road Hero, go get yourself a pickup truck and spend another half million on aftermarket mods.
The BR-V is all about moving people in comfort and style for not too much money. You get more nice stuff, too, like a Smart Key with push-button Engine Start, and snazzy LED position bulbs in the modern halogen headlamps.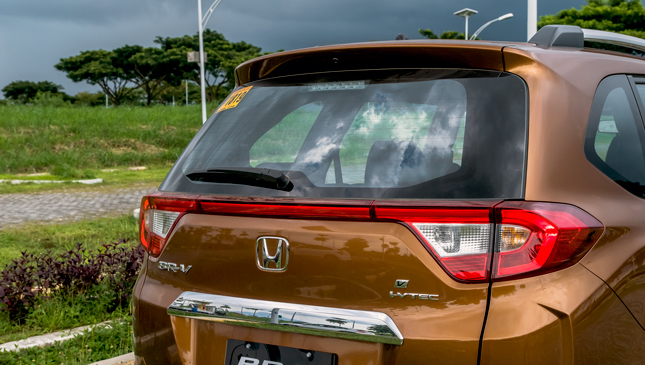 ADVERTISEMENT - CONTINUE READING BELOW ↓
Whereas driving the Mobilio is all about practicality and functionality, the BR-V injects a dose of sophistication into the otherwise mundane role of a family car in everyday driving. Few manufacturers can get the tactile sensations and visual treats right the way Honda does. The three-spoke steering wheel with its alloy spokes and mesh panels evoke its motorsports heritage, while the angular cockpit with the huge window areas can make you imagine you're piloting a starship. See, sometimes you don't really need to go nosebleed-fast to have a bit of fun on the open road.
High-grade materials are used for the plastics, fabrics and leather, all justifying the premium over Mobilio. It's not quite Business Class yet like the Odyssey, but close. With the MPV market feeling tight these days, with choices like the Toyota Avanza and Honda Mobilio at the "budget" end of the spectrum, and the Innova and Kia Carens in the mid range, tossing a BR-V in between those two makes sense for Honda, and is bound to further confuse buyers still undecided what MPV to drive home.
ADVERTISEMENT - CONTINUE READING BELOW ↓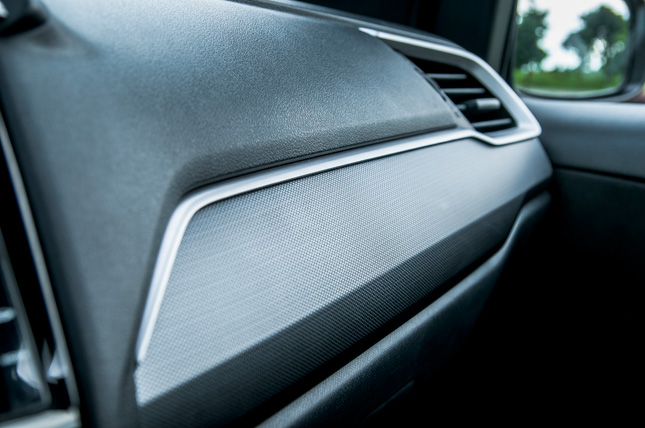 The Innova has a bulletproof reputation and has gone upscale to justify its price increase, while the Kia is a solid acquisition for the buyer who wants a low-key wagon with European feel. The BR-V is the quintessential Honda for the family-oriented buyer who's outgrown the City/Jazz, but wants something that feels more special than the workman-like Mobilio. Like the difference between Uber X and Uber Black, the BR-V delivers an upscale look and feel to its line of MPVs that can only bring more customers into Honda showrooms.
ADVERTISEMENT - CONTINUE READING BELOW ↓
ADVERTISEMENT - CONTINUE READING BELOW ↓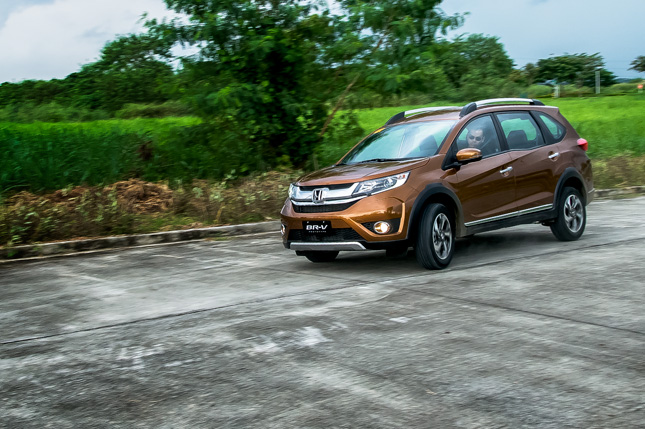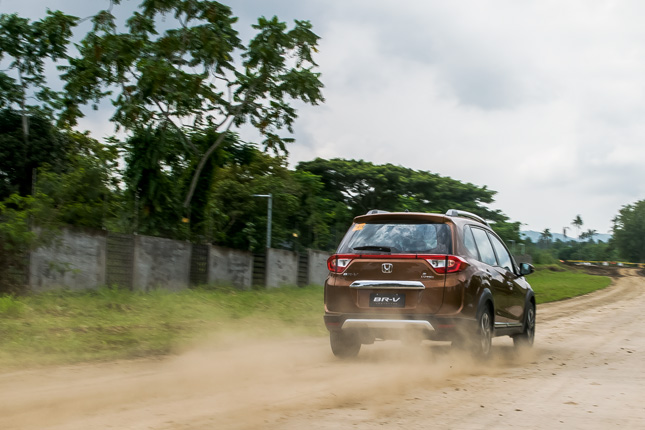 ADVERTISEMENT - CONTINUE READING BELOW ↓