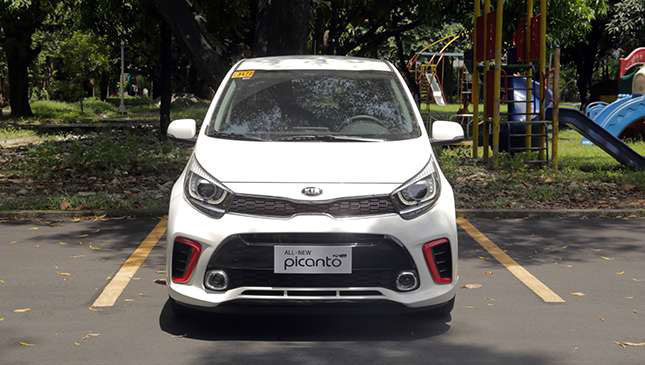 It's hard to believe that the present-day Kia Picanto shares a heritage with the Pride from decades back. That old hatchback sold well thanks to its interior space and price point, but it wasn't exactly what you'd call a good-looking car. Kia's vehicles (and any with a Korean badge, for that matter) tended to suffer from that stigma in the past, among others.
ADVERTISEMENT - CONTINUE READING BELOW ↓
Thankfully, Kia's look and reputation have improved a lot since then, thanks in no small part to the arrival of former Audi designer Peter Schreyer to the company. With his direction, the Kia econoboxes of old have transformed into sleek, Euro-inspired vehicles that turn heads at car shows and official launches. The current Picanto, which debuted in the country last year, certainly ticks all those boxes.
In particular, the top-spec GT Line is a head-turner. It sports red accents and a sporty body kit, as well as a redesigned tiger nose grille and an aggressive front fascia. You also get new headlamps with LED daytime running lights. Underneath, you get a stylish set of 15-inch alloy wheels.
Inside, you get a mostly plastic but well-built cabin with quirky colored accents to match the exterior paint. The seats in the GT Line are a denim-like fabric with red stitching, further accentuating the Euro styling. The tiller in the top-of-the-line variant feels premium because of its leather wrapping. Features in the GT Line include automatic headlights and alloy pedals.
ADVERTISEMENT - CONTINUE READING BELOW ↓
Recommended Videos
Prices for the Kia Picanto are as follows: P635,000 for the base 1.0-liter MT, P696,000 for the 1.2-liter AT, and P798,000 for the GT Line.
In the future, it'd be nice if Kia included a touchscreen infotainment system with Bluetooth connectivity to further upgrade the car's interior amenities. An automatic transmission with more than four gears would also be ideal, as well as ABS in the cheaper variants. It's a bummer that those things aren't already standard across the range given their widespread availability in competing brands.
Still, as far as styling goes, the current iteration of the Picanto is one of the best-looking hatchbacks on the road in 2018.