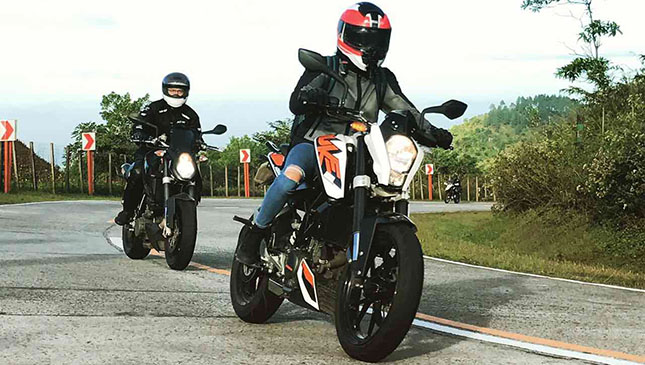 I'm a lady rider and I've got a 2014 KTM 200 Duke in my garage. From the day I got this orange machine, it has been my daily ride mostly for city use or for gliding around Metro Manila.
I gave it the nickname "13." Her orange and white skin reminds me of a ripe pumpkin, the symbol of Halloween. And what also reminds me of Halloween is Friday the 13th which is associated with bad luck. That doesn't bother me, because call me strange but I have this knack for reversing misfortunes. With a good attitude toward life, I turn negative vibes into positive. The same goes with my faithful partner, the KTM 200 Duke.
We all know what city driving is like in Metro Manila. It's all about lane filtering in heavy traffic, sitting under the heat of the sun, enduring potholes, and surviving rain and flood. But these obstacles never prevented me from riding—especially with 13.
Occasionally, I take 13 out for a longer ride during weekends. This naked motorbike and I have had a two-year relationship and more than 8,000km of travel together.
Here are more reasons why I keep riding her:
1) The KTM Duke is gorgeous. I mentioned this because aesthetics play a big factor when women buy things. A good-looking bike is a good-looking bike, period. When KTM came out with the white and orange version, I was sold. I find the lines of the 200 Duke super sexy. The headlight exudes a badass appeal, the exhaust system neatly tucked under the strong trellis chassis is a turn on, and its pair of 43mm upside-down forks give it an edge over its counterparts within the same price bracket. I can say that the entirety of this Austrian naked bike is so awesome.
2) Even though it says '200' decal on its tank, no big biker ever bullied me on this entry-level bike.
3) I love its instrument panel. Being my second bike, I have witnessed a huge improvement from a basic display to one with all the frills and thrills. In fact, I have become spoiled since it leveled up my standards on motorcycles. Apart from the digitial speedometer, the KTM 200 Duke instrument display features a gear shift indicator, engine temperature, fuel level indicator, tachometer, check up/service range warning, trip gauge and more. This is a far cry from many other motorcycles, and definitely plus pogi points for the 200 Duke. Also, clipped on the handlebar just below the instrument panel is my small 'shout-out bag' where I keep some of my little stuff.
4) The 200 Duke possesses athletic qualities that strengthen KTM's "Ready to Race" tag line. Although propelled by a small single-cylinder, four-stroke engine, the 200 Duke can hit a top speed of 138kph. During out-of-town trips on weekends, the quick throttle response gives this bike a nimble yet aggressive character.
5) The 31.5-inch seat height of the 200 Duke is perfect for my 5'2" frame. Having a small frame but blessed with an athletic pair of legs and arms, maneuvering the 200 Duke through the tight city traffic is easier than most people think. Even after heavy traffic,  the Duke leaves me with more than enough energy to effectively perform my work as fitness instructor. 
6) In terms of versatility, the 200 Duke behaves well either in the city or during long rides. Replace its tires with semi-knobbies and you can hit the dirt track any time. It's like a cool kid that fits in different situations and road conditions. Adding up to its mighty stance is its 165mm ground clearance to keep the engine from hitting big rocks and other debris on the road.
Before I bought the 200 Duke, some riders warned me about choosing a European bike due to talks about poor aftersales service support. I was struck by love at first sight, so I insisted on having a 200 Duke. Fast forward to 2016 and I still haven't encountered a serious problem with my 13.
Could this mean that Lady Luck is really on our side?