1. Folding 'leather' seats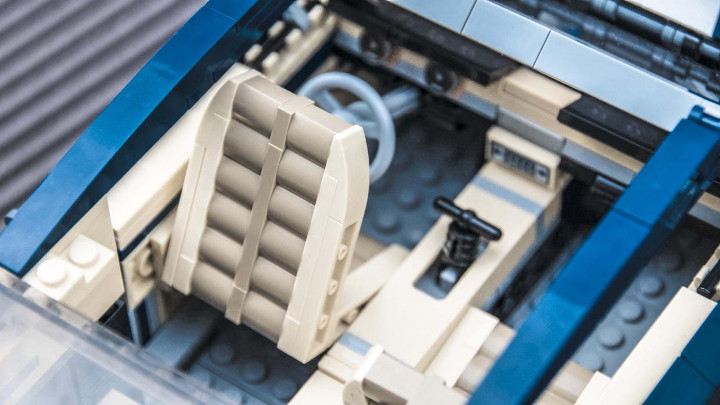 Fiddling ones to build, thanks to the amount of curiously ribbed brown pieces that need slotting between the beige piping. The end result is a classic piece of abstract Lego thinking, turning hard plastic bricks into something that looks comfy enough to lounge in. And thanks to hidden hinges underneath, they even tip forward, for rear seat access. Hours of fun. Who needs an Xbox?
ADVERTISEMENT - CONTINUE READING BELOW ↓
2. Nitrous tank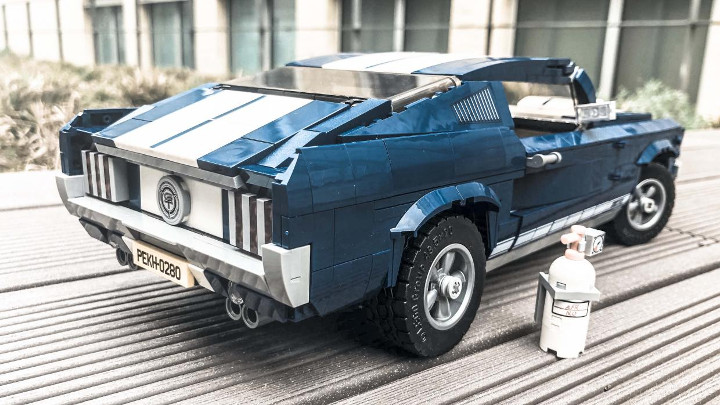 One of several 'optional extras' in the kit, the nitrous tank is made of the pieces you use to jack up the wheel-less car earlier on in the build. Snapped together with a pressure gauge on top to finish, it lives in the generous trunk. You can also add a supercharger that sprouts from the hood, an adjustable rear wing, and a deeper front air dam, for a Fast & Furious movie-hero look.
ADVERTISEMENT - CONTINUE READING BELOW ↓
Recommended Videos
3. Bespoke alloy wheels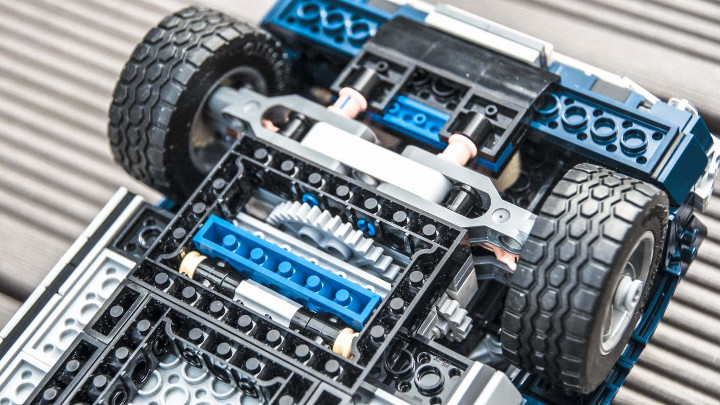 Nerd fact for you. Lego already had some retro muscle-car wheel pieces in its inventory. But there wasn't enough space inside the rim to fit steering arms, and the designers weren't happy with the Mustang GT going on sale with steering fixed straight. So, they got an ever-so-slightly wider rim signed off that's got just enough room inside to squeeze in steering gubbins. Happily, it's still a modest size of rim, so the car doesn't look at all 'bling SEMA restomod.'
ADVERTISEMENT - CONTINUE READING BELOW ↓
4. Muscle car in mirror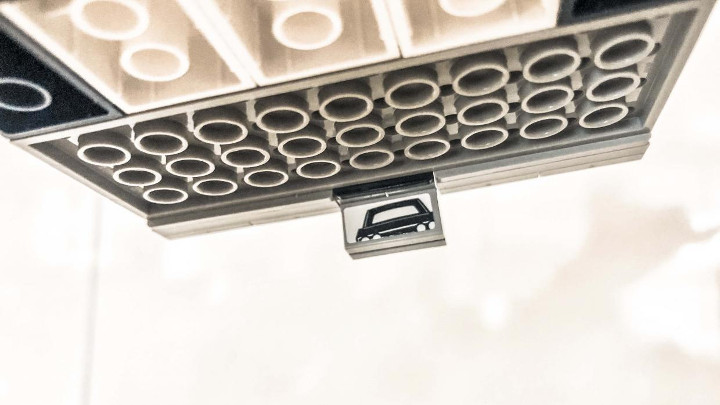 Well played, Lego. Paying homage to that classic chase in Bullitt is a very cool detail. Just like the legendary scene featuring Steve McQueen in a Highland Green Mustang Fastback, there's a pesky muscle car in the rearview mirror that needs shaking off…
ADVERTISEMENT - CONTINUE READING BELOW ↓
5. Changeable license plates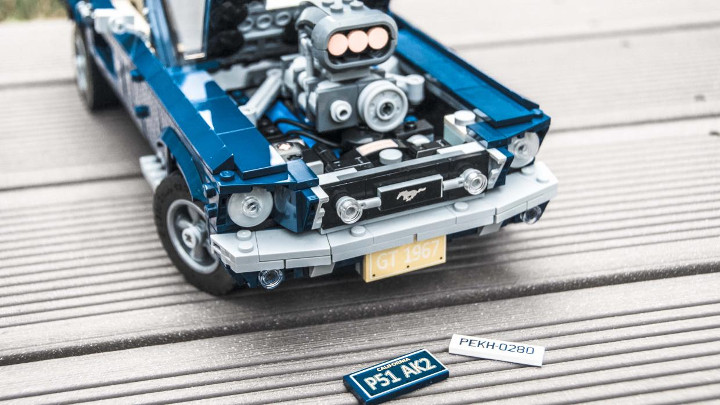 Bit more fiddly than James Bond's rotating plates, mind, but still worth having. There are British, German, and American-style license plates in the set, and one pair even echoes the 'plates fitted to one of the Lego team's chief designers, who owns—you guessed it—an old Mustang. When you're not using the spares, they fit nicely in the trunk. Practical!
ADVERTISEMENT - CONTINUE READING BELOW ↓
6. Detailed V8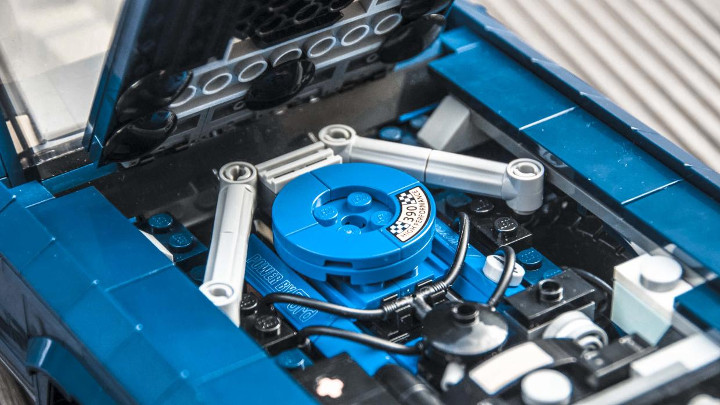 Just look at that. No bespoke 'engine' pieces, and yet that couldn't be anything but mini-V8, could it? This is the 'standard' engine that lives below a hood scoop, complete with white racing stripes.
7. Supercharger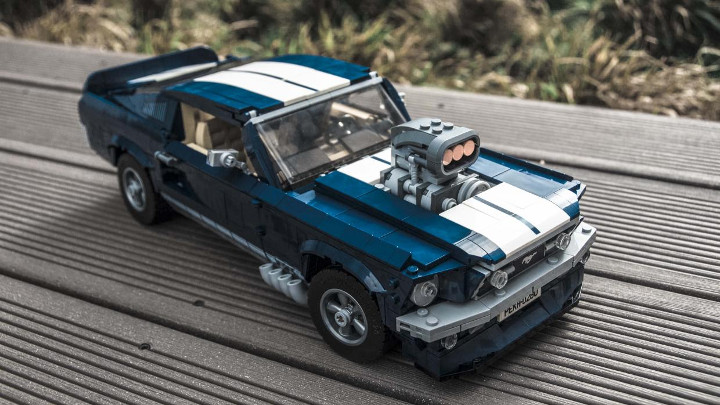 ADVERTISEMENT - CONTINUE READING BELOW ↓
Mean, isn't it? Remove the hood scoop, fit the supercharger and you'll have a true hot-rod, especially once you fit the side-exit exhaust pipes, adjustable rear wing, and the deep front splitter. We're undecided as to which spec looks best...
8. Treaded tires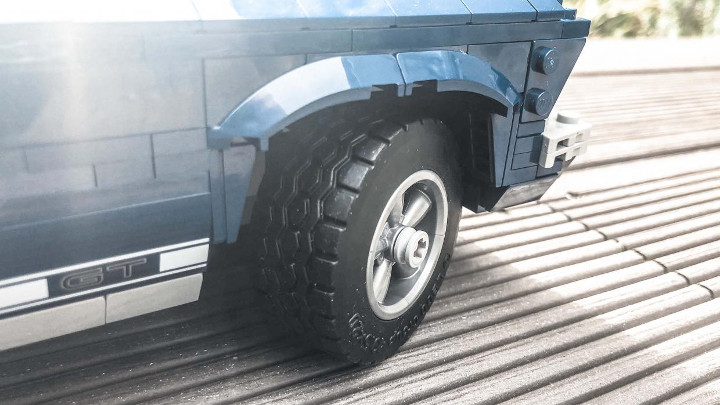 There's an old pub fact that Lego is the world's biggest tire maker, with the millions of rubber circles needed for its kits outstripping the production of Pirelli, Michelin, Goodyear, and so on. So, Lego could have lobbed any old slicks onto the 'Stang, but we're delighted they went for a set of high-profile crossply treads, for an even more retro look.
ADVERTISEMENT - CONTINUE READING BELOW ↓
All told, the whole thing's a lot less stressful to build than the Lego Bugatti Chiron. Cheaper, too. Just like the real thing, then.
Right. We've finished this one. What should Lego model next?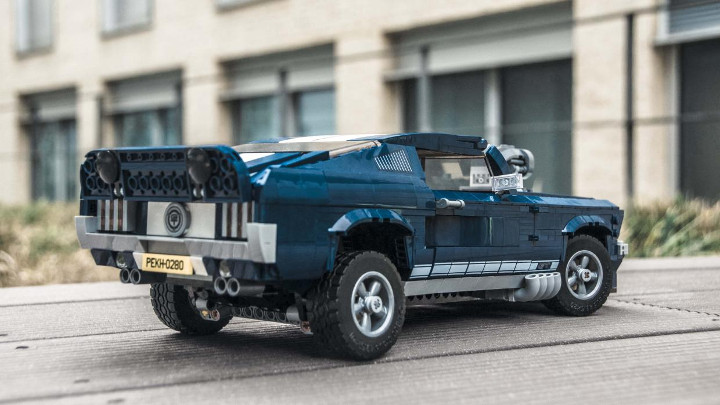 NOTE: This article first appeared on TopGear.com. Minor edits have been made.
ADVERTISEMENT - CONTINUE READING BELOW ↓