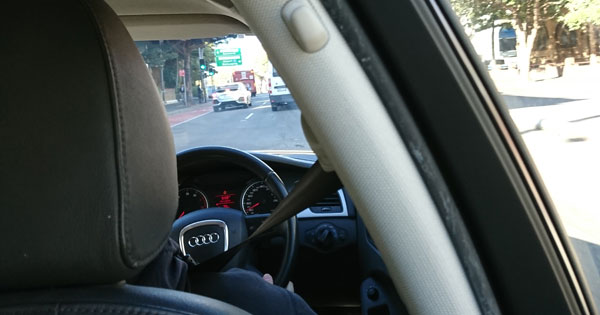 Recently, I was waiting outside a hotel in Sydney, Australia for a ride to the airport. I logged on to Uber, and to my surprise the driver of a white Audi A4 accepted my booking. After having spent the last few years riding TNCs in the Philippines, I was expecting an affordable Japanese or Korean model to flash on my screen. Getting the chance to ride in a luxury German sedan was a refreshing change.
Soon enough, the Audi pulled up right in front of the hotel lobby and the driver hopped out to help me with my luggage. As we took off, though, we noticed that a police officer was glaring at the car's plates and entering something into a small gadget.
Continue reading below ↓
Recommended Videos
My driver, seeing the sign in front of the hotel and realizing what he'd done, rolled down his window and pleaded with the officer to give him a chance.
"Mate," the officer said in a stern Australian accent. "That sign says 'No Stopping.' Do you know what that means?"
"Please," my driver yelled. "Just give me one more chance!"
But the officer wouldn't have it: "If I give you a chance, what's to stop me from giving the next guy a chance, too? The sign is clear, you shouldn't have stopped there. What you're asking me to do is corruption, and I don't do that. Now, move along."
Now take note that the hotel wasn't on a major thoroughfare. It was actually on a cordoned-off street which had become a dead-end road because of nearby construction. So it's not as if the Audi was impeding traffic in any way In fact, I didn't actually see any other cars moving along the street while the Audi was there.
And yet, the police officer saw it in black-and-white terms: the driver broke the law, so he was getting a ticket. It didn't matter that he'd only stopped for a minute, or that he was driving a fancy German car. The law was the law, and that was the end of it.
More refreshing for me than the plush German leather was seeing how law enforcement can be blind to car models or the convincing pleas of a motorist. I wish we could see more of that at home. More luxury TNCs wouldn't hurt, either.