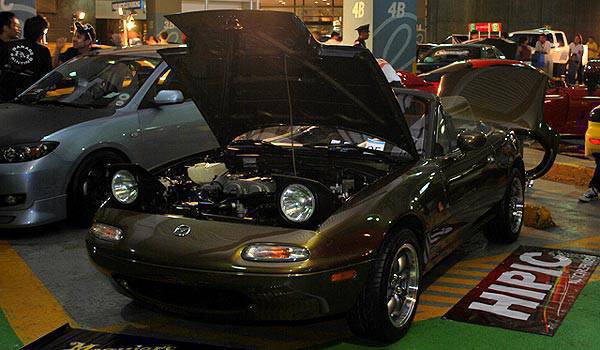 Mazdatech held its 7th Annual Carshow at the Robinsons Galleria open parking lot on September 5. I've attended plenty of car shows, but this is the only car club I know that holds its annual event in a mall. Aside from the convenience of being near shopping and food establishments, another advantage of having an event in a mall's covered parking space is never getting rained on. And it was rainy that Saturday.
Those who have been part of the car community for some time might be more familiar (future pun intended) with Mazdatech when it was called Protege Tech. It was founded by a handful of Mazda 323 Familia owners and the 323 was called the Mazda Protege in the US market, thus the club's first name. But now Mazdatech is home to all models of the growing Mazda range, including rare but popular MX-5s and even more rare RX-7s. Of course the bulk of the cars still comprised the original 323 Familias and the current generation Mazda3.
Continue reading below ↓
Recommended Videos
Mazda die-cast models were also displayed, and the RC Drifters demonstrated their skill which made the whole event more interesting. These remote control cars are fun to watch, especially for those seeing them do their thing for the first time. They really drift! Plus spectators get to see the amusement drifting brings on a smaller scale, and without the discomfort of being on a hot track.
There was also official support from Mazda Philippines in the form of new car displays. Very helpful for Mazdatech members who are thinking of displaying a new car project next year. Although seeing the love and time (and money) the owners spent on their cars, I doubt any of them are upgrading soon.
Mazdatech founding member Andy Adan's multi-awarded car "Mr. Blue" was one of the first cars seen when you're walking from the mall. There were so many trophies he had to make a stand for them; if they were placed on the hood they would have left a big dent. After that it was row upon row of Mazda cars showcasing the members' creativity.
One of the car show judges, John Escobar, noted the quality of the installs of the Mazdatech cars. "The level of competition among the members elevates each year. It is always a delight to comeback each year because the members have the ability to surprise us. Hindi nakakasawang bumalik. Some of the members' rides have become good enough to be featured in magazines and compete in bigger shows," Escobar said.
This may be the 7th Mazdatech Carshow, but the club has been around much longer than that. It shows in how their event ran like clockwork, and it is also a reflection of the experience club officer Andy Adan has in managing car shows. It's going to be difficult to pry members away from this group.
The Best of Show winner gets to have a weekend test drive with the new MX-5 and a trophy. But the rest of the members don't look too envious, they look happy just being there and showing off their babies. And when members have that feeling, I know I'll see them again next year in Robinsons Galleria, rain or shine.
Here is the list of winners at the Mazdatech Carshow:

Chairman's Cup (Best of Show) -- Mazda Familia, JR Espinosa
Best Gen 1 (1992-1995 Mazda 323) -- Kristian Ramos
Best Gen 2/2.5 (1996-1999) Mazda Familia -- Mark David
Best 323F (Lantis) -- Francis Capili
Best Mazda 3 -- Philip Hinolan
Best two-door Mazda (1992-1995 Mazda 323 Hatchback)-- Michael Nas
Best SUV (Ford Expedition)-- Rommel Santos
Best Kia Pride -- JR Cabrera
Best in Paint (Mazda Miata)-- Jameson Dimal
Best Engine Bay (Mazda Miata)-- Jameson Dimal
Best Mobile Entertainment Setup -- (Ford Laser) Jun Salvador
Best in Sound Quality (Mazda 323F Lantis)-- Francis Capili
Best Body Kit -- (Mazda RX-7) L. Catacutan
Best Graphics (stickers or airbrush) Mazda 323-- Jigs Tinao
Best Performance-based Ride (Mazda RX-7)-- Charlie Cruz
Lowest Ride with Body Kit -- (Mazda RX-7) L. Catacutan
Lowest Ride without Body Kit -- (Mazda 323 Familia) Joseph Kalaw
Crowd Favorite -- (Ford Laser) Jun Salvador
Newcomer of the Year -- (Mazda 323) Allan Punzalan