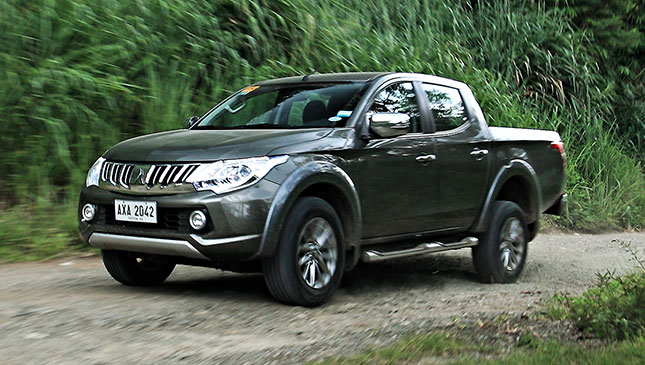 Stylish, easy to drive and comfortable--many years ago these three terms weren't ones you would normally associate with pickup trucks, which were often viewed as pure workhorses. Fast forward to 2018, and the segment's landscape couldn't be any more different.
The current-generation Mitsubishi Strada is one very fine example of the pickup truck's evolved form. For starters, it's the sleekest model in the segment in terms of exterior aesthetics. There are relatively few questionable angles or edges to take in, and the whole front appears to sweep back, highlighted by a large grille flanked by nice headlight designs.
ADVERTISEMENT - CONTINUE READING BELOW ↓
Inside, there's a nice mix of style and practicality. There a modern, curvy dashboard design with some decent trim, fabric seats, no-frills door panels, and a dark overall vibe about it. There's the option of modern convenience features such as a touchscreen infotainment system with Bluetooth audio, cruise control, and a reverse parking camera, too. It looks like Mitsubishi has all the basics here covered.
Perhaps the biggest area of improvement for the modern pickup truck is in terms of comfort. The Strada, for example, remains stable across typical road imperfections and corners. Sure, the worst of EDSA might still have passengers bobbing up and down a little bit. But the point is ride quality has come a really long way. In fact, don't be surprised to see that some people have turned to a pickup for their daily driving needs.
The Strada is available in either 2.5-liter or 2.4-liter diesel engines with varying outputs. The top-spec 4x4 GT is capable of 178hp and 430Nm of torque. If you're on a budget, there's a wide selection of variants to choose from with different levels of performance.
ADVERTISEMENT - CONTINUE READING BELOW ↓
Recommended Videos
With modern looks, an up-to-date feature package and an impressive ride, the L200 Strada is everything a pickup truck should be in 2018. Do you agree?