Estancia Mall's opening a few years ago brought some much-needed open space and new facilities to Ortigas shoppers. Now, the Capitol Commons facility it sits on is busier than ever, with a supermarket already open and nearby condos on the rise. Here we take a quick look at what it's like to park at this ever-popular mall in Pasig City.
Rates
Once upon a time, Estancia's parking rate was P50 flat for 24 hours. It was a different, simpler time, back when engines were aspirated naturally, manual gearboxes were the norm, and amenities like power windows were no match for a lever and a little elbow grease.
Okay, fine, so that was only a few years ago. As of writing, the rate for cars is P50 for the first four hours, and P20 for every succeeding hour. For motorcycles, it's a flat fee of P50. 
Nothing to really complain about, in short. We understand that the parking fees were bound to go up as the mall grew bigger. We just can't help but feel nostalgic about the old rates. That said, we commend the mall for its very generous grace period. We've parked there before to buy one item without paying a centavo for parking.
Layout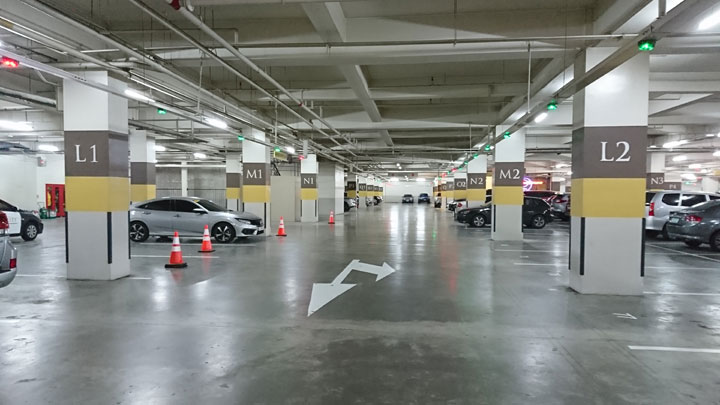 ADVERTISEMENT - CONTINUE READING BELOW ↓
Estancia's parking has lots of wide lanes to maneuver through, with large and legible arrows indicating the correct flow of traffic. Even the one-way lanes are quite wide. You won't find yourself having to squeeze through a tight lane if another car is coming through. Also, more parking slots have been added under the newly opened Unimart, though that one has a separate entrance).

Make sure to follow those arrows—I once went the wrong way and almost rammed into a higher-up at the company I worked at. I was livid, until I realized I was the idiot in that situation and that I valued my paycheck.
Slot size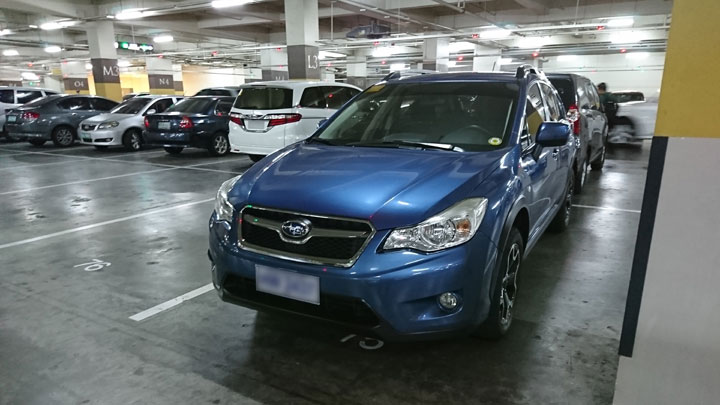 For this test, we took along a first-gen Subaru XV. The parking slots were quite roomy for the crossover. We've also parked midsize SUVs and pickups here, and still found the slots to be ample. Tall vans, like the Nissan Urvan Premium, can fit up to the first level. The slot sizes are pretty consistent all throughout the facility. Worth noting are the parallel slots near the mall entrances. Space there is so generous that you need next to no skill to slot your car in.
Extra features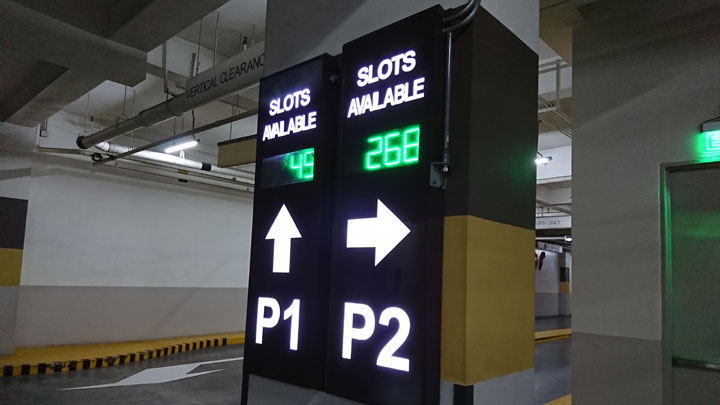 As you make your way down the parking ramp, you'll spot several signboards that indicate how many slots are still available. In our experience, the count is pretty accurate and saves you from having to do laps as you look for an empty spot.
We do have to note, though, that we preferred the old parking tickets made of thick paper. The receipt-like tickets now are easier to misplace, and could easily crumble when stashed in your pocket for a long time. We wouldn't mind if they reverted back to the old ones. If wastefulness is a concern, perhaps they can switch to the standard card system of other parking lots so that the tickets can be reused.
Accessibility
Entrances to the parking lot are clearly marked, as are the exits. The mall entrances are also well-lit and easy to spot from inside your car. PWDs get a number of exclusive parking slots near the entrances and elevators.
ADVERTISEMENT - CONTINUE READING BELOW ↓
Personnel
There are numerous guards spread out throughout each level. After a certain hour, some exits and levels are blocked, but the personnel are happy to help you find your way out. The parking is also easily accessible even after the mall closes.
Overall score
Out of 5, we'd give Estancia Mall's parking a solid 4.5. It's spacious and well-lit, and has plenty of slots for mall-goers. Our only gripes are the price (an economic reality that no one can do anything about) and the material used for the tickets.