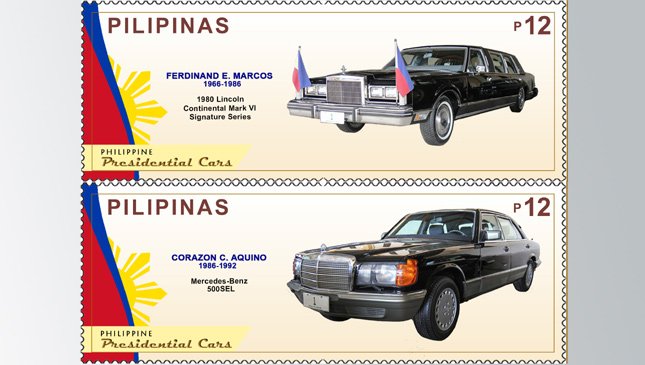 Snail mail may be considered by many to be a relic of a bygone era, but just like vinyl players and film photography, there's still a certain appeal to the practice that makes it worthwhile.
There's just something oddly satisfying about sending a letter or post card the old school way. But if nostalgia isn't enough reason to get you mailing again, maybe this is: The Philippine Postal Corporation (PHLPost) and National Historical Commission of the Philippines (NHCP) are turning classic and modern presidential cars into postage stamps.
This commemorative stamp line features vehicles such as Emilio Aguinaldo's 1924 Packard Single-6 Touring, Manuel Quezon's 1937 Airflow Custom Imperial, Jose P. Laurel's Packard Custom Super Eight, Ramon Magsaysay's 1955 Cadillac Series 75-23, and a certain dictator's 1980 Lincoln Continental Mark VI. The stamp line covers modern presidents as well, including Joseph Ejercito Estrada's Mercedes-Benz S600 and Gloria Macapagal Arroyo's Mercedes-Benz S600 Limousine V140.
Continue reading below ↓
Recommended Videos
PHLpost's postmaster general, Joel Otarra, is calling for all Filipinos to grab a stamp, as well as a piece of local motoring history in the process: "In coordination with the National Historical Commission of the Philippines, we want all Filipinos to appreciate the historical significance of these presidential cars and in the lives of our former head of state through these wonderful pieces of postage stamps."
A total of 8,000 of the abovementioned commemorative stamp sheetlets have been printed out, carrying a price tag of just P12 each. These are set to be unveiled at History Con 2018. Whether you're a car guy, history buff, or just looking for a hobby, these stamps might just be worth your while.