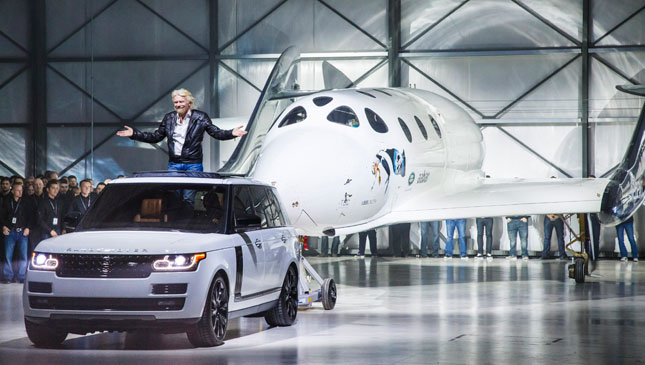 The SpaceShip Two is the latest aircraft of Virgin Galactic, the company founded by Sir Richard Branson to revolutionize space travel. At the unveiling of VSS Unity, the official name of the new SpaceShip Two, a Range Rover Autobiography towed the spaceplane in front of media, special guests and Virgin Galactic's "future astronauts."
Branson himself rode inside the top-of-the-line Range Rover as it pulled its precious cargo behind it. The partnership between the two British companies goes beyond glitzy launches. A fleet of Land Rover vehicles currently provides support for Virgin Galactic at its base in Mojave, California, and will continue to be part of the company's commercial operations.
Mark Cameron, Land Rover global brand experience director, said: "Helping the team unveil the new SpaceShipTwo not only reflects our supporting role in the Virgin Galactic program, but it was also an impressive display of the Range Rover's towing capability. We share the same long-term vision to invest in innovative design and technology to help us go further and achieve more. Not simply to enable mankind to explore, but to develop this partnership to inspire others. This is a very special match of brands based around a shared vision."
Both Virgin Galactic and Land Rover run community-relations and education programs, which encourage young people to consider a future in science, technology, engineering and mathematics.
Continue reading below ↓
Recommended Videos
We admit the idea of space travel is enticing, if a little scary. But we'd jump at the chance to be a passenger in a Range Rover Autobiography any day.