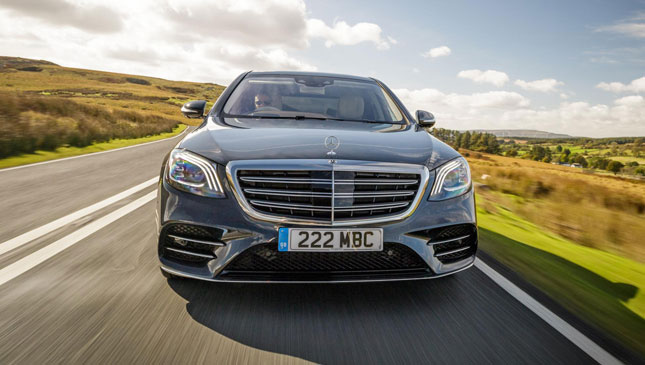 Do love an S-Class…
Don't we all. It's the quintessential big, luxurious sedan. Frequently imitated but never bettered. And last year's facelift made it better still. Mercedes added many new things, chief among them new in-line six-cylinder engines in gas and diesel. We've driven the latter in the big-selling S350d, and it's a superb engine. Much quieter and punchier than the ancient V6 it will before long entirely replace in Merc's lineup.
But how about the gasoline?
Things get off to a bad start, frankly, because Mercedes has chosen to call its 3.0-liter, six-cylinder, gasoline-powered S-Class the S500. And 500s should have eight cylinders, not six. To make up for the cut in displacement, it's added a turbocharger, an electric compressor, 48-volt electrics and something called an 'Integrated Starter Generator'. The ISG acts as a starter, alternator and kind-of electric motor, and effectively turns the S500 into what's known as a mild-hybrid.
Continue reading below ↓
Recommended Videos
Sounds complicated…
It is. The ISG lives between the nine-speed automatic transmission and the engine. Among other things it helps power all the car's ancillaries (climate control and so-on) and means they keep functioning without the engine switched on. It gives a 21hp boost when the conditions demand, and means the car can 'glide' when the driver lets off the gas with the engine completely switched off (no EV only-running, though). It makes the start/stop system smoother and more efficient, and eliminates the need for any belt drives on the engine's front face.
So it's super fuel-efficient?
Nah. Mercedes claims 14.5km/L and driven normally you'll see low teens. Not massively better than what you'd get from the old V8, and some way south of the diesel's 18.5km/L. It's pretty quick though—0-100kph happens in 4.8secs—but exploiting its 451hp is always an exercise in convincing yourself such swift acceleration is really necessary. This is an S-Class. If you need to accelerate with any degree of urgency, you are quite simply driving it wrong.
My colleague Ollie Marriage had a go and wasn't entirely sold on the execution, but on my commute the S500 handled itself reasonably well. In practice it feels little different to drive than a regular S-Class, which is arguably the biggest compliment you can pay it, but begs the question: If it's not that much more economical than the old V8, and if anything is less satisfying (if smoother/quieter) to drive, why bother adding all those layers of complication? Emissions/PR—many reasons, each more cynical than the last.
As a technical exercise the S500 is certainly impressive, and it's arrived just in time to capitalize on a swing away from diesel. But Mercedes is asking one hell of a premium—at £85,215 (P6.2 million) it's £10k more than the equivalent, LWB AMG-line and quite superb S350d. So as technically impressive as the S500 is, the S350d remains our choice S-Class.
NOTE: This article first appeared on TopGear.com. Minor edits have been made.