Matinee-idol status aside, Richard Gomez is, in fact, a dyed-in-the-wool car aficionado who has a passion for motorsports and an impeccable taste in automobiles. What better way to kick off our all-new Car-Struck section than by hanging out in Goma's garage while finding out what gets his motor running?
After his acting career took off, Richard immediately began to have an interest in karting. Clothing giant Bench built a team around him, and the group had a measure of success during the two years that it was active. "Ed Bolanos was our manager then," Goma recalls. "We had a great history and we won a lot of races. As a novice, I missed the national championship by one point to Roland Hermoso."
Competition was stiff as the team diced it out with local legends like Mandy Eduque, Pepon Marave, Mike Potenciano and Jojo Silverio. Richard acknowledges that Jojo was the smoothest driver. "I would stay behind him and watch his line," he shares. To take his racing to a different level, Richard joined his father in California to train at the Jim Hall Kart Racing School. Not many people know that his father—a test driver for Mazda back then—was a staunch supporter of his career in racing. Being a gearhead definitely runs in the genes.
Continue reading below ↓
Recommended Videos
Richard's enthusiasm also extends to the two-wheel variety, having competed in motocross—with varying results. "When my wife was pregnant in 2000, she saw me crash. I didn't do triple jumps, and I was using a four-stroke bike that was very different from a two-stroke. When I landed, nag-endo ako! I wasn't hurt, but I fell right in front of my wife who was pregnant. I thought she was going to give birth right there!"
He has since given up racing motorcycles, and switched to leisurely trail-riding, which is much less dangerous. Mountain-biking and road-cycling are also things that he enjoys doing, which explains why his favorite ride these days is a Toyota Hilux.
Before getting married, Richard had a taste for sports cars—Mercedes-Benzes, in particular. "My wife didn't really have anything against them. It lessens the tension," he laughs. He has since ditched those cars for sedans and reliable four-wheel drives. "I have off-road vehicles because they are more my type. I am usually out in the provinces when I'm not working. I love going to rice fields and taking photos outdoors."
Richard started photography way back in 1987, but now that he has more free time, he plans to really get into it. He has already done an exhibit for Canon. In fact, Richard will be shooting for Top Gear as a contributing lensman.
Goma seems to be able to do it all. Best of all, he has managed to remain genuinely car-struck amid fame and fortune.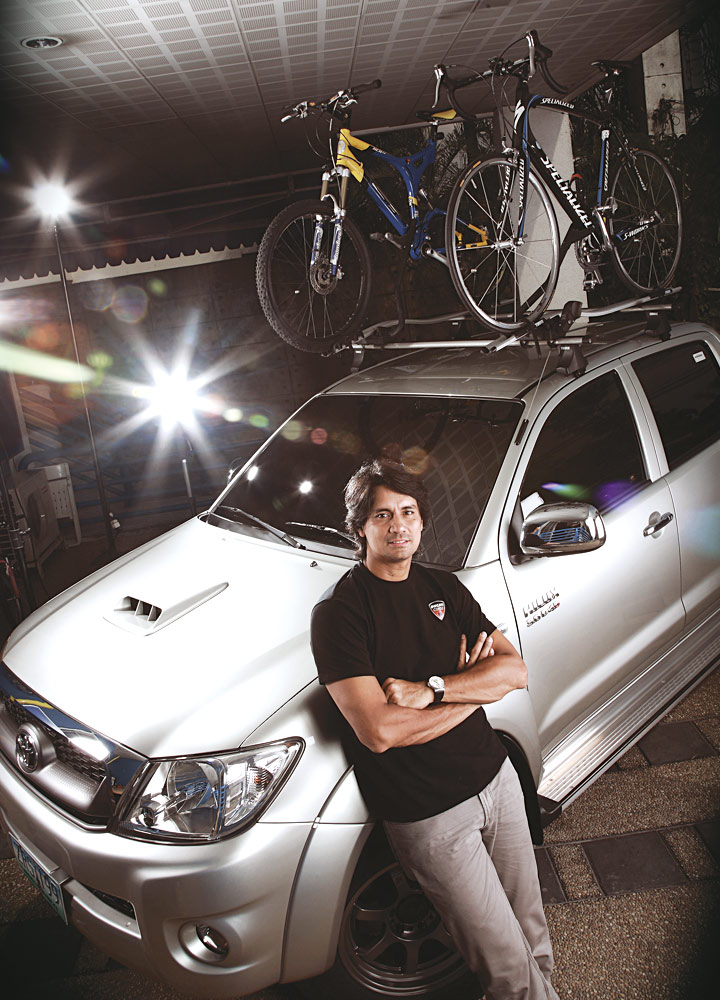 Note: This article first appeared in Top Gear PH's March 2009 issue. Minor edits have been made.