1) 1997: First world title
Valentino Rossi picked up the first of his nine world titles at the tender age of 18. It was his second season in the world bike racing championship's third tier—nowadays known as Moto3, it was the 125cc Championship in the late '90s .
After a consistent but unexceptional opening year, Vale really turned the screw the second time around, winning not only 11 of 15 races on his Aprilia, but also the hearts of most spectators with his vibrant celebrations—in several of them, he was dressed as Robin Hood.
2) 2001: First MotoGP world title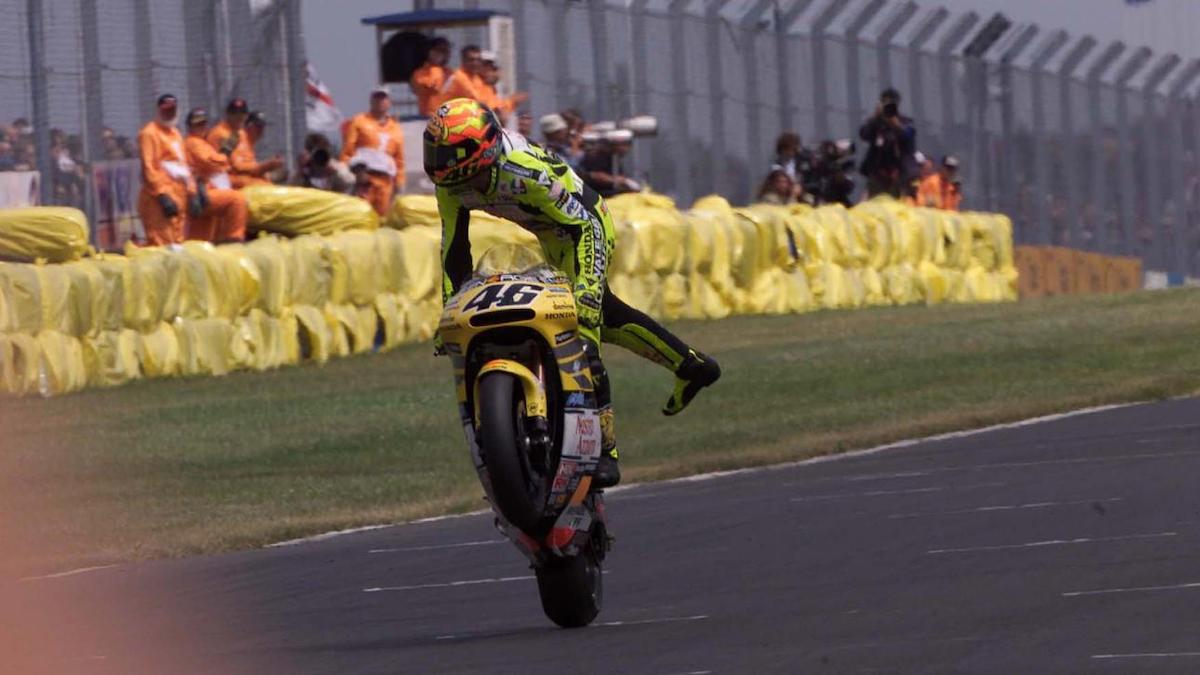 Naturally, Rossi's 125cc title saw him graduate up to the 250cc Championship, where history repeated itself and he took rider's honors in his second season. Then it was up to the Big Boy class, named the 500cc Championship until 2001 before evolving into MotoGP.
Again, he took the title at his second attempt, making him the last rider to claim 500cc honors and the last world champion from a satellite (rather than factory) team. He finished 106 points ahead of fellow Italian Max Biaggi. The Rossi legend was really taking shape.
3) 2004: First Yamaha win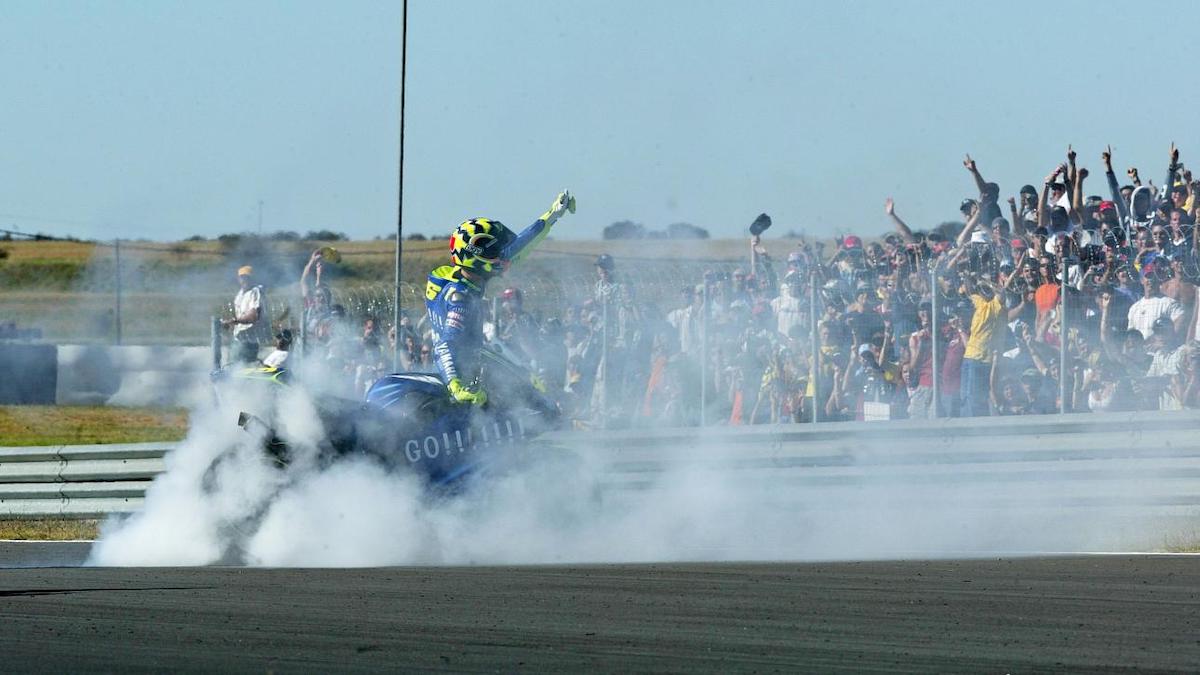 Having won the title in 2001, there was no stopping Rossi, who was world champion in 2002 and 2003, too. But that didn't stop the doubters when he moved from Honda to Yamaha in 2004. The season opened, somewhat unusually, at the South African GP in Welkom, where Rossi made history as the first rider to win consecutive races with different manufacturers, having ended 2003 with a closing victory on his Honda.
VR46 describes Welkom '04 as his masterpiece, and after beating Biaggi's Honda by 0.21sec, he looked visibly emotional as he sobbed in his helmet and kissed his victorious Yamaha afterward. Mind, there was also a fair bit of tire smoke to celebrate...
4) 2005: A wet win at Donington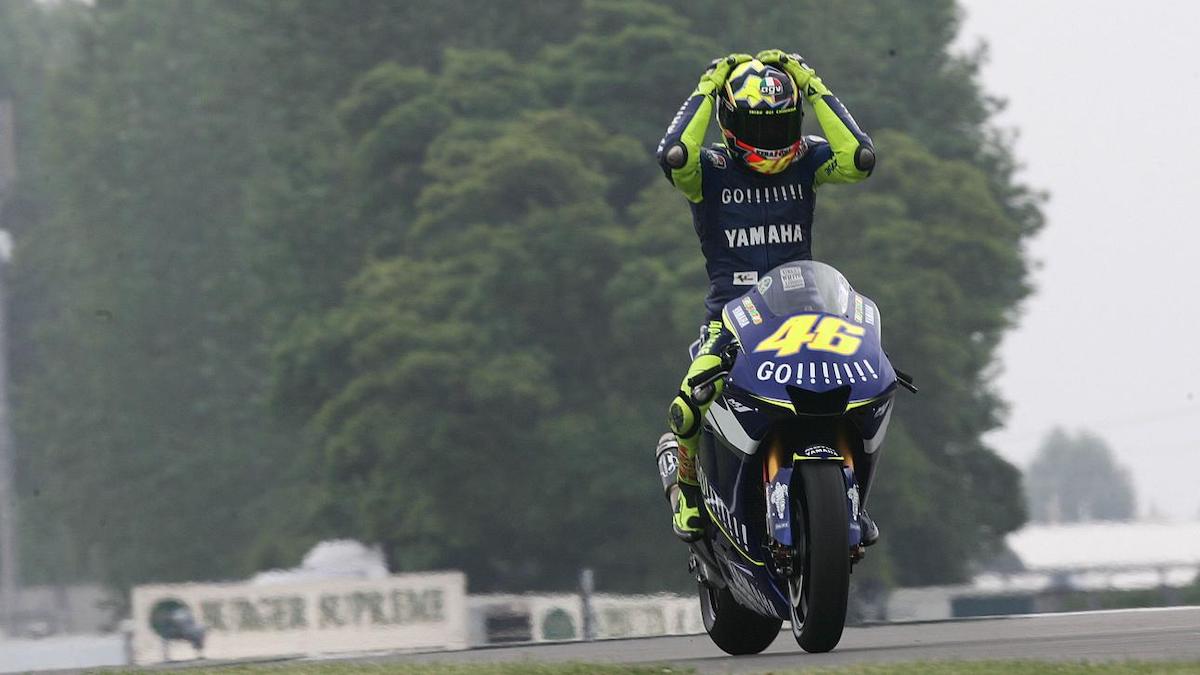 Rossi and Yamaha soon became the most glorious of bedfellows, with wins and titles coming thick and fast after that emotional day in South Africa. Highlights are abundant, but among them was a particularly dazzling display at Donington Park.
A sopping wet Donington Park at that. It's a track Rossi knew well and clocking up his seventh win there—at the 2005 British GP—was a doddle even in the damp. Rossi crossed the line standing aloft with not a soul anywhere near him. It was a masterclass akin to another motorsport hero around a wet Donington. A man called Ayrton.
5) 2005: Matching Mike Hailwood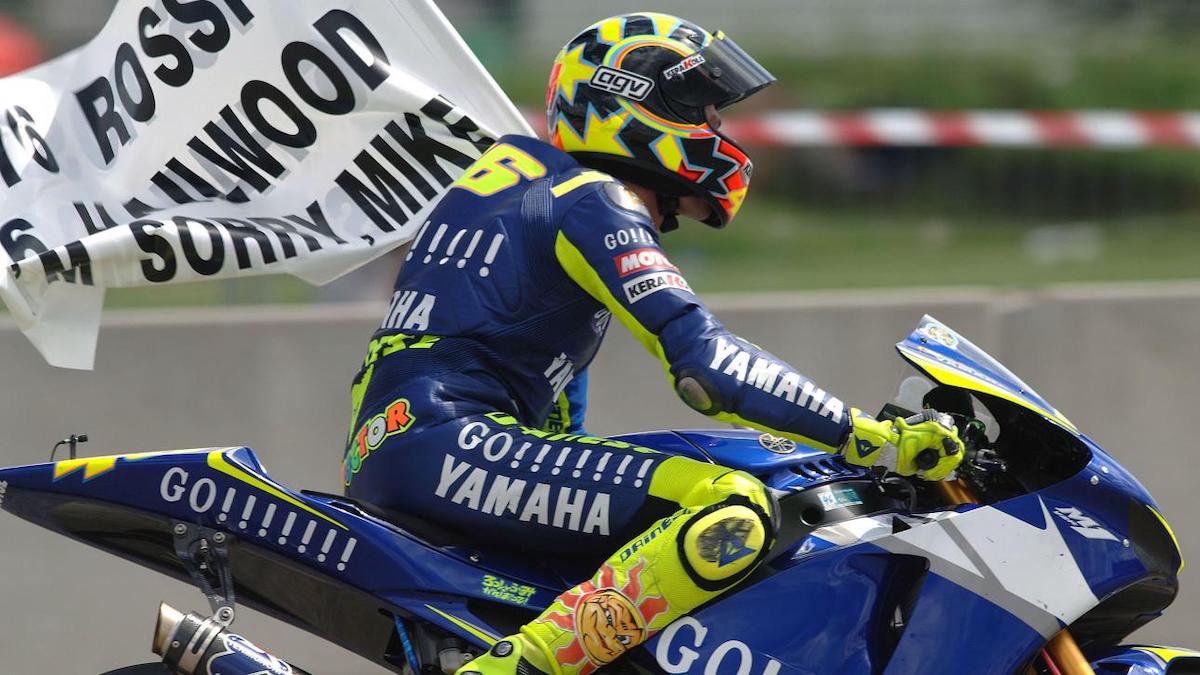 Donington gave Rossi the 75th win of his career, and he wasted no time in notching up number 76 at the very next round—the German GP at Sachsenring. This saw him climb aboard the podium of greatest-ever bike racers, tying with Mike Hailwood's win record in third.
Obviously, there was a charismatic celebration to mark his achievement, but one with a delightful dose of class—Rossi towed a flag around on his victory lap reading "76 Rossi, 76 Hailwood, I'm sorry Mike." The season finished with his seventh world title, which he naturally celebrated with members of his fan club dressed as the Seven Dwarves.
6) 2006: Nearly showing up Schumi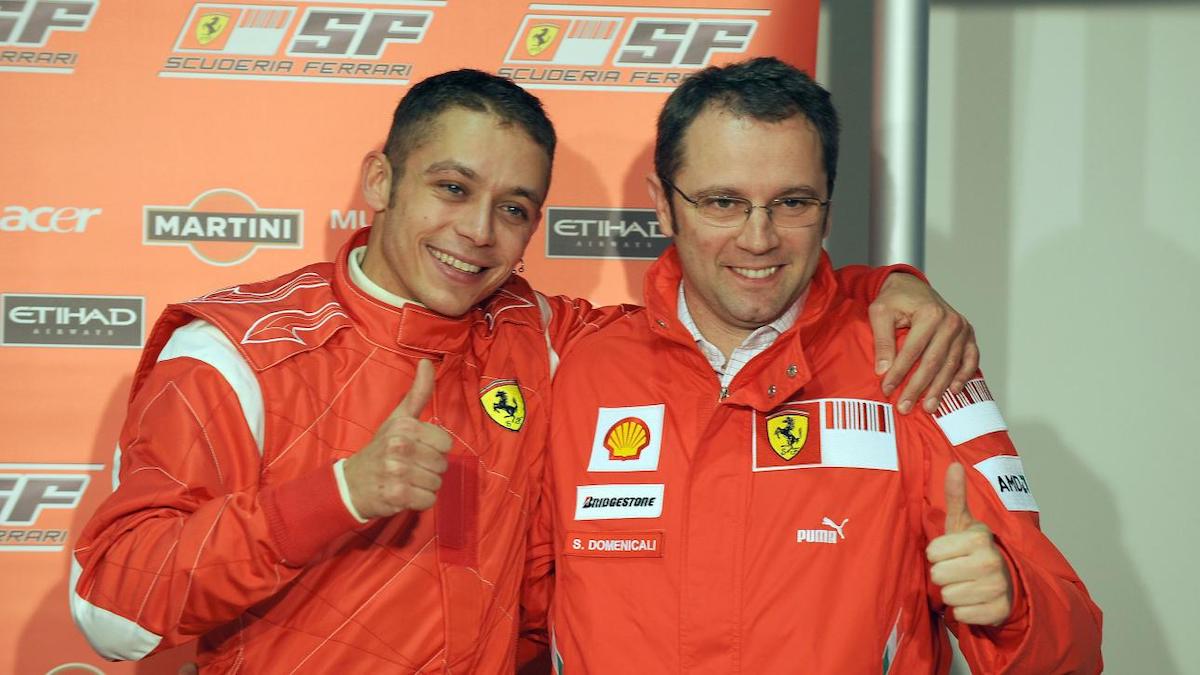 The Doctor enjoyed numerous dalliances with Ferrari over the years, his 'Italian world champ' status earning him frequent access to Formula 1 test sessions. He was lapping Valencia half a second behind Michael Schumacher at one such event in 2006, hints soon emanating from both parties that Rossi would eventually leave the world of bikes to drive for the Scuderia. It never happened, while entries into the World Rally Championship were never much more than cameo appearances.
"Vale would have been an excellent Formula 1 driver," said Ferrari team principal Stefano Domenicali in 2008, "but he chose a different road. He's part of our family and that's why we wanted to give him this opportunity. We're happy to be together once again; two Italian symbols like Ferrari and Valentino Rossi."
7) 2008: First win at Laguna Seca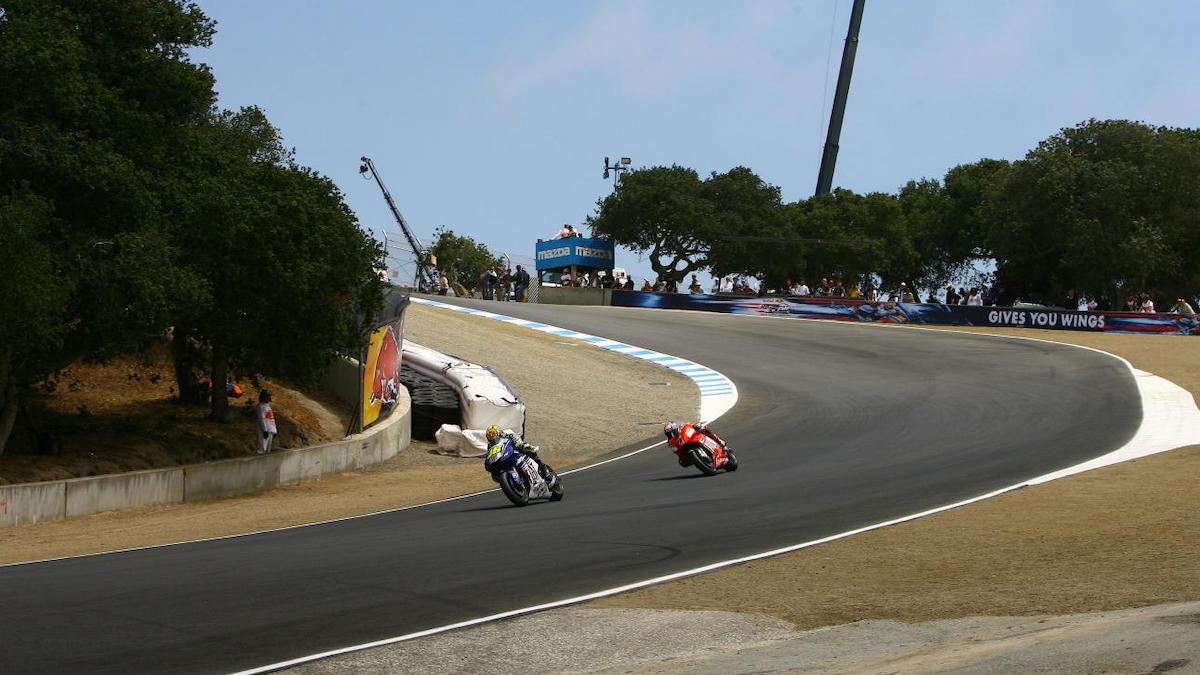 Rossi had never won the US GP going into his fourth attempt in 2008. That was rectified with a brave—perhaps slightly controversial—pass on arch title rival Casey Stoner through Laguna Seca's famous Corkscrew. So rattled was the Aussie that he ended up in the gravel trap at the next corner (though he still finished second, both in the US and at the end of the season).
An eventful first (and last) win at Laguna for Vale, with a wheelie to celebrate. Naturally.
8) 2009: The duel of Catalunya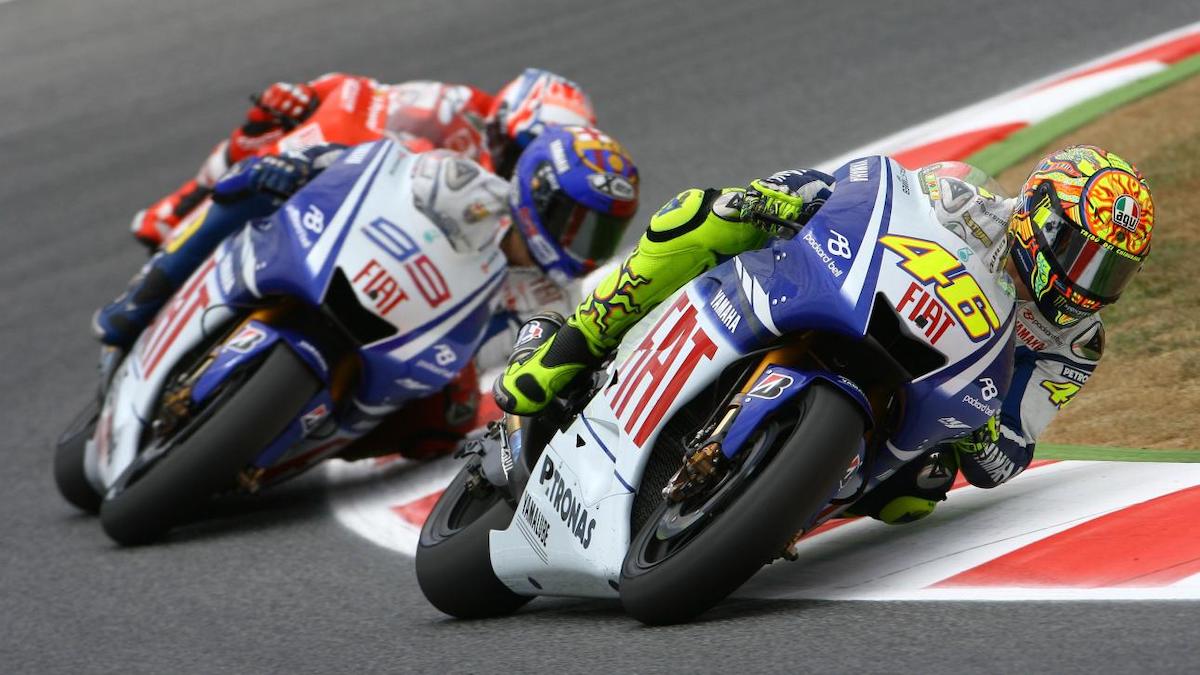 Not just one of Rossi's greatest moments, but one of the greatest moments in motorsport full stop. He tussled with teammate and title rival Jorge Lorenzo throughout, but their battle came to a head in the final lap. Stick 'Catalunya 2009' into your favorite search engine and enjoy it for yourself, witnessing the polar opposite of F1 team orders keeping teammates a safe distance apart.
Jorge and Vale didn't have the greatest of relationships as teammates, with the Yamaha garage split in two and data sharing halted at the worst of it, but the pair embraced at the end of this tussle and the Spaniard served up a classy tribute as Rossi announced his retirement. "In terms of charisma and transcendence, Rossi is at the level of Jordan, Woods, Ali or Senna," Lorenzo posted on his social media channels. "Enjoy this new chapter, legend!"
9) 2012: Honoring Marco Simoncelli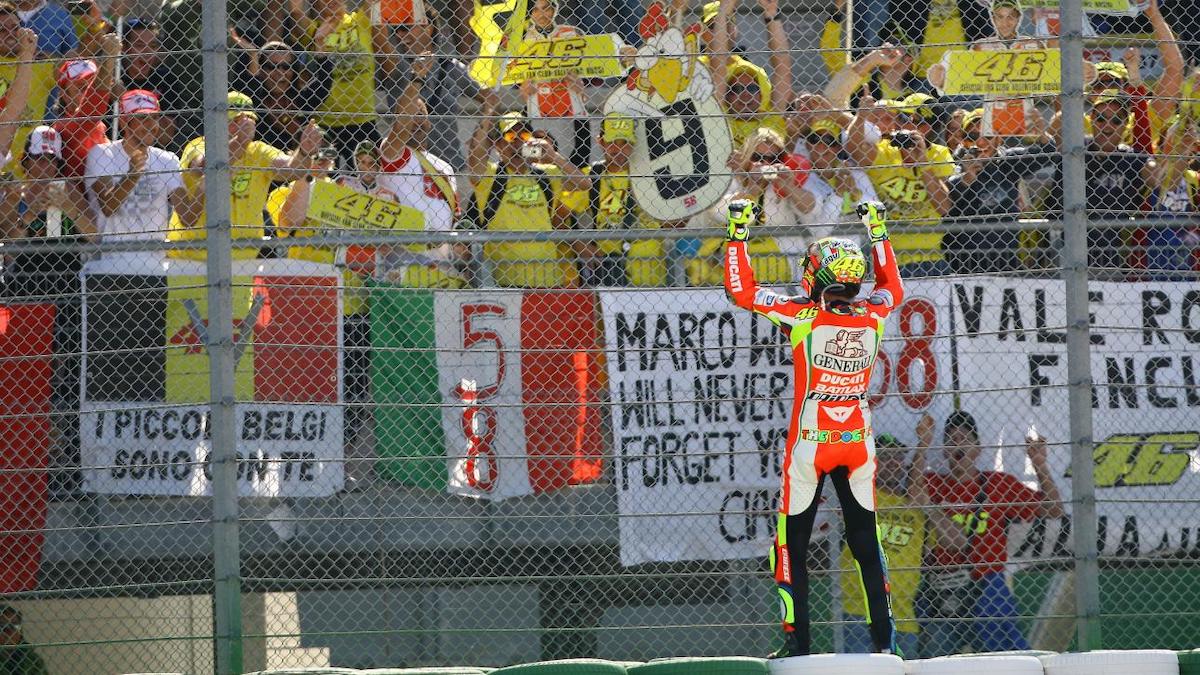 It was Rossi's home grand prix, in his native San Marino. You can imagine just how much of the crowd is usually daubed in luminous yellow and smattered in 46 logos. Vale had won at Misano three times, but perhaps the sweetest, most emotive moment of all was a second-place finish in 2012. Misano had been renamed Misano World Circuit Marco Simoncelli in honor of another San Marino boy—and bright young MotoGP star—who'd lost his life racing in 2011.
Rossi was in his second of two seasons with Ducati and had achieved just two podiums thus far. After qualifying sixth in front of an emotionally charged crowd, he battled his way up to finish second, four seconds behind Lorenzo. A jubilant, dewy-eyed crowd surged onto the circuit and partied on track for hours afterward. A truly special moment.
10) 2014: Beating Marquez and Lorenzo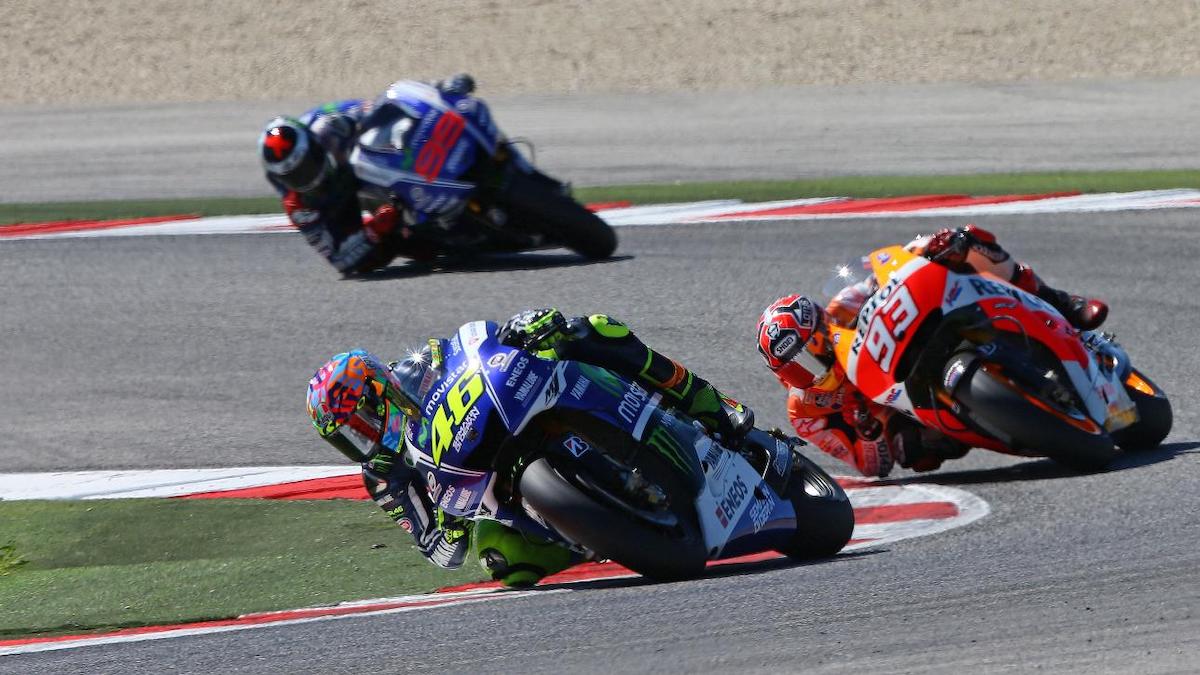 After two duff years at Ducati, the world was hardly shook from its axis when Vale returned to his spiritual home of Yamaha for the 2013 season, where he's stayed put since. Ten wins followed (though no championships), but we're staying in San Marino to highlight the second of those.
Rossi won his home race at the age of 35, tussling with new kid on the block Marc Marquez and old nemesis Jorge Lorenzo to take the victory. A victory that also took him past 5,000 career points—a feat only Rossi can currently lay claim to.
11) 2019: Driving Lewis Hamilton's F1 car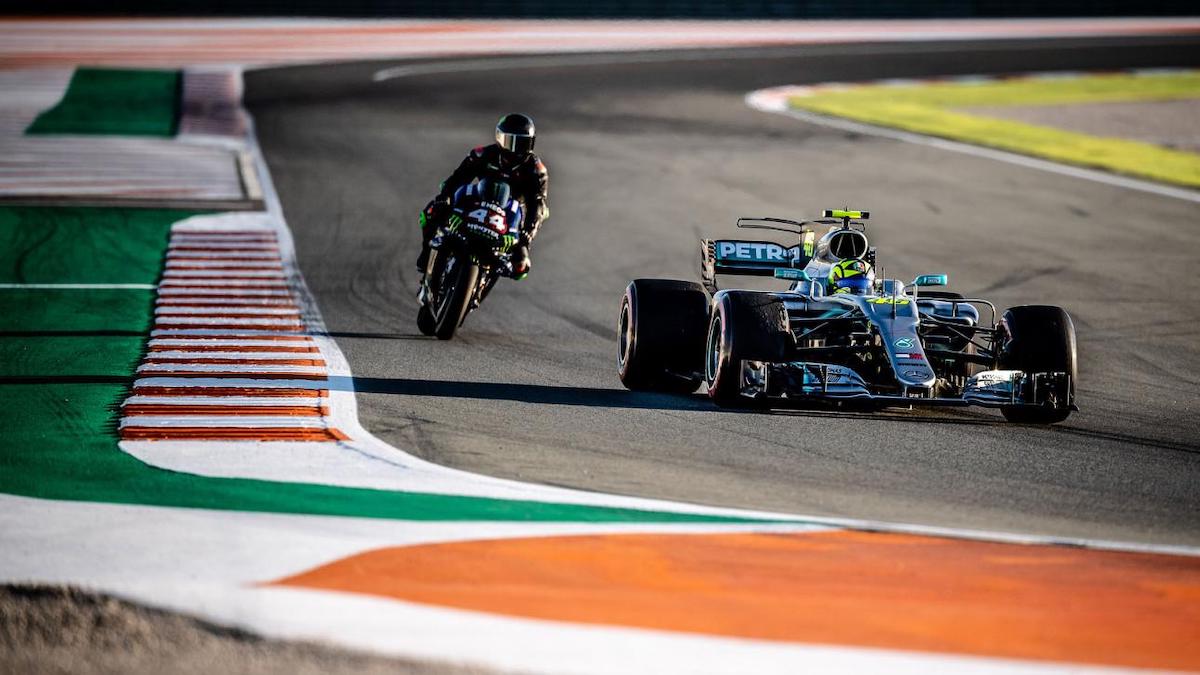 In 2019 Valentino and Lewis swapped rides for a private test session at Valencia, which press were locked out from so that lap times would never be known. This, we were told, was a day of fun for two men with trophy cabinets the size of most public libraries.
"It's so awesome to see a legend like Valentino in the car. I'm excited for him, for discovering the car for the first time," said Lewis.
"I was a big fan of Lewis' before but now I am even more," added new BFF Vale. "We had a fantastic day where the two top classes of motorsports not only met but worked together. I felt like a real F1 driver for a day. I didn't want the day to end. I also rode the YZR-M1 on track with Lewis. It was a proud moment for the team to share our passion with him."
12) 2021: Retirement from MotoGP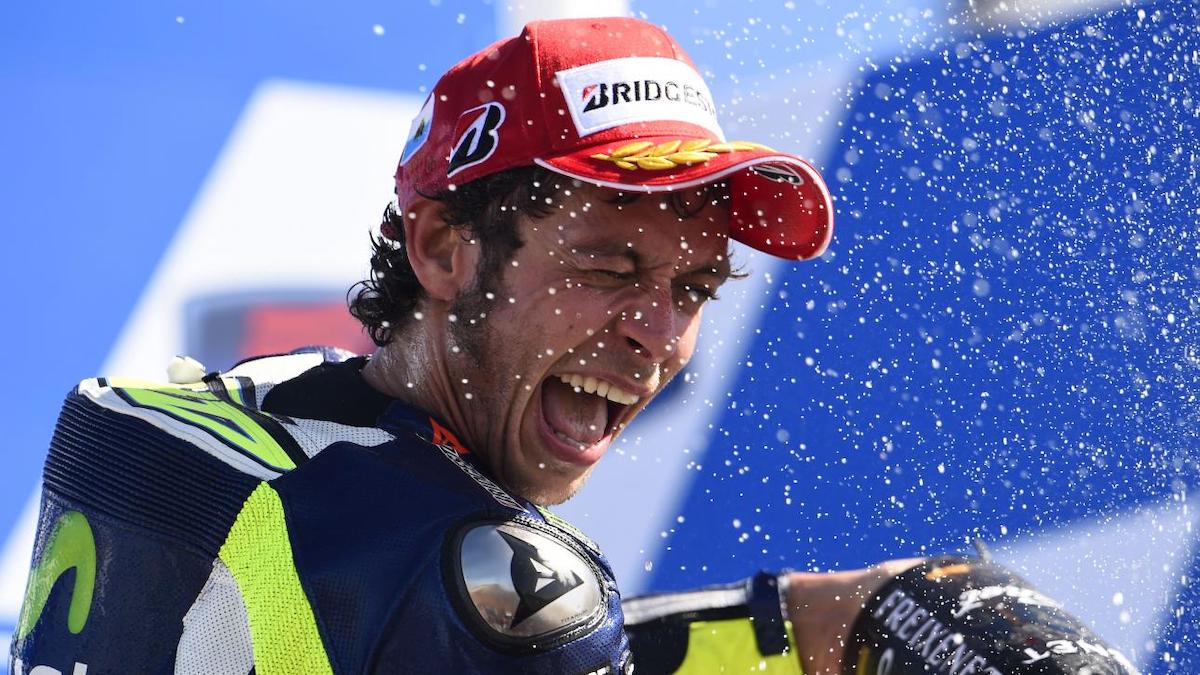 'Retiring at 42' would be a dream phrase for most of us, but for Rossi, it was—of course—tinged with immense sadness. With no MotoGP win to his name since 2017 and his mesmeric highs and riotous celebrations seemingly rooted in the past, it was time for VR46 to announce the end of his bike-racing career.
But not without an utterly classy press conference to leave even the most emotionally sturdy motorsport fan in complete tatters. Rossi quickly teased a supplementary four-wheeled racing career, then within weeks of the big announcement came news that The Doctor's going to be a father, everything falling oh-so-neatly into place. Just imagine his celebration when the baby arrives…
NOTE: This article first appeared on TopGear.com. Minor edits have been made.