For actor, comedian, and TV host Ryan Yllana, cars have always been a point of interest. admitting to being a bona fide gearhead, Ryan got his passion for anything with four wheels from his brothers, most notably his Kuya Jomari, who used to race cars professionally alongside Jody Coseteng.
Ryan did some research and decided to get a car of his own. This beautiful 1999 Mitsubishi Galant Super Saloon-turned-VR-4 is the result of that research, and Ryan did not waste any time in making it the car it is today. The VR-4 was available from 1988 to 2002, with the earliest versions being the hardest ones to find. As it is now, Ryan is still on the lookout for a 1992 version—an all-original one—which he can call his own.
While setting up his car, Ryan paid close attention to making his project as close to stock JDM as possible. Prioritizing the engine, he had an original 6a13tt twin-turbo mill flown in from Japan. It was never locally available. The motor, originally oriented right-hand-drive, needed some tweaking to graft into the local left-hand-drive body of his Galant Super Saloon. But while the body is pure PHDM, all the accessories and flourishes are genuine JDM pieces.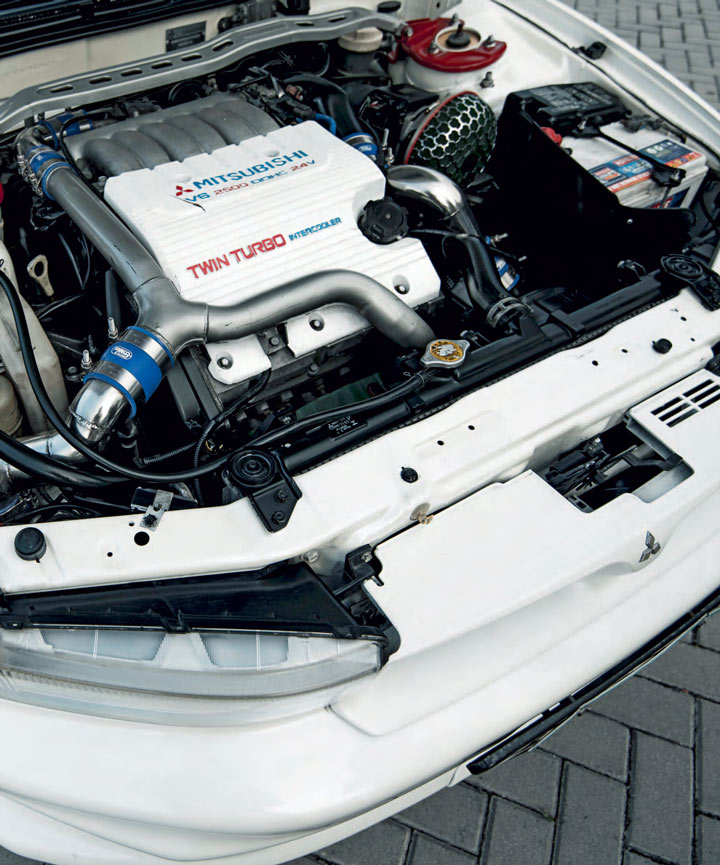 Ryan's VR-4 boasts stock Japanese headlights, taillights, side mirrors, spoilers, and bumpers. Furthermore, the undercarriage, including the suspension and the differential, is from the Japanese-market VR-4. it features a complete propeller shaft and underchassis to accommodate the car's 4WD system—proof of the VR-4's rally heritage.
Ryan says converting his Super Saloon was fairly easy since he had two cars to play with. There was another Galant present at H3 auto Works, where he had most of the work done, and he had permission to use parts from it. Fitting the rear differential wasn't problematic. He says that it was fairly trouble-free as there was always a solution with the right amount and size of bolts. His VR-4, he proudly states, is going to stay mild. He needs the reliability for everyday driving. But this doesn't mean, in any way, that the car is a slouch. Pumping about 200hp at the wheel (this figure was made known after a dyno test at Autoplus), this car is quick. And the look and feel would not be complete without the rally-inspired, 18in OZ Racing rims that ride on low-profile rubber.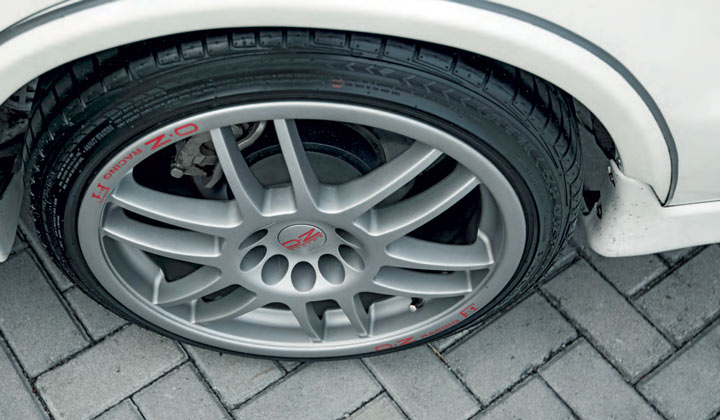 But perhaps the best story about Ryan's VR-4 is why he decided to get one. Initially, he had a modified Galant GTI, complete with the turbo kit and all the trimmings. However, he felt this was not the car for him. Then he decided to get the much smaller Lancer Evo, since it shared the same pedigree as the VR-4. Ryan admits he had a difficult time getting in and out of the Evo. "I'm kind of a big guy," he says casually. After the bout with the Evolution, he decided that it was going to be a Galant VR-4 for him.
Being real to himself and not settling for something that he would not have been comfortable in—that's how Ryan landed his VR-4. We can all pick up a lesson or two from this simple story. (Enrico Miguel Subido, TGP March 2013)