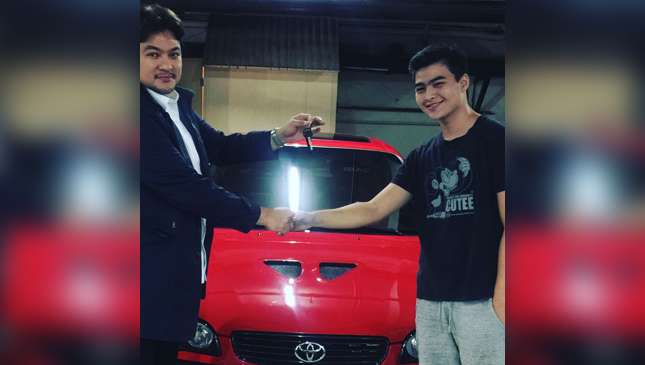 There are only a handful of celebrities that Top Gear PH can consider genuine car guys. Sure, we hear about a few stars who purchased this or purchased that. However, a stable of European exotics does not a car guy make. For us, it isn't the number of cars in the garage, or their cumulative cost.
The telltale signs are the specific kind of cars that these dudes drive, or how they dress them up. It's a very subtle thing, but fellow car guys can tell when a person is a genuine petrolhead. We aren't just talking about a passing interest in automobiles here, but having a deep appreciation for the car and driving.
Continue reading below ↓
Recommended Videos
Jomari Yllana of Guwapings/Palibhasa Lalake fame is a genuine car guy. How can we tell? Just by looking at his prized AE111 Toyota Corolla. In a recent Facebook post, he's seen handing its keys over to his son Andre. What a lucky fellow!
Here's Jomari's post:

"It's just like your kids meeting for the first time. My favorite car I kept for decades is yours now @andreyllana @andrenaticsofficial #ae111 #toms #trd #toyotateamtoms #jdm #eudm #cromodorawheels #vintage #mybestprojectcar #passingthetorchtoyourboy #amdg @ Parañaque"
Judging from the hashtags, this car obviously has been tastefully put together. Jomari even refers to it as one of his children. We'd be the envy of Toyota fans if we rolled up to a car meet in this ride.
Jomari has a deep affinity to the Toyota brand, too. Here's a snapshot of his racing career that he sent to us when we contacted him—if anyone else needs any proof about this guy's dedication:
- Toyota Team TOMS driver from 1997-2002
- 1996 Rookie of the Year, champion / Batangas Racing Circuit Toyota Corolla Cup
- 1997-1998 Philippine GROUP N1 series champion / Subic International Raceway and champion / Batangas Racing Circuit
- 1998-2002 Philippine National Touring Car Championship champion / Subic International Raceway and champion / Batangas Racing Circuit
A car guy celebrity dad keeps the passion alive in his offspring. We salute that.
Happy driving, Andre!