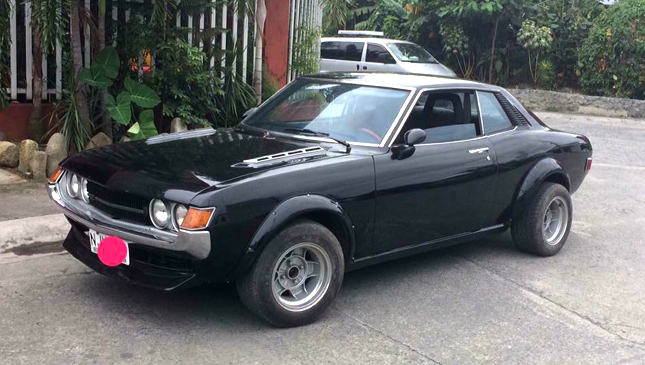 Here's one for the Toyota fans out there. We've spotted a 1972 TA22 Toyota Celica coupe in black for sale on Facebook, and, based on the seller's photographs, it looks like it's in pretty decent shape. However, what caught our attention was what is under the hood.
The seller says his ride still packs a 2T-G engine (a rare find and something hardcore Toyota nuts will definitely appreciate), which means it should be a 1.6-liter four-cylinder capable of between 110hp to 125hp and 142Nm to 147Nm of torque. It isn't indicated if the engine is fitted with the Yamaha-marked head, though. But even then, it's a special motor. A DOHC configuration was pretty exotic back in the day. The bonus? Twin side-draft Weber carburetors. Oh yes. We can already hear this motor sing.
Continue reading below ↓
Recommended Videos
First-gen Celicas aren't easy to come by, especially ones in fair condition. They ceased production way back in 1977, so if you want to grab a piece of old-school Toyota motoring, this is worth looking into. They weren't officially sold here by Delta Motor, either, so that's why they are so rare. Even if this particular Celica is missing some interior trim pieces and isn't bone stock, it still makes us drool. The chassis and engine combination is just too enticing.
This car's price tag is set at P350,000, though the seller says he's willing to negotiate upon inspection. Would you be willing to shell out that much for a piece of the Japanese carmaker's history? If yes, chances are you're going to have plenty of competition.