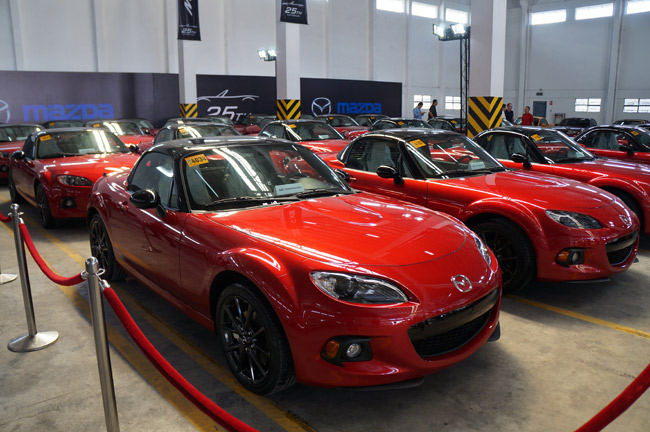 It was a motoring milestone when exclusive Mazda distributor Berjaya Auto Philippines turned over 15 units of the Mazda Miata 25th Anniversary Edition to eager buyers last month. The Miata Club Philippines was there because its members got first dibs on the special MX-5s, along with families and friends witnessing the special occasion.
Berjaya held a mini flag-off ceremony, with each car being sent off under a specially made arch. Each owner patiently waited for his turn to drive off his new toy--except for 23-year-old Neon Antonio. Up to that afternoon, he did not even know he already owned one--that his parents, Buddy and Malou, were giddily waiting for his Miata to be released, so they could drive it to Batangas where Neon works.
We got to know the Antonios after they spotted our online associate editor, Dinzo Tabamo, and asked for a photo with him. A few minutes of conversation not only revealed that they have Top Gear magazine copies lying all over their house, but that their family is also big on cars.
Years before, they owned a British Green first-generation Miata. But sadly, Buddy had to let it go because the missus felt there were too many cars in their garage. Soon after the sale, Neon asked his father why they had to sell the Miata, because he particularly liked that car. Buddy, still heartbroken from the decluttering of their garage, asked why his son had not said anything.
Continue reading below ↓
Recommended Videos
A deal was then made. After opting to go to Philippine Science High School instead of Ateneo de Manila High School, Neon, a math whiz, figured that with all the money they saved from state-subsidized tuition fees, they could once again get a Miata.
"When it comes to the kids, we're very supportive, so we agreed," Buddy told us. "We told Neon that once he graduated, a Mazda Miata would be our gift."
The son fulfilled his part of the agreement, and a 1996 Miata became the fruit of the deal. But Neon's academic achievements didn't stop there: He eventually went to Ateneo de Manila University for college and finished with a dual-major program in B.S. Chemistry and B.S. Material Science Engineering. No doubt this added to Buddy's pride in his eldest son. So when Neon made another request after college, the doting father took it seriously but pragmatically.
"He asked me if he could have the 25th Anniversary Miata," Buddy recalled. "When I was advised of the price, I told him that I had to look at our finances. If it was doable, why not, right? Then one Sunday afternoon, I told him that we should swing by the Mazda showroom. A sales executive greeted us, and then told us that at that time only one reservation had been made for the MX-5--meaning there were still available units. I immediately processed the down payment."
Neon, shocked with disbelief, asked his father if he was sure. His dad, an officer in a respected multinational company, assured him that their finances were okay. But then the Mazda sales executive they dealt with resigned, leaving Buddy to wonder why there was no follow-up--with the launch date getting closer. Buddy and Malou informed their son of the possibility that he might not get a special-edition MX-5 anytime soon.
Two weeks before the launch, the papers for the Antonios' Miata began moving again. A deadline was set for the full payment, and even Buddy's absence due to a business trip did nothing to stop the couple from snagging the unit they had reserved. In the meantime, all of this progressed without their son's knowledge.
To cut the story short, the papers were done, and a 25th Anniversary Miata became theirs. And this is how we met the couple during the turnover ceremony. Buddy and Malou were waiting for their turn to drive the car out, standing beside the beautiful red Miata that they were about to give to Neon.
We never got to meet Neon. One day, we will. When that time arrives, we're sure he will tell us about his awesome parents who gave him this awesome car.
Photos by Dinzo Tabamo