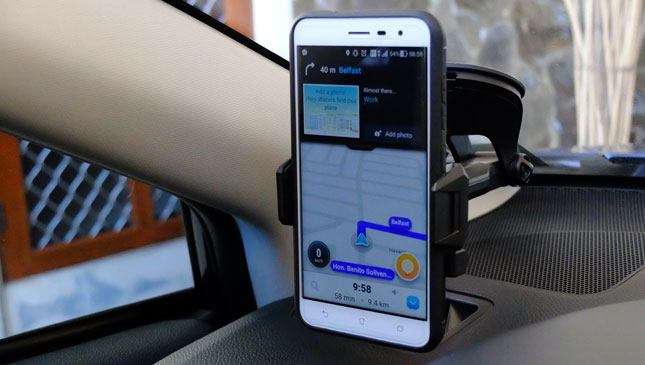 Scrolling through your phone while driving is a big no-no. In the age of connectivity though, navigation apps like Waze are useful (and sometimes necessary) for getting around. Enter phone mounts. Nowadays, there are hundreds you can choose from--from premium models to poorly made knock-offs that fall off at the first sign of a pothole.
We tried out the Spigen Kuel Car Mount Holder for a few days to see if it could withstand the Metro Manila stop-and-go traffic. Out of the box, you get the mount and a small instruction manual. You won't need the latter, as assembling and setting this up is pretty straightforward.
Continue reading below ↓
Recommended Videos
The mount can seat phones sized between 101mm to 147mm. I normally have trouble fitting my big Asus Zenfone 3 (with protective case) on some mounts, but I had plenty of room to spare with the Spigen. The nifty one-touch button in the center made clipping my phone in simple and convenient. To remove it, you simply press the side buttons.
The big bonus with this mount is its versatility. There are numerous options to adjust its length and angle. Unlike other mounts that let you settle for a less-than-perfect viewing position, the adjustment options on the Spigen ensure that you can face your phone towards you exactly the way you want it.
The mount's length adjustment (between 127mm to 234mm) means you won't have to squint, no matter the shape or slope of your windshield. Once the adjustments are locked, it feels sturdy, and holds up despite the number of bumps on Manila's roads. It doesn't feel as if the mount will buckle under your phone's weight. As an added bonus, there's also a handy cable holder at the back for charging.
The Spigen's adhesive gel pad is sticky--really ­sticky. When we first opened the box and tinkered with the mount, we stuck it onto a desk to see how it worked. Hilarity ensued when we had difficulty removing it again. It takes a bit of strategy and elbow grease to get the mount unstuck. This is great news because it means your phone won't fall off while you drive, but if you need to readjust or move it to another car, doing so will be a chore.
At P1,850, this Spigen phone mount is admittedly a bit pricey. It's worth the money if you're looking for a sturdy holder that's easy to use, makes glancing at your navigation app easier, and won't buckle under pressure.