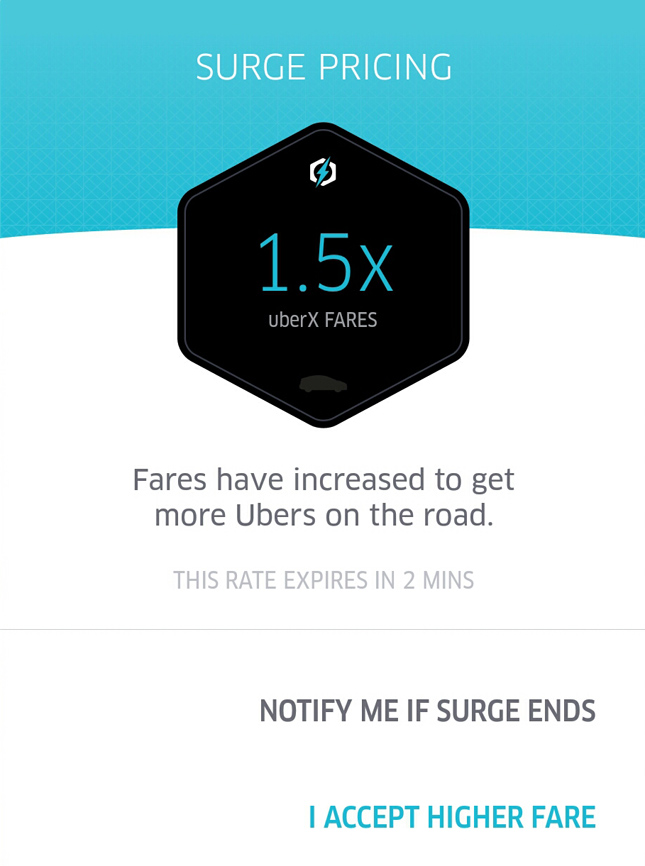 The enthusiastic acceptance of the transportation network company Uber reflects two things: We're all sick of being at the mercy of taxi drivers who are picky with destinations, and we're glad we don't have to ride dirty cabs anymore.
In fact, Uber is such a relief to commuters that netizens were up in arms when a rumor was floated that the LTFRB was killing Uber in favor of a government-backed premium taxi program. While that issue has already been clarified and Uber is now accredited, it shows how fondly consumers view this new transport option.
There is one thing to be wary about before using Uber though--consider it a downside if you want--and it's the so-called surge pricing. What happens is that when there's a huge demand for Uber vehicles, the price for the service is multiplied. This normally occurs during rush hour and rainy weather.
From a relatively mild multiplier of 1.2 (times the regular fare), carmageddon can bring surge pricing up to five times the norm. We've heard of people paying approximately P1,500 after being stuck in traffic for three hours.
ADVERTISEMENT - CONTINUE READING BELOW ↓
Uber has an explanation for this potentially expensive feature. It says that the "rates increase to ensure reliability when demand cannot be met by drivers on the road." Uber says the higher prices are there to encourage more drivers to become available.
This makes perfect sense to any rational commuter. Besides, there are safeguards in place to make sure a woman can't just keep tapping on the app without a clear destination and then wonder where her driver is (we saw this happen). When surge pricing is in effect in your area, you have to enter the price multiplier manually on your phone. Let's say the surge is 3.2, you must type "3.2" on the app window to acknowledge that you know what's happening.
If you were so cynically inclined, you can see this as an honest and upfront version of adding to a traditional taxi fare to get home during high-traffic situations. The difference being there's no negotiation, and you will still ride a clean and professionally driven vehicle (and not a smelly cab with a driver barely kept awake by energy drinks). But the choice is there whether you accept the higher pricing, or choose to wait it out somewhere.
ADVERTISEMENT - CONTINUE READING BELOW ↓
Recommended Videos
In the end, this transparency or lack of obfuscation in getting a ride still makes Uber a more appealing choice to many people.