Frankly, it's hard to imagine a film like James Cameron's Terminator 2: Judgement Day (or just about any prototypical Arnold Schwarzenegger film, for that matter) being made in this day and age. A large part of its formula just no longer adds up.
We know, that line is usually followed by a critique of our current social and political climate. But this has nothing to do with that. A plot that partly revolves around the ills of mankind's dependence on technology, and a strong female lead in the form of Linda Hamilton's Sarah Connor? You'd be hard pressed to find a better fit in that decade for a contemporary action script.
We aren't referring to the concept of the muscle-bound Stallone- or Arnie-esque lead, either. While the success of Jason Bourne and John Wick indicate that dual-wielding assault rifles and unnecessary ammo belts are no longer prerequisites for the gun-toting good guy, moviegoers' continued infatuation with Dwayne 'The Rock' Johnson shows that this model is as big a draw as ever.
Practical effects. What we're referring to is practical effects.
Miles of cables, jaw-dropping pyrotechnics, massive physical set pieces, and the relative absence of computer-generated imagery—it's what helped T2 set the standard for the modern action blockbuster, and it's what allows the film to continue to stand the test of time. In no scene is this quality better encapsulated than in the movie's flood control channel truck chase. Production had to change the course of a river, for Chrissake.
Continue reading below ↓
Recommended Videos
We're here today to break this sequence down just for kicks, but first, let's jog our memories. Watch:
Would the semi survive the jump?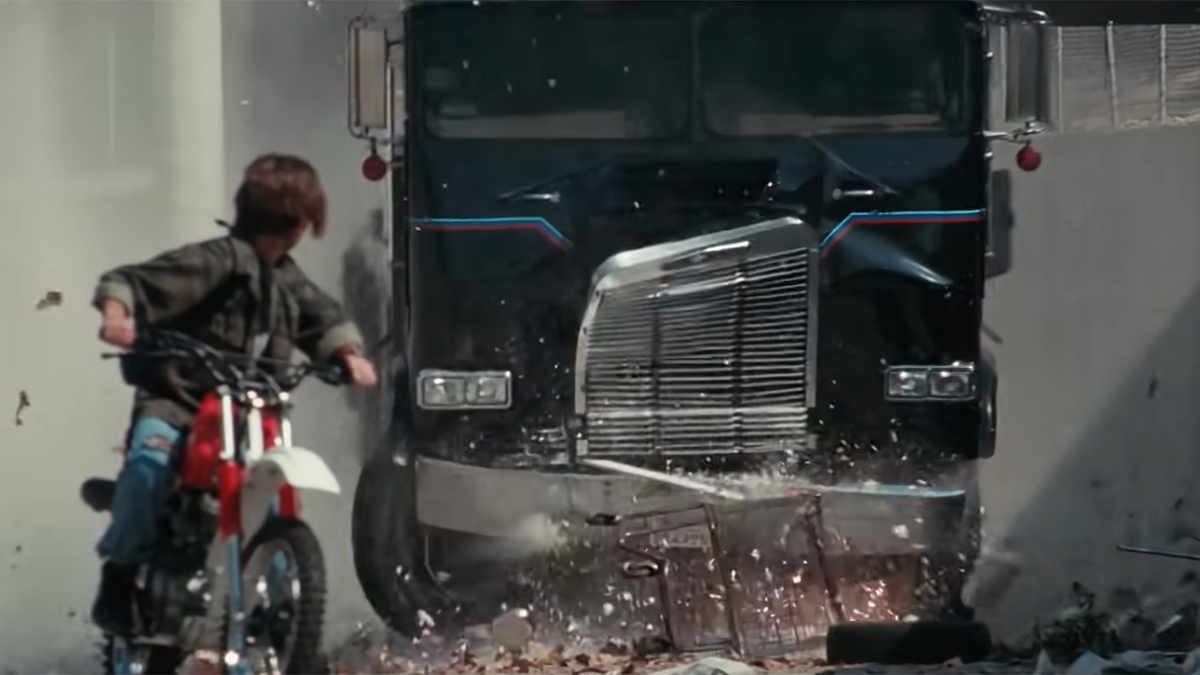 To say the truck's steering and suspension systems would have been compromised after a fall like that would be an understatement. That's easily between a 20- to 30-foot drop. This isn't a Ranger Raptor we're looking at here—hell, we doubt even the Raptor would be driveable if it nosedived the way this thing did. But by some magic (or, more likely, a separate stunt vehicle), the truck pulls through and manages to continue pursuing John Connor. Here's a behind-the-scenes look at the stunt:
What about the Harley?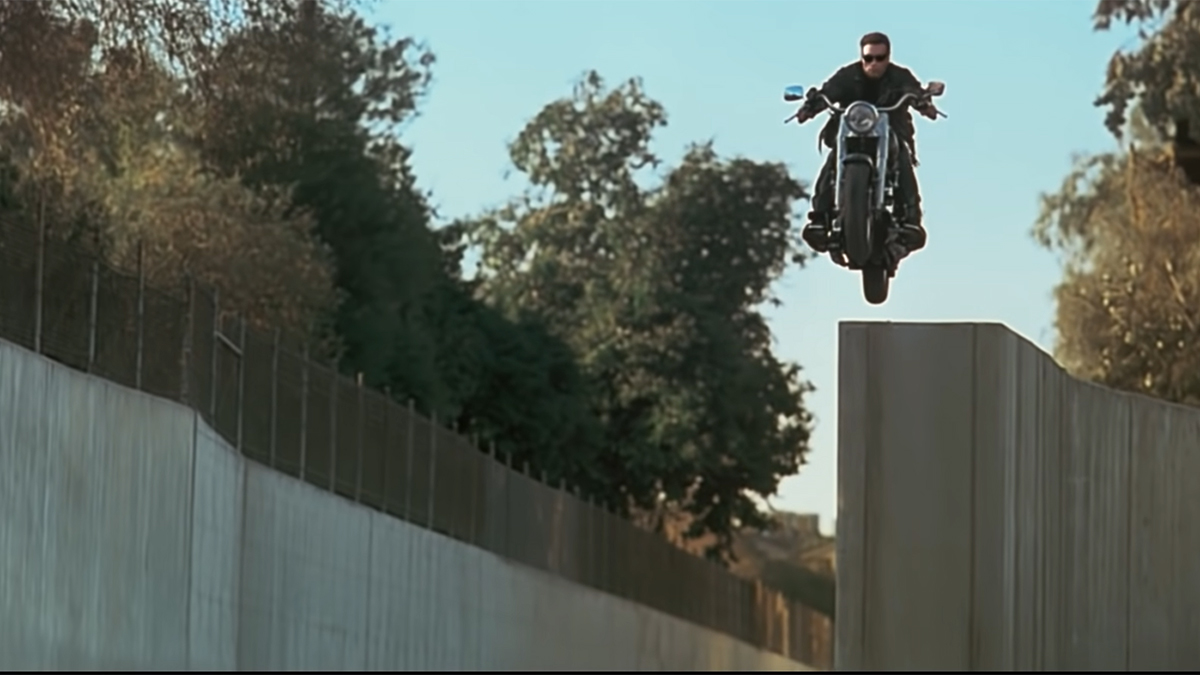 The same goes for the T-800's ride of choice, a 1991 Harley-Davidson Fatboy. You can tell by the way it lands that the stunt bike is flying on a cable. Don't just take our word for it, though. In an interview with Motorcyclist Online, the film's camera bike driver Cotton Mather said the motorcycle was indeed flown in via wires: "We flew it in. We put a big crane at each end of this run, and the cranes were, I'm gonna say, about 150 yards apart, and then a cable ran between them pulled tight. Think of it as a curtain rod.
"Then we hung the Harley with two cables in the rear up to that curtain rod, then two cables in the front. So, it just swung in the air. Then there was a third element, a fifth cable, attached to the Harley, and we would pull it along the top cable."
And the truck getting its roof chopped off?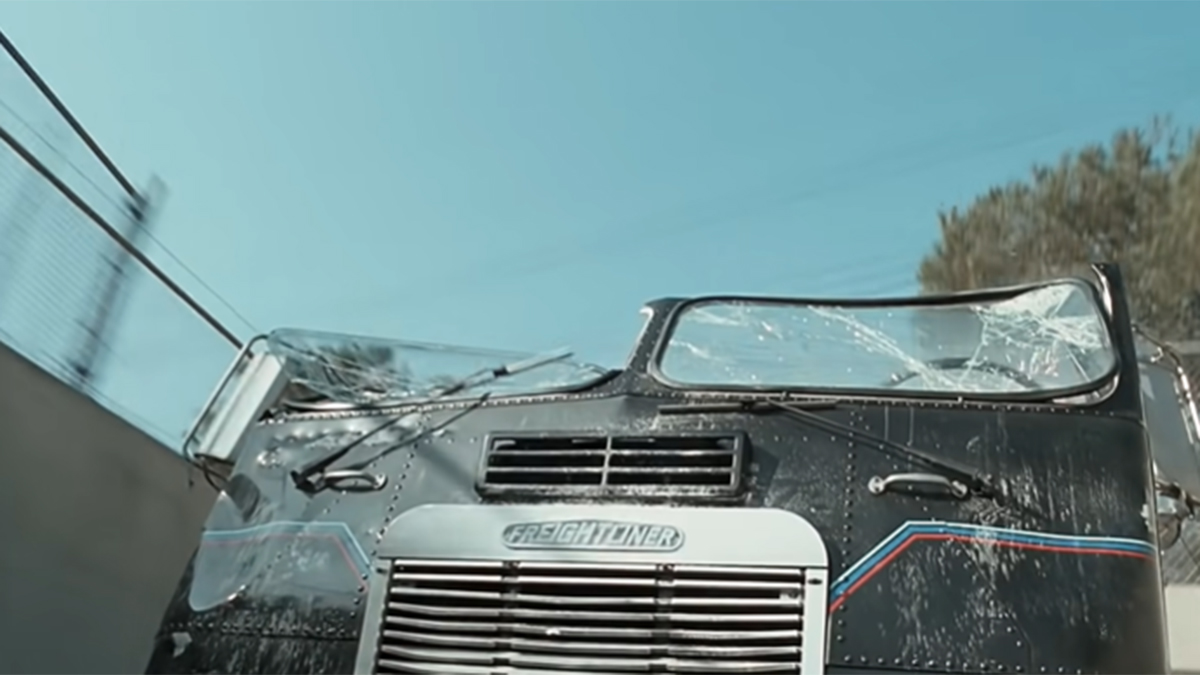 Believable. It probably wouldn't have been cut off as cleanly as it did on film, and perhaps it would have slowed down considerably upon impact, but a truck continuing to run after losing its top is hardly the most improbable sequence in this scene.
Would the dirt bike be able to outrun the T-1000?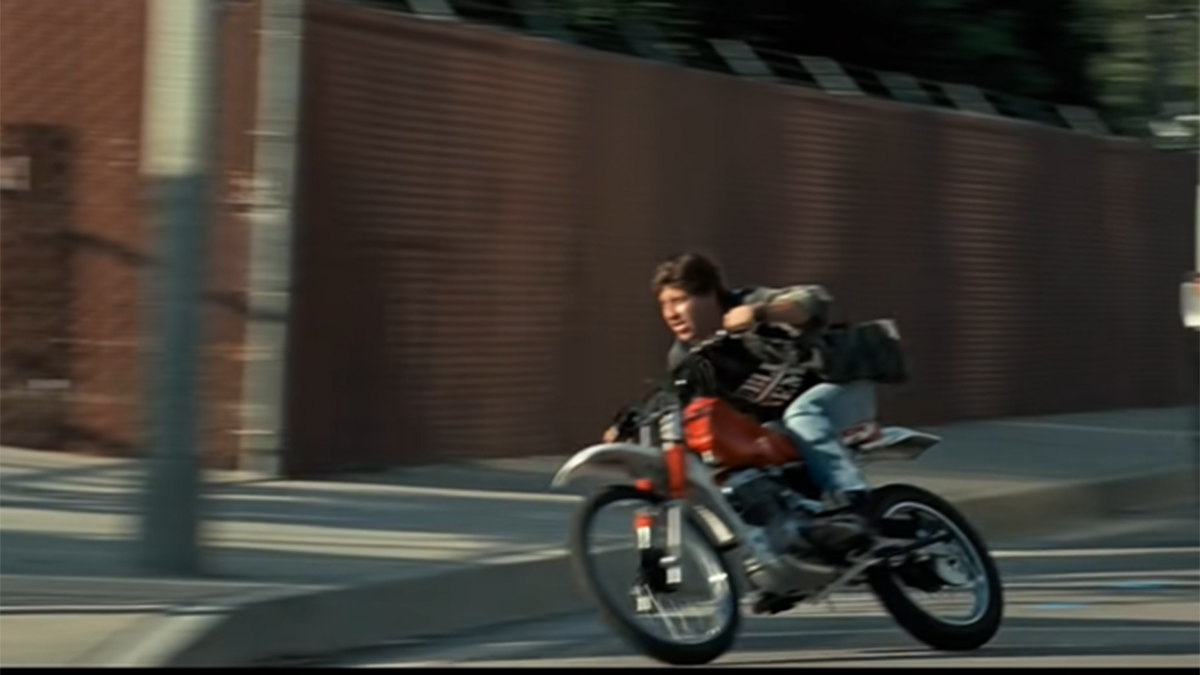 If Connor had stuck to busy city streets with the mindset of outmaneuvering the semi around corners, perhaps. Straight down a flat, obstacle-free flood control channel? We seriously doubt it. While small dirt bikes come with low gearing for quick acceleration, top-speed advantage is still in the truck's favor—unless you factor in the damage from its jump earlier in the sequence (which looks likely when you take into account how it's needlessly swerving all over the place).
Also, that first nudge to the dirt bike's rear wheel would have thrown it off balance—that, or it gets caught in the truck's bumper completely. Either way, humanity is doomed.
And finally, let's get to that explosion...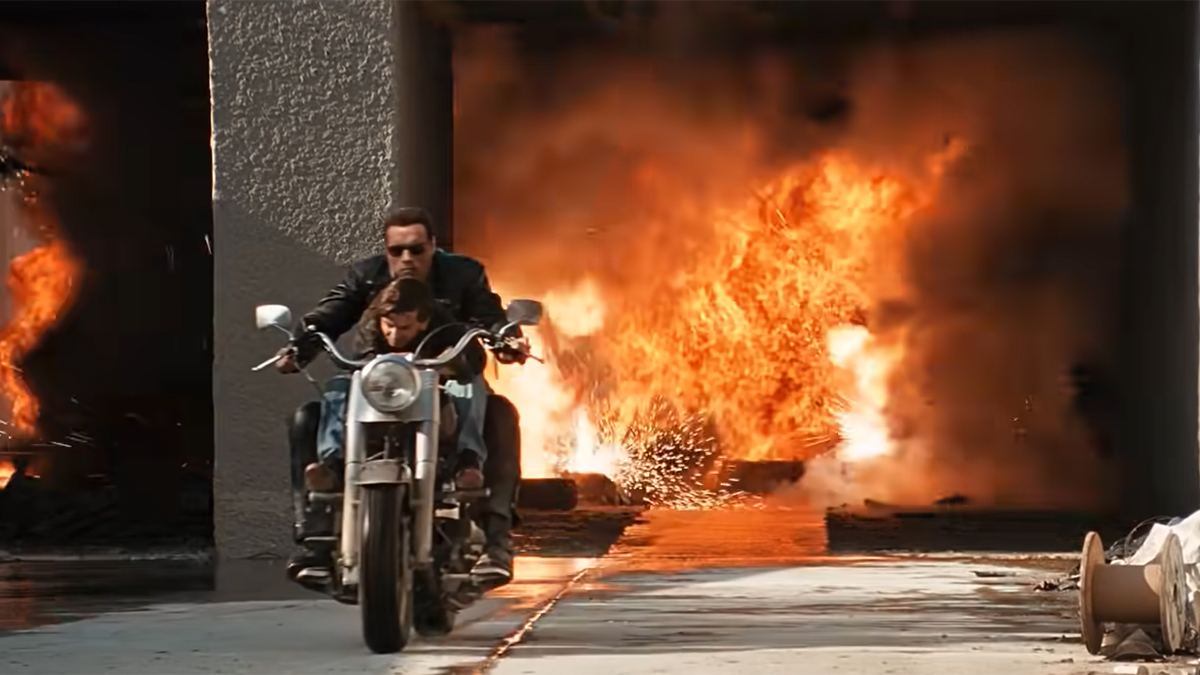 Like in most action-film explosions, the climax to this chase never should have happened. Chances are, the truck in the scene is running on diesel, meaning its fuel would not have been ignited by a spark from damaged electricals, let alone violently explode into a giant ball of flame.
Regardless of the science, this is still one of the most memorable chase sequences in film history. What are a few other chase scenes you'd like us to take a look at? Let us know in the comments.