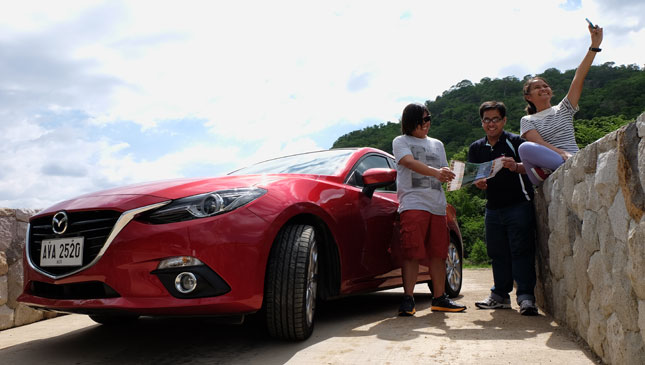 When was the last time you took your car out on a road trip? Not too long ago, we hope. Should you take the wheel for a last summer hurrah, please don't document your journey using just your handy smartphone. And if you're the type who has an aversion to bulky DSLR cameras, Fujifilm Philippines has brought in its X-T10 model to meet your traveling requirements. This is the Japanese manufacturer's newest camera that will vie for a place in the mirrorless camera revolution.
Quick review: Your DSLRs are cameras with mirrors and prisms inside their cumbersome bodies for real-time viewing of the images you're about to snap. On the other hand, mirrorless cameras are, well, mirrorless, making them thinner and more compact for traveling. What makes the latter popular is that they have the features of a DSLR combined with the size convenience of a point-and-shoot camera.
To present its latest mirrorless product, Fujifilm Philippines brought media participants and dealers to Pico de Loro in Nasugbu, Batangas, for an intimate introduction to its new X-T10. Fujifilm is promoting it as the ultimate travel companion.
Aside from being compact and lightweight, the X-T10 also has a funky retro design. The top and base plates are made of die-cast magnesium, so it's not flimsy; in fact, it gives the camera a premium feel.
Continue reading below ↓
Recommended Videos
During the event, participants were divided into groups of four and were tasked to submit a photo essay answering the question: "What is your ultimate travel experience?" Each team was given an X-T10 to play with, and set free to roam the large resort to convey the perfect answer through pictures.
Our team used a Mazda 3 and drove around the resort looking for the perfect spot, giddy to take photos of the car with the new camera. After all, what's a Top Gear ultimate travel experience without an awesome car, right?
We positioned the Mazda against different backdrops. We even tried doing what we demand from our regular photographers: a panning shot of the car. Or, aptly, a poor attempt at a panning shot of the car. The X-T10 did have a new autofocus system with Zone and Wide/Tracking modes for those pesky moving subjects--in this case, a moving car. The new AF system offers the standard 49-point focus mode for high-speed and precision focusing, while the Zone and Wide/Tracking modes use a 77-point area to capture moving subjects.
Another key feature of the new camera is its palette of artistic effects or filters. The X-T10 has film-simulation modes to recreate the effects of traditional film. This is perfect for thought-provoking and artsy Instagram posts. You have the likes of Classic Chrome, Velvia, Sepia and Astia to choose from.
At the end of the day, after a great deal of location changes and gloomy-then-sunny weather, we had to submit our entry. Tons of photos were printed from Fujifilm's Frontier S printer and were put up on an easel for the judges to, well, judge.
Participants were asked to display their output and present their photo essays onstage. The prizes at stake? Each member of the winning team got to take home Fujifilm's XP80, its water- and shockproof action camera.
We like to think that we take decent photos for our obligatory social-media posts from time to time. During the event, we constantly scratched our heads because of the foreign Fujifilm interface and the mirrorless mechanism. But with photographers and bloggers as competition, winning the photo essay contest was beyond our most optimistic expectations.
It won't be long until the rains transform summer landscapes into somber vistas, so if a road trip is in your plans, now's a great time to buy a good camera. The Fujifilm X-T10 will set you back P40,990 for the body, P45,990 with the 16-50mm kit, or P49,990 with the 27mm kit.
When you see your ride immortalized in a dazzling sunset photo, you'll feel the photography investment is worth it.
Photos by Mark Jesalva