It's rare that you'll see two vehicles of the same make, model and color get modified in almost the exact same way. When the guys of Autobot Autoworks bring two tricked-out Ford Ranger Wildtraks for us to shoot, we figure the pickups are owned by one person—or perhaps by brothers or best buddies. But to our surprise, shop owner Randy Lao says they belong to two people who aren't related or even friends. How did this happen?
It all started when Joey Hernandez, one of Randy's regular customers, brought up the idea of modifying a brand-new 2016 Wildtrak. "My taste in car mods isn't over-the-top—I want my rides to be functional and, at the same time, look pogi," shares the 32-year-old Capiz native. After some brainstorming, he and Randy agreed to go with a direction that would make the Ranger look like a member of Transformers.
Randy was more than eager to apply lessons he had learned about modifying 4x4s at last year's SEMA Show in Las Vegas. But to get the truck to look like it does now, he had to order parts for almost everything underneath it. "Bago halos lahat, like coils, suspension, upper arm controls, stabilizers, and leaf springs," he says. "Tapos we lifted it seven inches and added wide rims—20in- by-12in, -44 offset. We also ordered special 37- inch tires."
Continue reading below ↓
Recommended Videos
Because the Ranger's 3.2-liter diesel engine is already powerful, Randy simply added a DP Chip for an additional 28hp and 60Nm. Installing everything took three weeks b cause the parts had come mostly from Australia and there were little pieces that needed to be fabricated. Then there was also the tricky installation process. "Maraming safety sensors ang Ranger, and we had to place everything properly. Otherwise, magkakaproblema. While we changed a lot of parts underneath, we ensured that all the sensors worked afterward," Randy explains. Upon finishing the modification process, Randy christened the Ranger as Ironhide after a character from Transformers.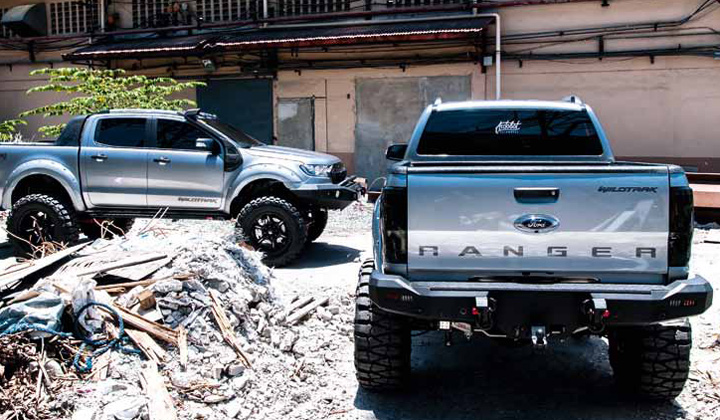 As is his custom, he posted a photo of it on his shop's Facebook page, and this caught the attention of another Ranger owner. "A week after bringing home my new Wildtrak, I wanted to have it modified right away. I saw Joey's truck on Facebook, and figured why not get the exact same mods since it's already been done?" recalls Jim Lubrica. He didn't waste time and visited Randy at his Quezon City shop to see if he can get the exact same mods. When Randy asked permission, Joey didn't see any problems. "It's kind of flattering when other owners want their Rangers to look like my Ironhide. I even jokingly told Randy na dapat may commission na ako sa gusto ng same mods," Joey laughs.
Almost all the mods on Joey's truck were implemented on Jim's, except for the 38-inch tires, the cab lights on the roof, and running boards he wanted. Randy christened Jim's ride Ultra Magnus, after another character from Transformers.
Even with all the mods, both owners attest that there's no change with the way their trucks drive. "Probably just the dragging of the mud tires, but the steering is still buttery-smooth even with the 37-inch tires," observes Joey. Jim is also glad that his Ranger is ready for action anytime. "It gives more thrust than before, and with all the modifications, it boosted my truck and it's just a thrill to drive," he remarks.
As for the cost, both owners would rather not comment on the exact figure. Randy simply says it didn't come cheap considering most of the parts were bought abroad. But that's the thing with good modifications. It's not just about the looks—everything has to work seamlessly. With these two bad-boy trucks, you can clearly see that you get this kind of result if you invest in it. (Ian Magbanua)
Modifications
BTV 4x4 seven-inch suspension kit; upgrade for upper control arms; sway bars; BTV 4x4 torque arm; Dobinsons leaf springs; Maxspeed Performance big brakes; SR 30mm spacers; Fuel 20in-by-12in rims with -44 offset; 37.5in Nitto mud tires (38in for Ultra Magnus) MCC 4x4 Accessories rocker bumper; 24V winch; body-colored flares; LED taillights; eBoard running boards (for Ultra Magnus); cab lights (for Ultra Magnus)
More Ford Ranger facts
Hard as it might be to believe, given its current market dominance, the all-American Ford Ranger was once a Japanese truck. Based on the B-series pickup developed by Mazda. To be precise, this wasn't the "American" Ranger, a truck developed by Ford in 1983 in response to the popularity of its Mazda-licensed Courier pick-up (circa 1972), but the "Global" Ranger introduced in 1998, following in the footsteps of the Courier. In America, Ford licensed its Ranger to Mazda to be sold as B-series trucks, while outside of it, Mazda licensed its B-series to be sold as Rangers. This confusing arrangement came about because in the two decades since the introduction of the Ranger, the US and global markets had diverged sharply in terms of market needs and priorities. (Niky Tamayo)
The Ranger will do everything it is asked to do in any 4x4 condition: deep water immersion (thankfully, they placed the computer control box on the highest side of the passenger compartment to ensure that water doesn't reach it); superior traction on mud and sand; and high-speed turns on paved roads. With LSD, it will keep the tail tucked in longer than a vehicle without it. Did I mention torque for off-road conditions and powering out of a fast turn? Before you start splashing away in water, bear in mind that the Ranger's intake is a bit prone to ingesting unwanted foreign matter to its engine (like water) in fast water ingress and long dusty road travels. Also, an ABS shut-off switch for off-road driving would be a big plus for the off-road enthusiasts. Its antilock brakes are just too fast for cadence-braking on steep slippery downhill conditions, and for rocking the truck out of a rut, back and forth. (Beeboy Bargas)
Note: This article first appeared in Top Gear PH's August 2016 Issue. Minor edits have been made.