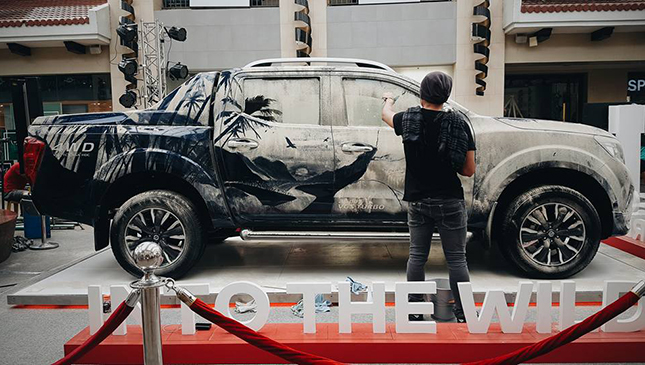 Fact: pickup owners love dirt. They love it on their wheels, on the bed, and stuck on the heels of their boots as they press on the gas pedal. It's a truck thing. JC Vargas though, takes his passion for dust and muck to unprecedented heights.
You see, JC is what's called a dirt art practitioner—someone who turns dirt into, well, pieces of art. His latest canvas is the Nissan Navara, and you can check out his work until December 21 at The Block, SM North EDSA.
JC says the Navara makes for an ideal platform to feature his work, on account of the pickup's ability to handle even the dirtiest roads and environments. "It can be used anywhere, whether off-road or in the urban setting."
For practical reasons, Nissan Philippines used Fuller's earth to simulate mud and dirt instead of driving through the countryside. To be honest though, we think parking the vehicle outside for a couple of hours would have done the job just fine, on account of Manila's less-than-ideal air quality.
So for all the dirty windshield "artists" out there, you might want to step it up. As you can see, there's way more potential in a dust-covered vehicle than a bunch of corny dick drawings and lame stick figures. Standards guys, standards.