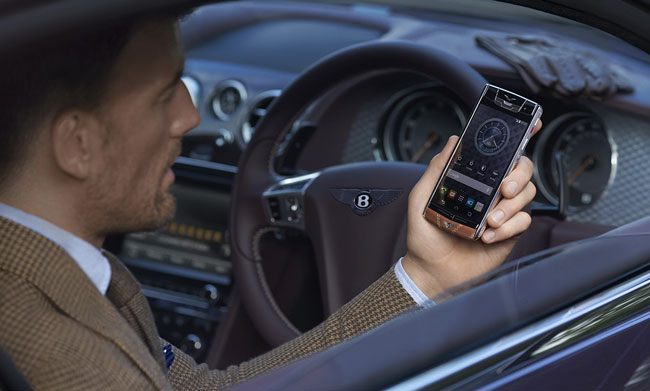 By now, the prices of Apple's new iPhone 6 are starting to come down to earth. If you own one, you might be disappointed to see another iPhone 6 the next time you're at Black Sheep or Privé.
If you really want exclusivity, and you're willing to shell out what amounts to roughly 14 Apple smartphones, luxury carmaker Bentley has what you're looking for. It recently released the first device from the partnership we announced three months ago, built in cooperation with premium mobile-phone maker Vertu. The collaboration is called "Vertu For Bentley."
With Vertu phones, you don't talk about the specs first, because those are secondary. At this level, design is the primary consideration. In this regard, the Bentley smartphone doesn't disappoint. Its body is swathed in quilted calf leather, done in the Bentley shade of Newmarket Tan, then stitched with a diamond pattern--similar to how it's done with Bentley automobiles.
The supple leather is encased in durable, lightweight titanium, and features diamond knurling. On the handset's titanium back plate is the signature of the craftsman, who built the phone by hand from start to finish. This Vertu smartphone was built in the company headquarters in Church Crookham, England.
Each Vertu For Bentley product has a discreet metal Bentley 'B' wings motif on the face of the handset. To protect this valuable gadget, a complimentary leather slipcase is included, also embossed with a Bentley logo. Not that the Vertu For Bentley is easy to scratch. Its 4.7-inch screen is made of solid sapphire crystal, a material even Apple couldn't afford to incorporate into the iPhone 6.
ADVERTISEMENT - CONTINUE READING BELOW ↓
We imagine multimillion-dollar deals will be brokered using this device, so call clarity is important. No problem: The phone's acoustics have been tuned in collaboration with Bang & Olufsen, featuring Dolby Plus virtual surround-sound processing and stereo speakers.
For the optics, Vertu worked with no less than Hasselblad to image-tune the 13-megapixel front camera of this phone.
The more pedestrian features of this phone include wireless charging, NFC and Android 4.4 (Kitkat) software. The software has been tweaked to include custom content like start-up animation, a 3D clock, 3D wallpaper and Bentley wallpapers.
This Vertu For Bentley smartphone is just the first of a planned series of devices between the two luxury brands. It is limited to just 2,000 pieces, and will be available in select Vertu boutiques starting this month. Each handset will cost $17,100, or about P767,000.
We knew there was a Vertu store in the Shangri-La Mall in Mandaluyong, so we tried to verify if this Bentley edition would be offered here. We called the listed number on Vertu's website, but the woman who answered said they weren't a Vertu store. Weird.
Oh, well. We're sure those who can afford this smartphone have the means to get their hands on one--even if doing so means flying out of the country. As for us, we'll be happy with a gold iPhone 6 Plus.