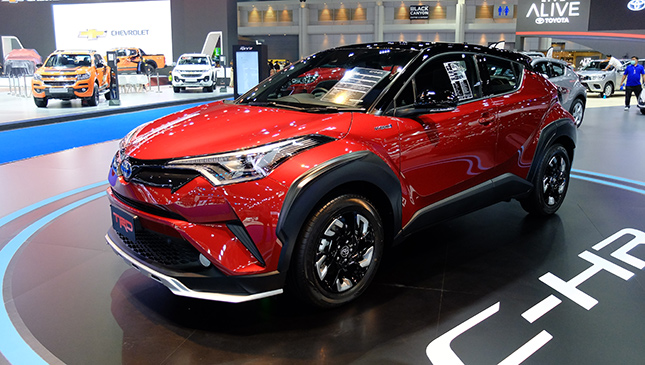 Ah, we meet again. We're of course referring to the Toyota C-HR, the Japanese small crossover that broke the internet when it first surfaced back in 2016. We've encountered the vehicle on numerous occasions--mostly at foreign motor shows and trips to Japan--but this is the first time we're seeing the Toyota Racing Development (TRD) version in the metal at the Bangkok International Motor Show.
Impressions? If you thought the 'regular' Toyota C-HR was edgy enough, chances are you'll find the TRD-clad one a little too much to take in. The hybrid model in red and black we're gawking at features a drastically sportier bodykit most noticeable around the muscular fenders, which are now wrapped in matte black plastics.
Continue reading below ↓
Recommended Videos
The wheels look slightly ridiculous--in a good way--as well. At first glance, they look more like Beyblades (are these even still a thing these days?) than something an automobile would roll around on. Tacky or cool? You decide. Out back there's a nicely done lip spoiler to go along with the crossover's macho proportions and futuristic taillight designs, too. Oh, and even more matte black plastics.
Besides finally seeing the TRD variant, we had a chance to sit inside the vehicle as well. All that exterior grittiness reflects in the cabin, where occupants are greeted by a modern dashboard with an emphasis on the driver. Other bits? The seats are pretty comfy, there's a fair bit of glossy materials inside, a nice steering wheel, and some odd angular sort of pattern happening on the door panels. It's a cozy environment with a stealthy look, and we like it.
Overall, the TRD C-HR builds nicely on top of the crossover's already aggressive styling. The extra body bits nicely compliment the angry headlights, sharp angles, and overall sporty/macho vibe. But again, if you thought the ordinary C-HR (see photos in black below) had the look just right, you're probably not going to dig this one.
Which one do you prefer? Frankly, we just want to see the crossover in the Philippines already--TRD or not.