I admit I wasn't impressed with the Toyota Rush at first. I first tried it out during Toyota Motor Philippines's Road Trek driving event this year. The ride was too stiff for undulating provincial roads. At the first opportunity, our team switched Toyotas (most of the crossover and truck lineup was available to drive). I chose the stylish RAV4, and we never wanted to leave its monocoque embrace after that. 
Recently, I scheduled a test drive with the top-spec Rush, so as to get to know this subcompact SUV better beyond first impressions. 
What I learned changed my perception of the Rush. Here are my main takeaways: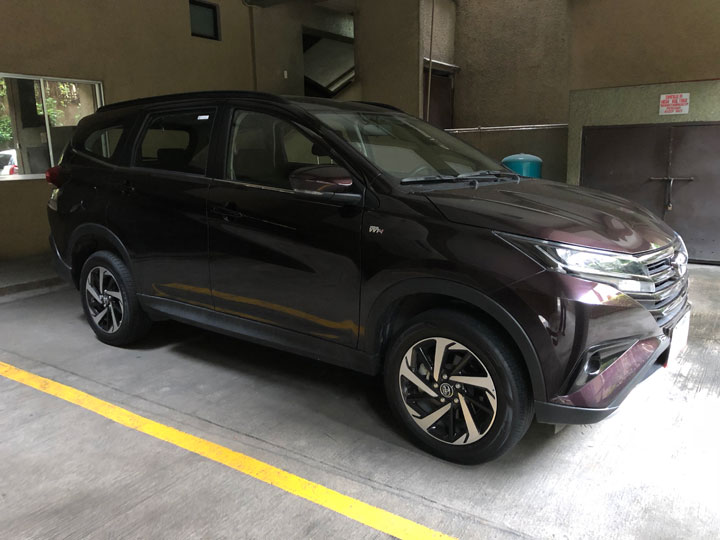 ADVERTISEMENT - CONTINUE READING BELOW ↓
It's actually quite stylish. You know how they say that you like a car if you look back as you're walking away from it? I caught myself doing that a few times during the loan period. The design isn't as balanced as its Fortuner big brother, but it's nice to look at. I'd probably change the wheels though. 
A/C is good! Definitely much better than the Vios, although that's a low bar. The windows actually kept misting in the rain because the cabin is so cold. Second and third row passengers also enjoy cool air thanks to the rear A/C.
Infotainment unit is simple but reliable. iPhone connections are seamless, which can't be said for half the 'smart' infotainment systems out there. I never figured out how to turn the Rush's audio system off though.
It's a true 7-seater. Well, as long as the people are normal-sized, and not like 5'11" me.
It's a little hard to find an acceptable driving position. Of course nobody is expecting adjustments for reach here, but for tall people like me, the optimal driving position is elusive. I found a configuration I was comfortable with, but I'm not sure how well I would fare in a long drive.
Its small size makes it easy to squeeze in between tight alleys. You know those scary detours Waze likes to do sometimes? Where you see shirtless men drinking in narrow streets? Well, if your GPS leads you there, know that a small SUV like the Rush will be easy to manuever.
The engine strains sometimes. I noticed that driving uphill with four people takes noticeable effort. The four-speed transmission doesn't help, either.
A surprising amount of 'premium' kit. The Rush was never positioned as a premium model, but there's a decent amount of creature comforts you normally find in higher segments. There's auto climate control, auto-on headlights, and power folding mirrors. The doors even lock/unlock when you press a button on the door handle as long as the remote key fob is within range.
The thin metal allows external noise to seep through. During heavy rain we noticed that the water hitting the roof made a noticeable sound inside the cabin.
This would be an awesome college barkada car. This is like my generation's LiteAce, but at a more affordable entry price.
The ride height is really useful. One rainy night we passed through some flooded areas in Taguig. I knew it was still safe because sedans could still traverse in front of us, but knowing the Rush is taller gave me better peace of mind.
Remember the price tag. The plastics are hard, the trim looks mismatched, and the drivetrain could be better. But remember this costs just a little over a million. At this price range, the Rush is a feasible proposition.
ADVERTISEMENT - CONTINUE READING BELOW ↓
Recommended Videos