Main image: 'The Late Show,' shot in the summer of 1992, at an abandoned drive-in theater in Coalinga, California. Lit with gelled strobe.
Cars, cameras, and coffee: Three things that gearheads gravitate toward over the years, in varying degrees. Which explains early-morning drives and impromptu coffeehouse car meets. But there's another occasion where all three inevitably meet: Late-night junkyard photography.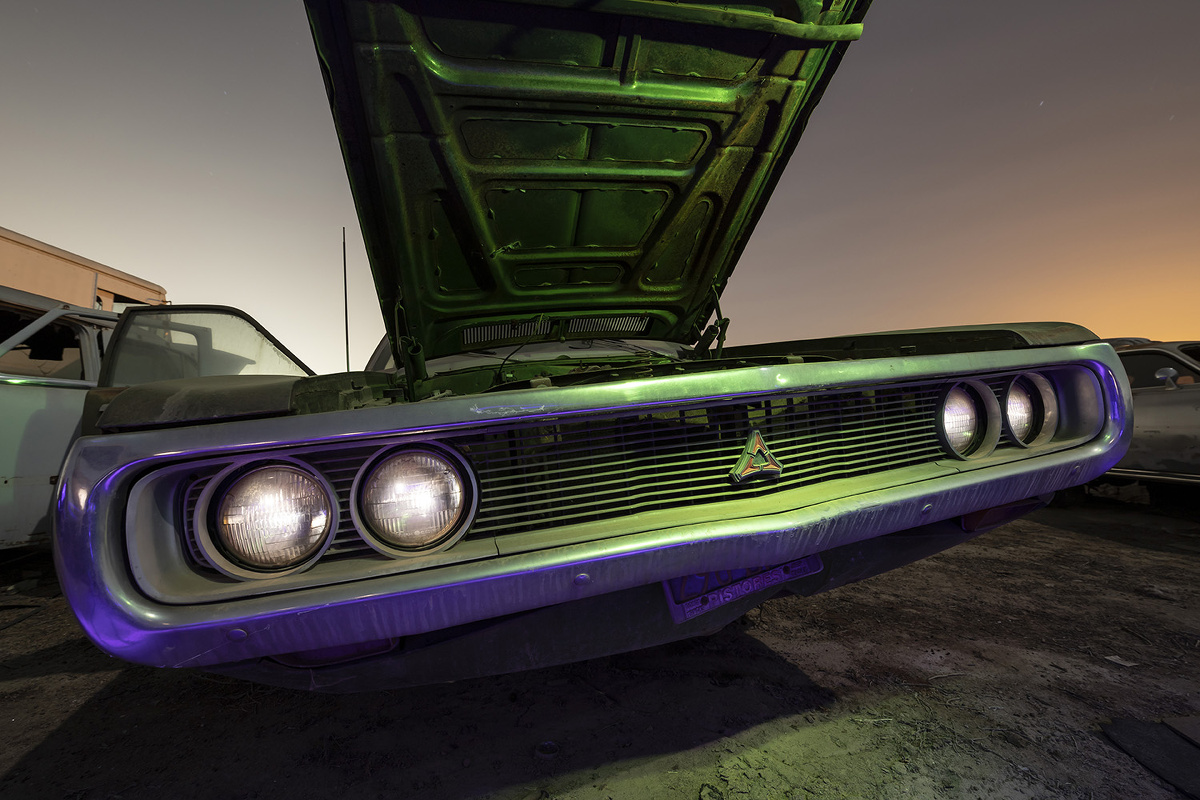 Troy Paiva isn't your typical photographer. Instead, he entered the field sideways. A lifelong artist, doodling cars and spaceships in the back of the classroom as a kid, he had no patience for the regimentation of formal education and started work as a graphic designer straight out of high school. In his mid-twenties, he stumbled into an internship at Galoob Toys, eventually becoming a designer for the famous Micro Machines line.
Continue reading below ↓
Recommended Videos
"That job was the best," he says. "My real education."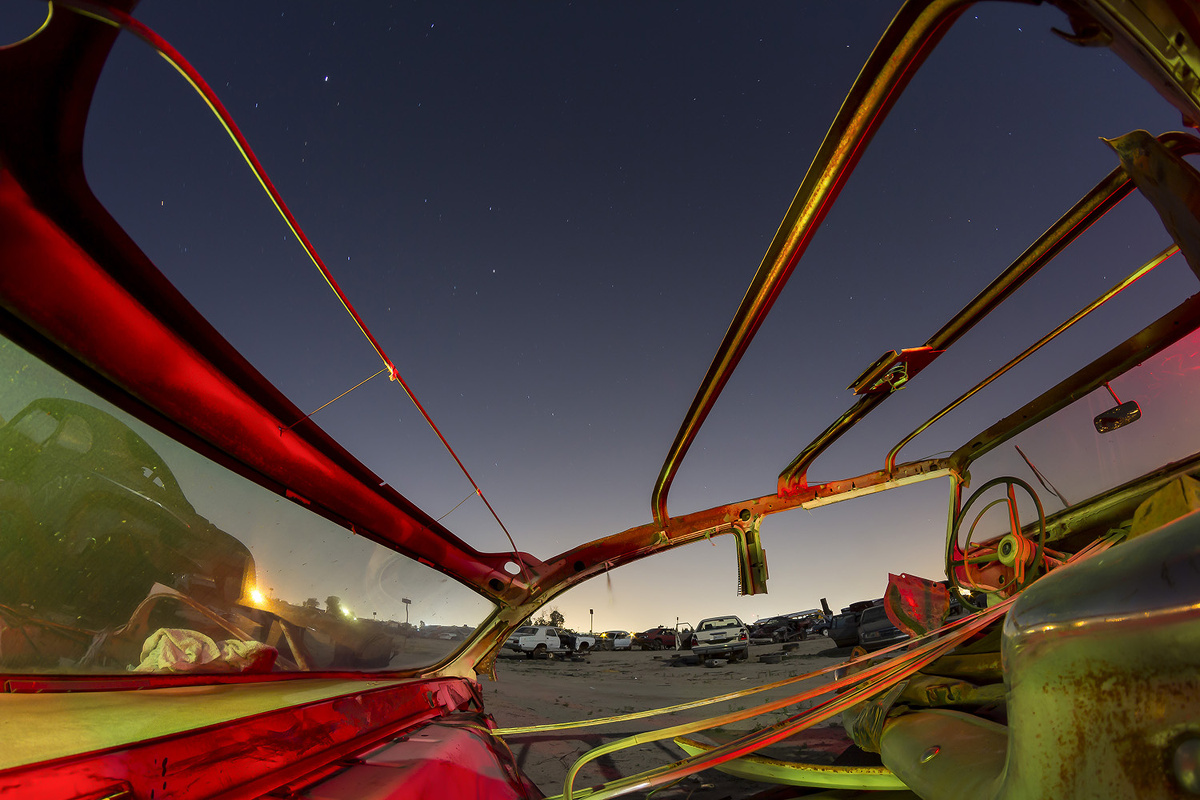 Over the past forty years, he's done all kinds of work in various fields, but while he currently considers himself more of a painter than anything else, he found his calling in painting cars with light.
"I've been doing light-painted night photography for 30+ years now. It started as a way to do creative personal work that was outside my toy job," Paiva recalls.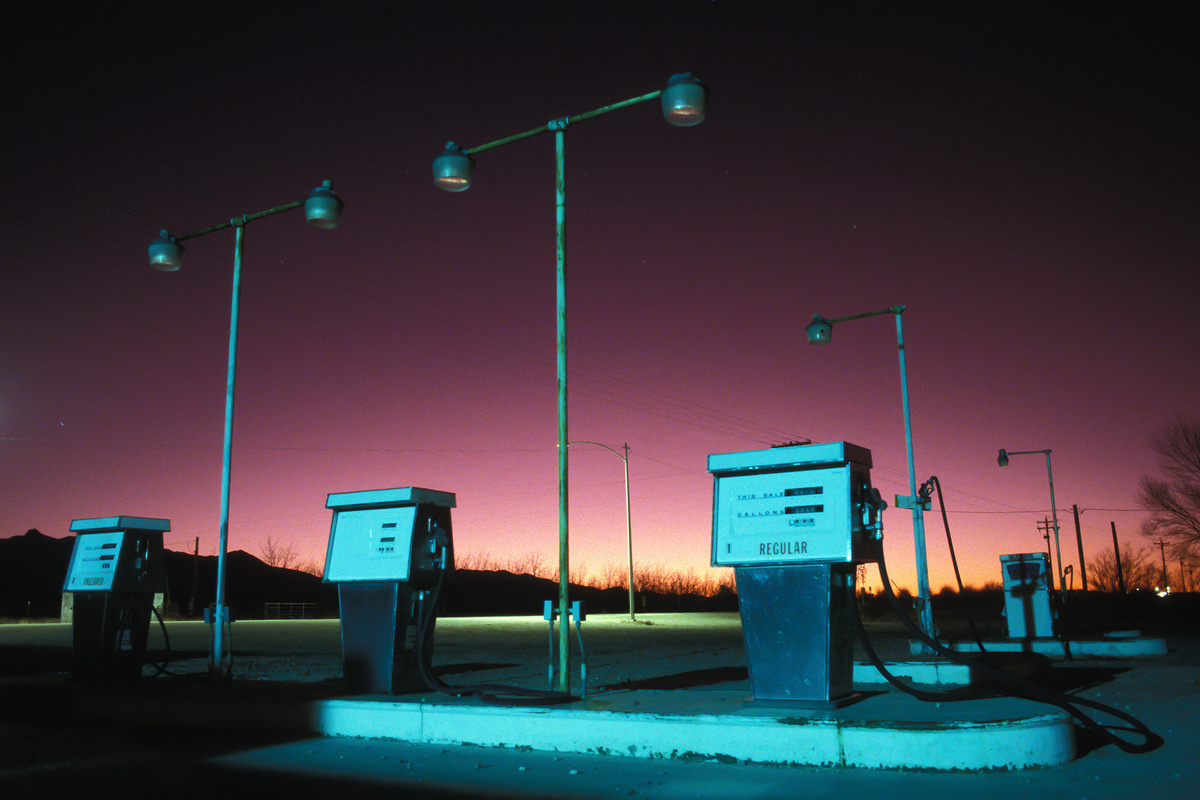 "I started in 1989—it was film shooting—without a preview. Ninety-five percent of everything I shot went right in the trash. Everything was an experiment, mostly gone bad. Film was a very unforgiving medium; very few people tried NP/LP back then and almost no one stuck with it. I persevered because I love doing it—working in the field late at night. The experience has always been the real fun for me, so early on I wasn't too upset by coming home with almost no good work."
Once he switched to digital in 2005, he was already a practiced hand at lighting, and on-camera LCD displays meant he could adjust to conditions on the fly.
"My hit rate went from 5% to almost 100%," he says. "Light painting suddenly became much easier, and consequentially, its popularity exploded."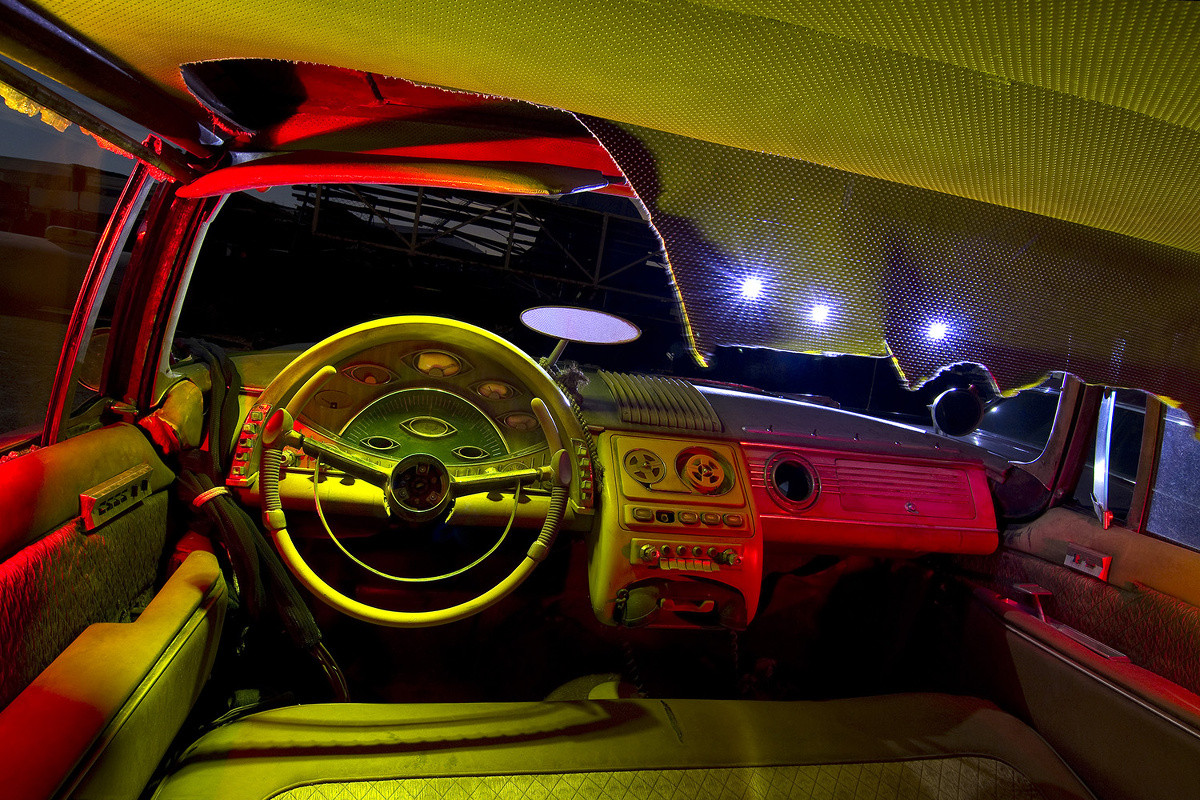 "I'm now viewed as an 'old master' of this look, which I find ironic, as I've never really even considered myself specifically a photographer!" he muses. "It's more like I'm an artist who also happens to use a camera for this one weird thing...and after the tech changed, that one weird thing suddenly became popular!"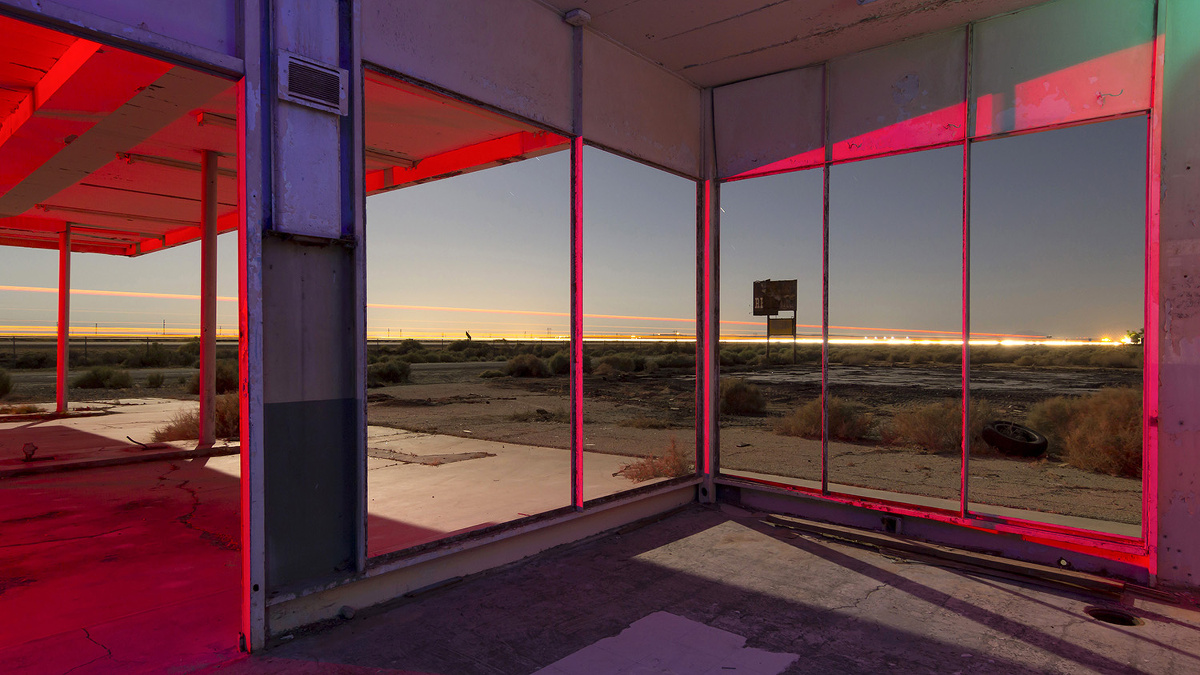 As to why he specifically favors junkyards and abandoned buildings, "it's something I've done since I was young," he explains. "As a teenager in the '70s, I drove all over the west exploring roadside ghost towns, both new and old, which infused my Micro Machines toy career.
"When I discovered the haunting, mysterious look of full-moon-lit time exposures, I instantly connected it to these spooky sites I was already visiting. It just felt (finger-snap) right, so I bought a camera and hit the ground running—shooting abandoned Route 66 sites and my first aircraft boneyard in the first few months...and never stopped."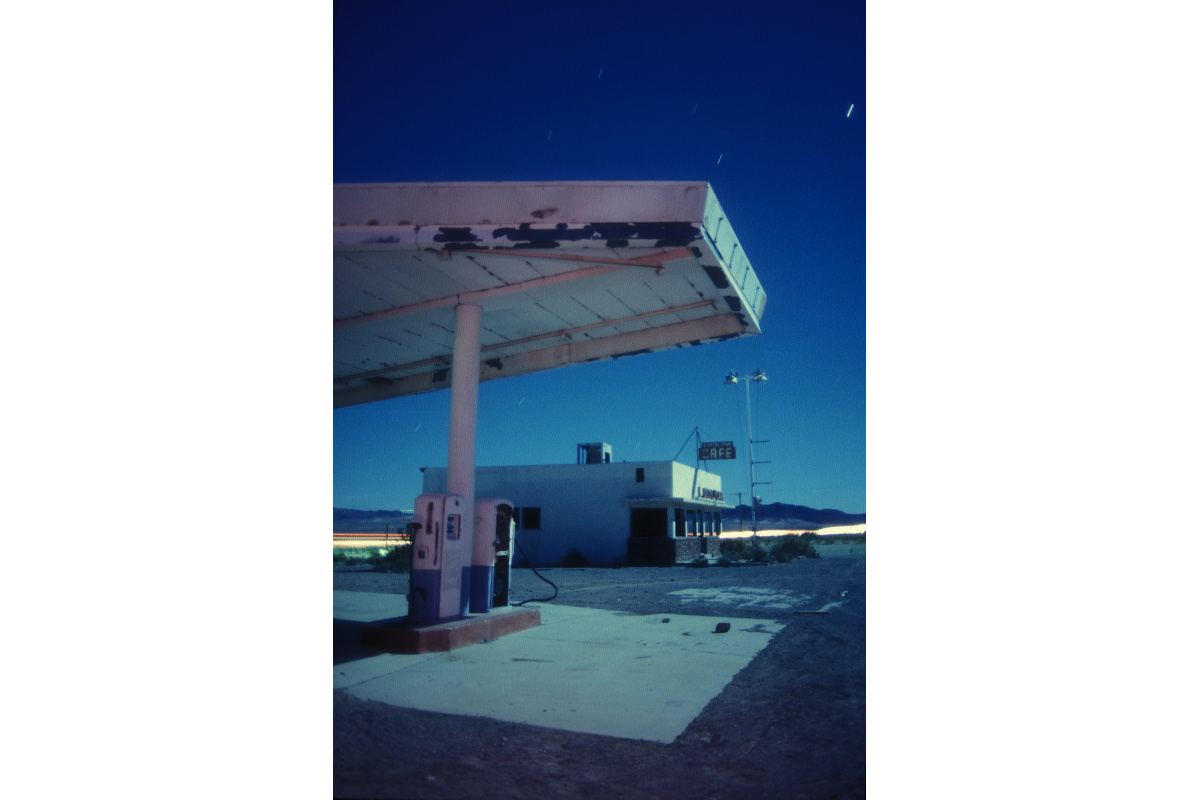 Paiva has a very modest view of his role in recording these lost and abandoned sites: "This is the kind of question that is best answered by art historians, anyone other than the artist himself. But I do know that, before me, there wasn't car or ruins photography that looked like this. I've looked for it, but never found it."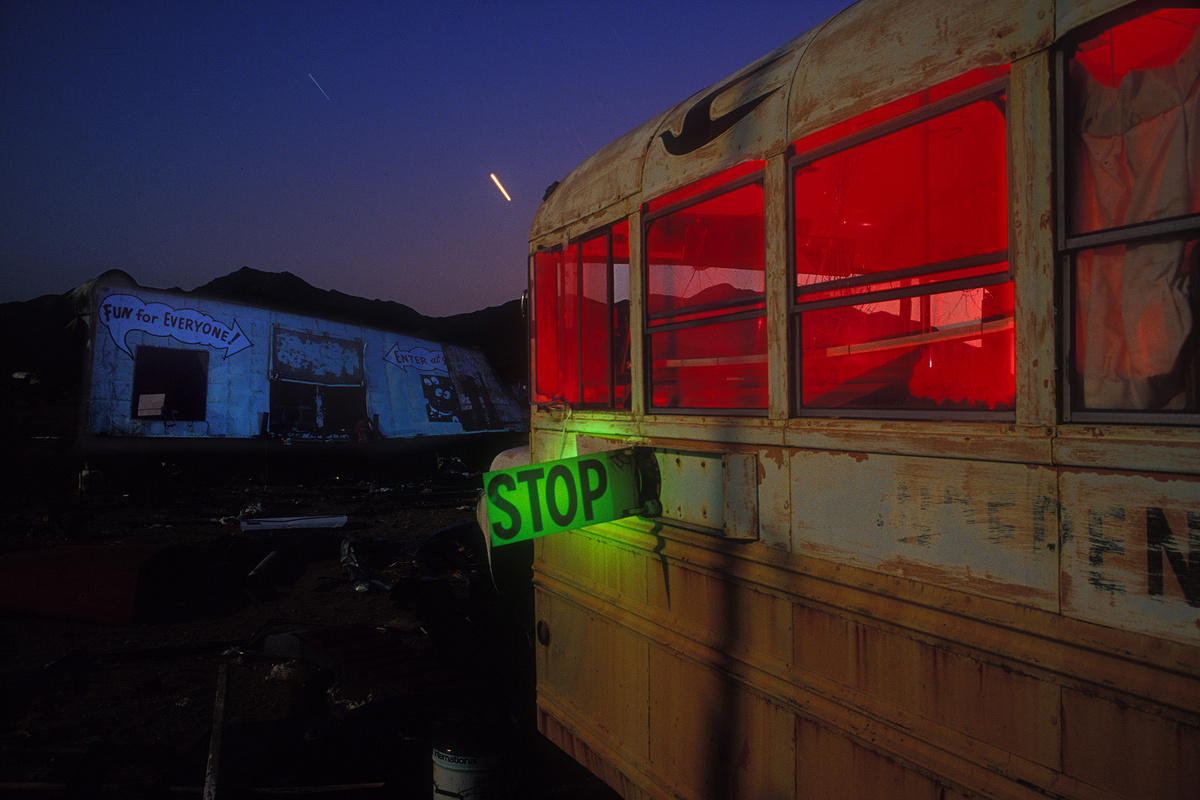 But he admits with some pride, to being a pioneer in the field: "My lighting and choice of subjects were a different approach—taken from outside the realm of photography. In this way, it seems that my lack of formal education was a good thing. No one told me, 'You can't do it that way!'"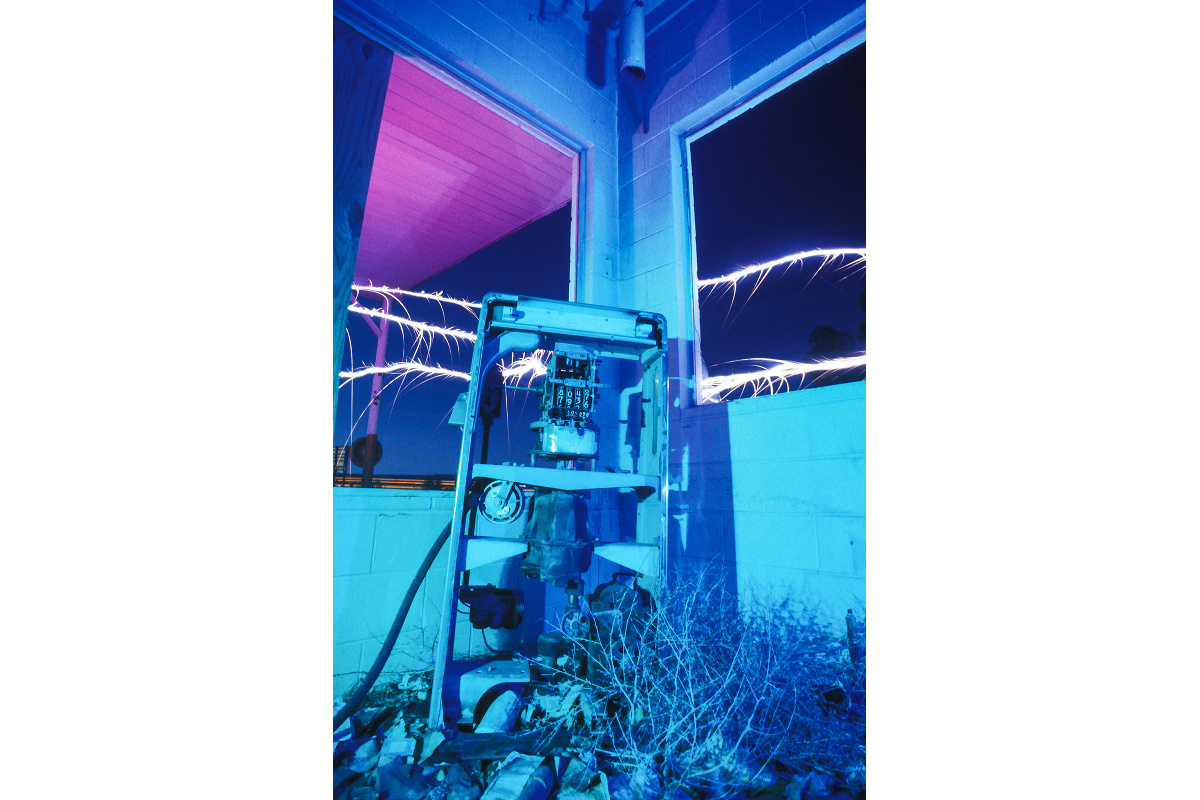 When he started out, Paiva favored mostly cheap used cameras and equipment, starting with an old Canon FX bought at a flea market and used, off-brand wide-angle lenses. He also bought batches of expired and overheated film. "Grainy, color-shifted, soft corners—it didn't matter, it was part of its character," he says, "I had a 'shooting junk subjects with junk equipment' mentality back then."
His work was lit mostly by strobes and incandescent lights in those early days, but with the advent of affordable LEDs, he has now switched over to LED flashlights. "I find lighting with flashlight to be more controllable, gentle, and subtle."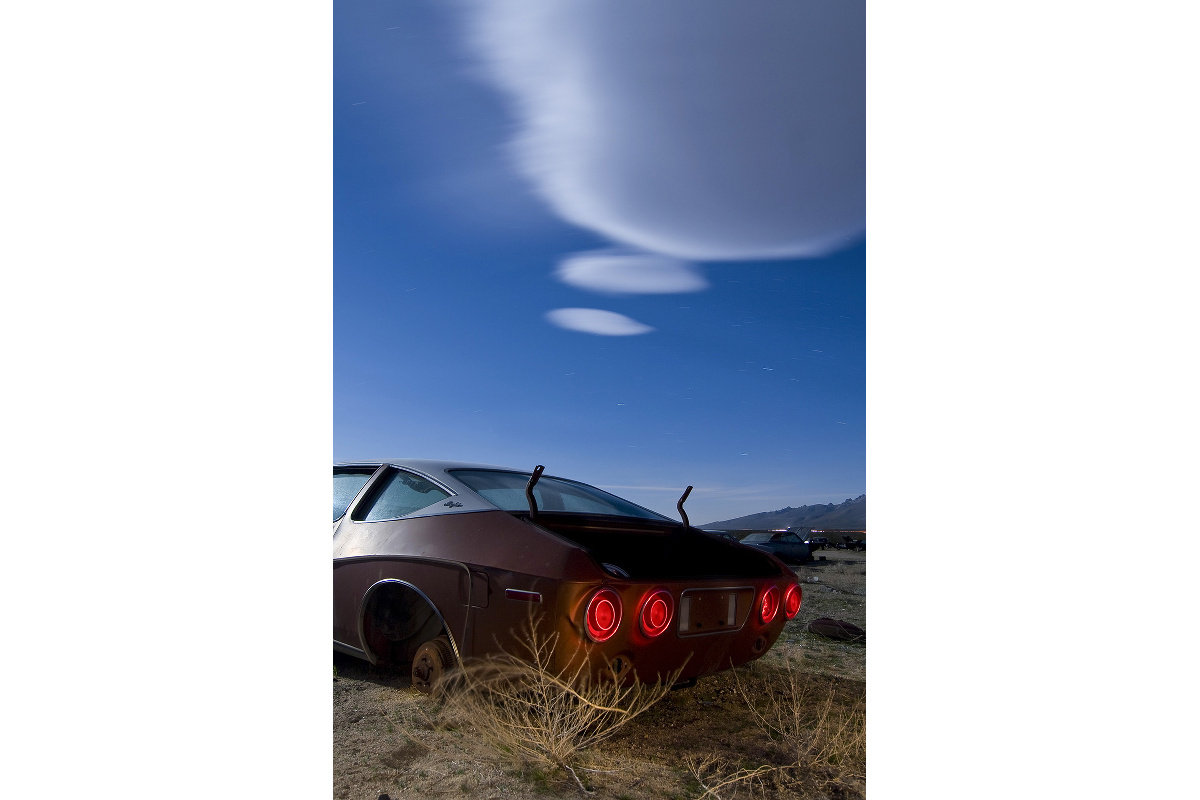 Switching to digital, he remains loyal to Canon. "At the time, they had the only CMOS sensor suitable for noise-free long exposure work," he shares. His current kit is a Canon 6D MkII and a Protomachines PM2 full-spectrum LED flashlight.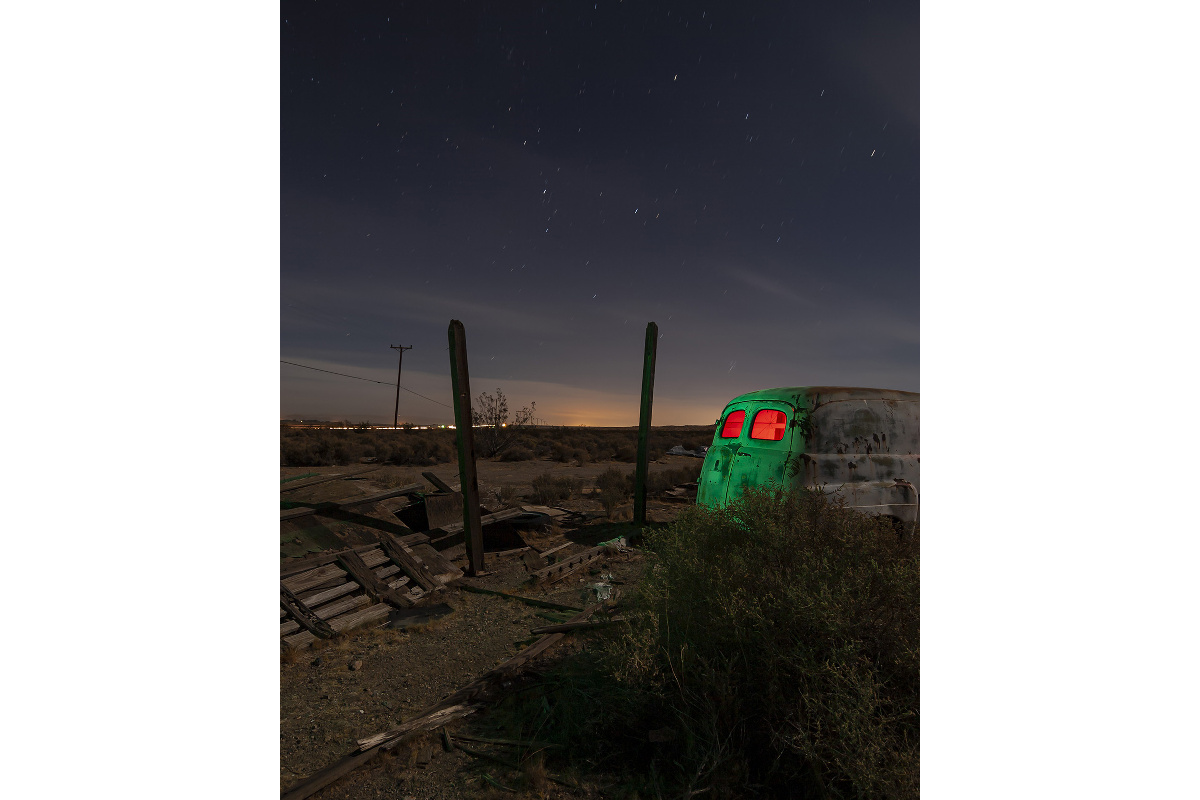 For those just starting out, Paiva has this advice: "The hardest part of doing night photography is getting up off the sofa on a cold night and going outside!"
"It's easy to do, but it's hard to do well. Practice is key. Patience. Experimentation. Remember, I did this for 10 years before I really started to get consistently decent work. Nowadays, the learning curve is much easier because you can rely on the LCD preview, but it still takes time to get good."
Safety is also paramount: "Abandoned buildings and junkyards are fraught with danger. Rotten floors, broken stair banisters, glass, mold, poisonous insects, and vermin. Crazy squatters and violent scrappers and wasted partying teenagers and shotgun-toting caretakers and aggressive cops—I've experienced them all. Every shoot ends up in sinus infections, bug bites, scrapes, and band-aids. I can't stress this enough: Don't go alone.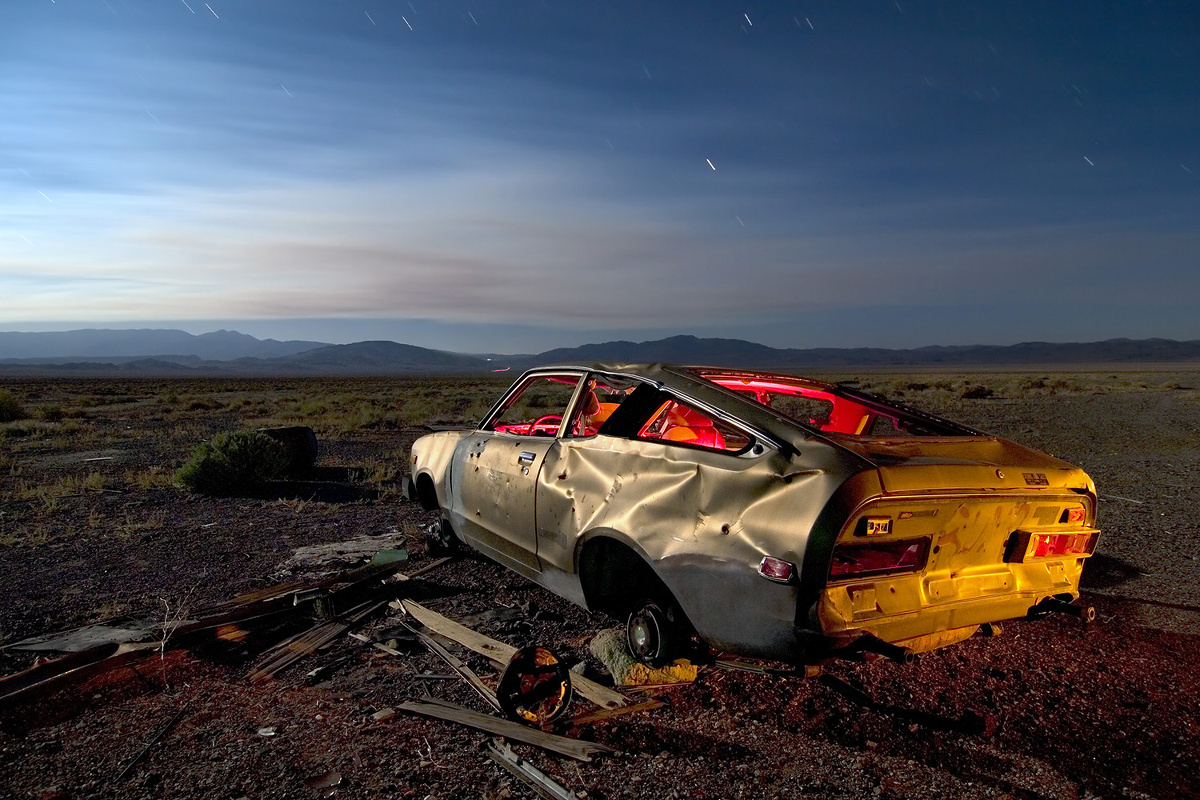 "If you want to shoot junkyards (or abandoned buildings), don't sneak in. Ask permission, show them what you want to do by sharing other lit night work you've done. Smile. Use your human engineering skills. Offer prints. I'm always surprised how often yard owners are happy to have me make art in their yard, simply for the cost of a couple of 8x12s, or one of my books."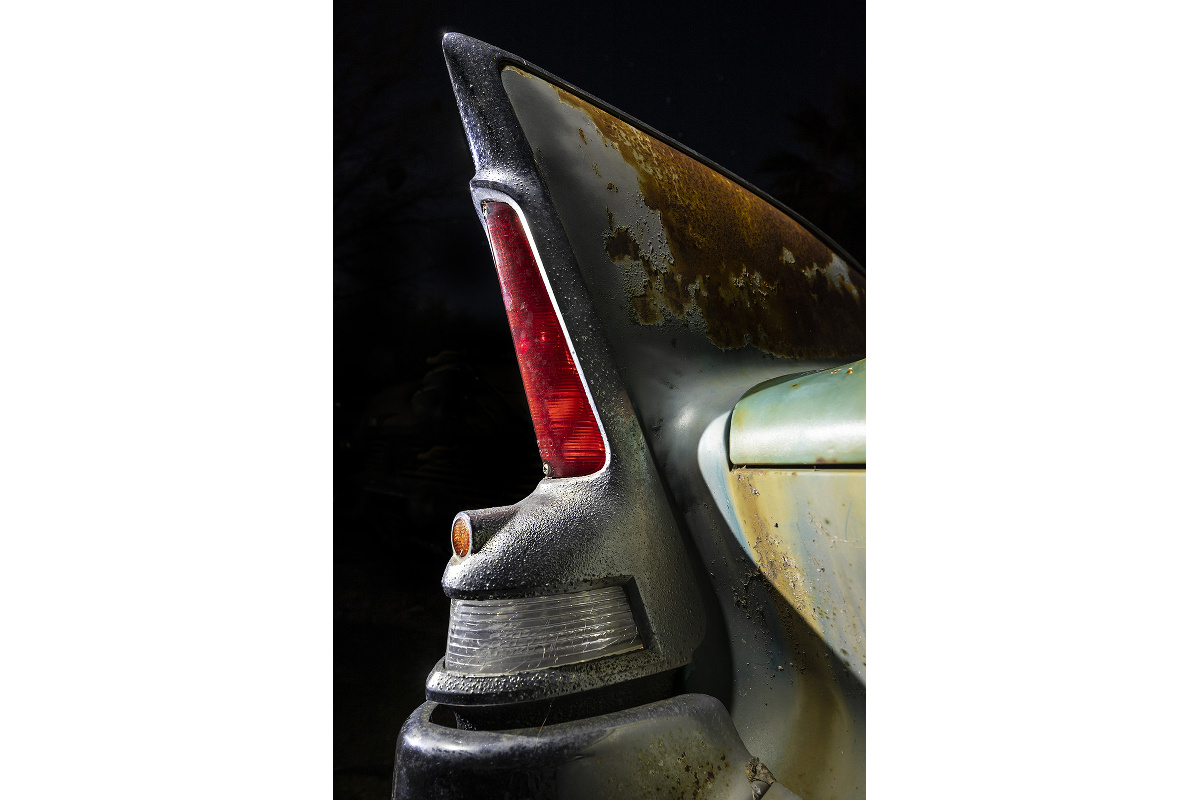 And finally: "Do it because you love it, not because you think it will make you famous on Instagram. This has been an obsession for me for decades, but it's dirty, hard work, requiring all-nighters, bad food, extreme weather conditions, and endless drives. Not to mention all the stuff I mentioned earlier! You have to love it, or you'll stop after the first shoot once you realize what's involved."
Troy Paiva's work, from his earliest to his latest, is viewable on Flickr, Instagram, and Facebook, and on his website, Lost America, where you can also get information on his prints and books.
Top Gear Philippines is now on Quento! Click here to download the app and enjoy more articles and videos from Top Gear Philippines and your favorite websites.