History
Ever since the Daihatsu Feroza's local introduction back in the late '80s, its smaller-engined variants had been deemed inappropriate for the Filipino buyer's taste, so thankfully for us, we always had the beefier 1.6-liter version. This—combined with the novel feature of transforming an enclosed two- door into an open-top off-roader—endeared the Feroza quickly to the buying public, price and compact dimensions notwithstanding. Lightning McQueen it wasn't, but neither was it slow. Sadly, however, Filipino Feroza fans—like Jay-R, Feroza Philippines member and owner of the F300 Feroza seen on these pages—didn't get any subsequent iterations of this little Daihatsu off-roader. Otherwise, it would've been quite an interesting sight to see Terios units on the road today.
Value and costs
Nowadays, an F300 Feroza costs around a quarter of its original price, making secondhand ownership affordable for anyone wanting a highly adept, four-wheel-drive mini-SUV. Another plus is the fact that since Daihatsu was partly owned by automotive giant Toyota, a fair amount of components had been raided from the company's parts bin, which means that spare parts are more likely to be available even today. Small wonder, then, that Ferozas can take quite a beating and licking in the harshest off- road trails, yet are still easy to keep in tip-top condition.
ADVERTISEMENT - CONTINUE READING BELOW ↓
Exterior and interior
Boxy and beautiful is the F300 Feroza's theme, as evidenced by the rectangular grille work flanked by square headlamps, and the fender ares that add an aggressive stance to this slab-sided compact SUV. Interestingly, the boxy shape of the Feroza hides a thick B-pillar that also functions as a rollover protection bar. Other welcome attributes are the standard rear rollover bar, as well as the white front roof panel and rear passenger canopy, which can both be detached should you fancy doing some top-down motoring. Inside, the Feroza's cabin boasts excellent ergonomics, except for the rear-passenger area with its slightly abbreviated legroom. The front-passenger grab bar may be taken as the car's way of saying, "When I play, I really play and you're along for the ride, so hang on for dear life." The seats may appear flimsy, but they provide enough support and have adjustments that allow front passengers to get settled in quickly.
ADVERTISEMENT - CONTINUE READING BELOW ↓
Recommended Videos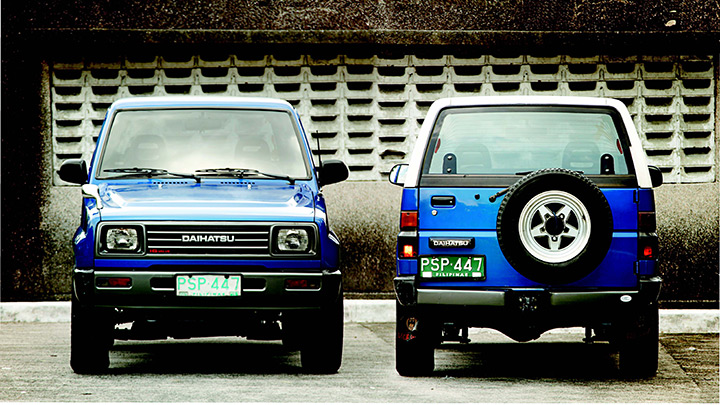 Engine
The F300 Daihatsu Feroza is powered by a 1,589cc engine with a bore of 76mm and a stroke of 87.6mm. Although fuel is metered by a carburetor instead of electronic fuel injectors, this HD engine (as it is referred to by Daihatsu fans) has 16 valves instead of eight, which is more typical of carbureted motors. This is perhaps why it pumps out a respectable 94 horses at 5,700rpm and 127 Newton-meters of twist at 4,800rpm. Combined with nicely spaced gears in the dual-range four-wheel- drive system with manually locking hubs, the Feroza is able to accelerate briskly and almost effortlessly, albeit with a bit of engine hum. Interestingly, due to Toyota's stake in Daihatsu, some diehard followers claim that the F300 features the same 4A engine that can be found in the Corollas of the same era. What makes this exciting is the possibility of an engine swap. This will not only allow the already fuel-efficient F300 to be a bit more economical, the idea of a supercharged 4A-GZE powerplant being given a new home in a Feroza engine bay also sounds intriguing and scary at the same time. Just don't forget to top up all the fluids to keep the engine running—swapped or not, an engine won't te won't tolerate the lack of essential fluids for long.
ADVERTISEMENT - CONTINUE READING BELOW ↓
Driving impressions
Getting in the Feroza is easy, given that it's just high enough off the ground to have the appropriate clearance for off-roading. At least, that's a benefit the front passengers will enjoy—rear passengers will have a harder time since this is a three-door vehicle. Firing up the engine will require some patience since it is carbureted and tends to be a bit weather-sensitive, particularly if you haven't been paying attention to the maintenance schedule. Easing off from first gear takes some getting used to in order to avoid popping the clutch and scrubbing the tires; after all, the Feroza is geared to pull out small stumps and houses. Driving along, the car's acceleration is fairly quick and easy, and handling is as sharp as can be, thanks to the recirculating-ball steering system. The Feroza also handles the rough stuff well despite the short wheelbase, and the seats are surprisingly comfortable even for the rear passengers as the vehicle goes over big bumps. If you live in a place where the roads are mostly narrow and less traveled, this car is exactly what the doctor will order.
ADVERTISEMENT - CONTINUE READING BELOW ↓

Verdict
A highly capable mini off-roader, the Daihatsu Feroza—even in standard kit—will be able to go places that even larger SUVs will have trouble navigating. A suspension lift and larger tires will only increase its functionality. This vehicle is a must-have if you're a 4x4 fanatic. (Ferman Lao)
ENGINE: 1,589cc SOHC 16V I4 gasoline engine
HORSEPOWER: 94hp @ 5,700rpm
TORQUE: 127Nm @ 4,800rpm
ECONOMY: 7-8.5km/L (city) 10-13km/L (highway)
TRANSMISSION: 5-speed manual with dual-range 4WD
SUSPENSION: Front: independent, double-wishbone; Rear: leaf spring, live axle
NOTE: This article first appeared in Top Gear PH's October 2010 issue.