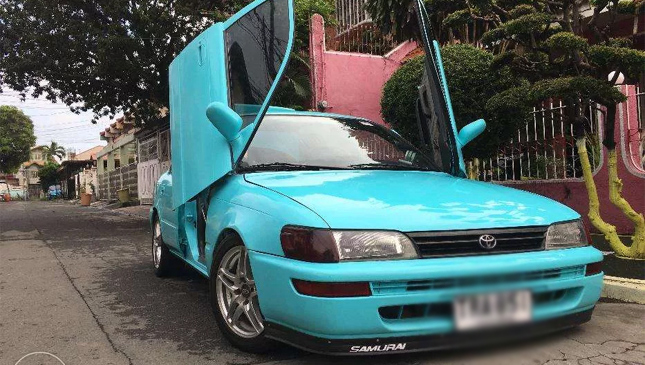 Is your condo parking slot too tight? Are you tired of driving to and from work in a humdrum Japanese compact sedan on a daily basis? If the answer to all of these questions is yes, then boy do we have a treat for you.
Yes, we are talking about the one-of-a-kind, wing-doored 1994 'Big Body' Toyota Corolla you see before you. It's actually for sale online via a buy and sell website carrying a price tag of P88,000. The seller says you can actually return the doors to their proper configuration as he's kept the original hinges, but why would you?
Continue reading below ↓
Recommended Videos
The sound system has been replaced, too, and it comes equipped with four 9-inch LED monitors (two in the back, another two inside the trunk), a tachometer with a shift light, a customized shift knob, a DVD player, and USB/Bluetooth stereo. It also runs on some nice-looking 15-inch wheels.
"Good condition and loaded, nothing to fix," the seller says. His reason for selling this unique-looking ride? He plans to upgrade to an SUV. Its registration has been expired for three years though, so whoever's buying will need to get it up to date. The odometer is in between 120,000 and 130,000km, and it runs on a manual transmission.
The A/C system is cool, too, the seller adds—though probably not as cool as its sky blue paint job and the prospect of exiting this baby in the middle of a busy club parking lot. So, what do you say? Is it a 'yay or nay?
Update: Unfortunately for those interested, someone has already placed a reservation for the vehicle.