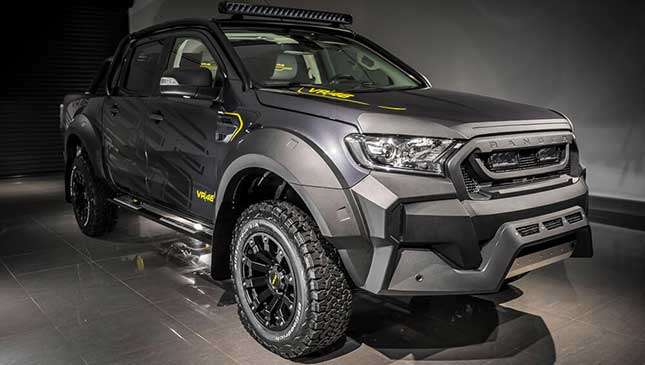 Like what you see? That aftermarket dream of a pickup truck you're staring at above is none other than the Valentino Rossi's customized creation, dubbed the 'VR46' Ranger. It's proof that the Doctor's knack for making magic happen isn't just limited to two wheels or Moto GP races.
It's a "go anywhere, do anything" Ford Ranger 4x4 double cab fitted with a doozy of style and performance upgrades, resulting in an ultra-reliable bespoke off-roader with "proven practicality and outstanding performance." Only 460 were made, because everything needs to jive with the number 46, obviously.
It hits you like a freight train upon first look. Available in either a metallic black or magnetic gray paint job, the VR46 runs on a lifted off-road suspension and 18-inch satin black alloy wheels with special VR46 aluminum center caps. The dual sports exhaust system is made from stainless steel, and shocks come in a limited color pack.
Continue reading below ↓
Recommended Videos
There's been a ton of conversions made to the vehicle's wheel arches, front and rear bumpers, and hood. An external roll cage provides a little surety in case trips through the rough are met with disaster. There are roof-mounted off-road lamps, and black sidebars with integrated steps for easy ins and outs, too.
Inside, you're met with a dark theme featuring custom leather trim, Nappa leather seats, VR46 stitch jobs and graphics, as well as a special flat-bottom steering wheel.
We're really digging the look, and all the neon graphics really reflect the racing legend's preference for bright motorcycle liveries. If you're looking for something geared more toward picking up the kids from soccer practice (or running over the opposing team), there's a custom VR46 Ford Transit available as well.
Frankly, we think this could give some of Ken Block's rides a real run for their money. So, would you fancy playing in the dirt in one of these?