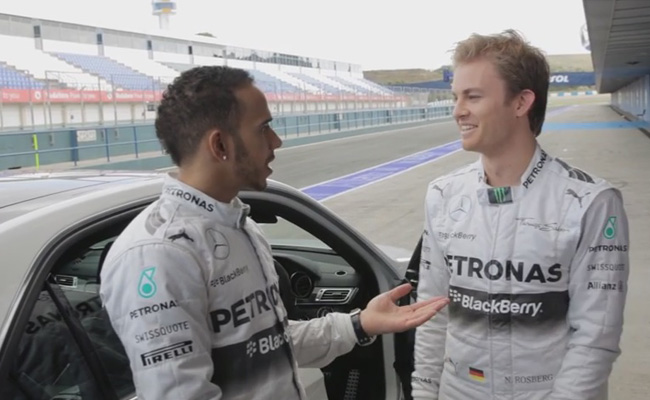 As part of sponsor Allianz's video series on safety, the Mercedes-AMG Formula 1 team had Lewis Hamilton challenge Nico Rosberg to a hot lap in a Mercedes-Benz E63 AMG. While the challenge sounds easy enough, there was an added element: Hamilton was to distract Rosberg.
While the video doesn't reveal the gap between Hamilton and Rosberg's time around the track, the look on Rosberg's face when Hamilton tells him his time says it all.
Beyond the humorous ways Hamilton tries to distract Rosberg, the British driver shares numerous facts about driver distraction, like how it can account for up to 30% "of all road collisions."
Of the many examples of driving distraction enumerated by Hamilton, which ones are you guilty of?
If you're viewing this on a mobile device and can't see the video, please click here.
Continue reading below ↓
Recommended Videos