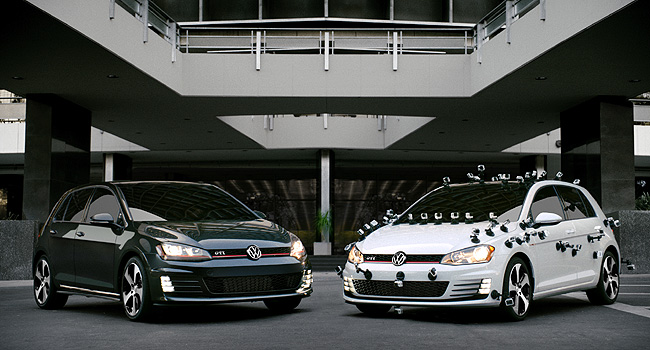 The partnership between Volkswagen and Top Gear USA host and rallycross driver Tanner Foust has blossomed further. From driving a modified Beetle at the 2014 Global Rallycross series, Foust has been enlisted by the German carmaker to help make an interactive video that highlights the newly launched Volkswagen Golf GTI.
For the video entitled Turbocharge The Everyday, a Golf GTI was fitted with dozens of GoPro cameras. Foust then drove it around a closed course in Los Angeles, subjecting the car to high-speed turns and power slides. The video also gives you the option to see the car from different views, including one that simulates a video-game screen.
"We take a lot of pride in the Golf GTI's performance," said Volkswagen of America vice president for marketing Vinay Shahani. "The GoPro camera is the perfect way to let other people experience the rush you feel behind the wheel of the all-new Golf GTI. It was a fantastic bonus that Tanner Foust, who is one of our drivers for the Volkswagen Andretti Rallycross team, was behind the wheel during the shoot. The combination of Tanner, the Golf GTI, and the GoPro cameras resulted in some thrilling video."
Watch the video below to see what Foust did to the Golf GTI.
Continue reading below ↓
Recommended Videos
If you're viewing this on a mobile device and can't see the video, please click here.