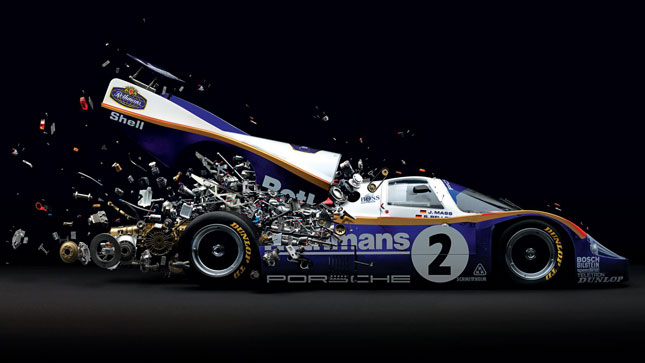 1982 Porsche 956
Three years ago, Swiss artist Fabian Oefner premiered his 'Disintegrating' series: a stunning Ferrari 330 P4 photographed to recreate the impression that it had actually exploded. It hadn't, of course, because Fabian actually likes cars. What he did was photograph--in exquisite detail--a scale model of a 330 P4 and mesh the images together. Now he's back with his 'Disintegrating II' set of images.
They're all in this gallery, and they are amazing. The detail behind them is equally mind-boggling.
It all began with a single sketch on a piece of paper. He conjured up where the individual pieces would sit, and then went about the business of unscrewing the scale models piece by piece, right down to the individual, tiny screws. Each car is said to contain more than 1,000 components.
"The whole disassembly in itself took more than a day for each car due to the complexity of the models," Oefner explains. "But that's a bit of a boy thing. The hardest part was actually setting up the camera, lens and light, because the biggest frustration is when you can't get any beautiful images out of it."
Once the car had been taken apart, Oefner then placed each individual piece according to his sketch, using fine needles and pieces of string to hang them in position. He then shot the piece--individually, of course--working out the right angle and lighting. We're told he took over 2,000 images to create just the single one you see above. These 2,000+ images where then blended together in post-production to get that single image, using the wheels as a reference point. Each part was masked in Photoshop, then cut and pasted into the final picture.
"These are possibly the 'slowest high-speed' images ever captured," says the artist. "It took almost two months to create an image that looks as if it was captured in a fraction of a second. There's an enjoyment in the analysis, discovering something by taking it apart, like peeling an onion."
The finished artworks are currently on display at the the MB&F M.A.D. Gallery Dubai (it's a mechanical art gallery), and each image is available in two sizes: 140x70cm (limited to eight prints) and 230x115cm (limited to three prints).
"What you see in these images is a moment that never existed in real life," points out Fabian. "What looks like a car falling apart is, in fact, a moment in time that has been created artificially by blending over 2,000 individual images together. There is a unique pleasure about artificially building a moment. Freezing a moment in time is stupefying."
What would you like to see Fabian 'explode' for his next series?
1934-1940 Bugatti 57 SC
1969 Ford GT40
1957 Maserati 250 F
1936-1937 Auto Union Type C
NOTE: This article first appeared on TopGear.com. Minor edits have been made.