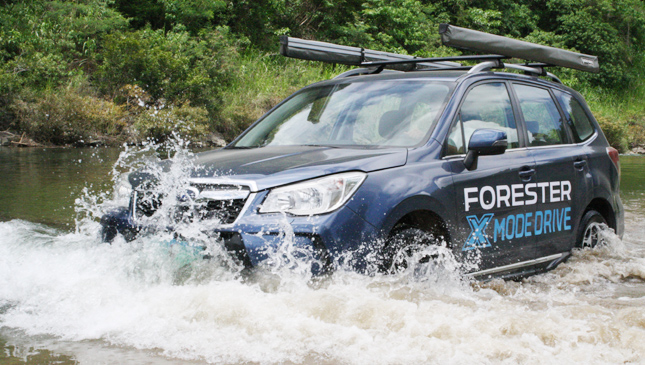 Control, as defined by the Merriam-Webster dictionary, is to have power over something. Now, this is something I haven't had much of lately. I barely have any control over my pet Yorkie, much less when it comes to maneuvering a vehicle through the winding roads of Tanay, or over hazardous mud, rocks and inclines of an off-road trail (I'm mostly a city driver). As excited as I was to be experiencing Tanay from behind the wheel for the first time, you can understand why I was a little bit nervous to be joining Subaru for its "X-Mode Drive."
Our convoy consisted of several Foresters driven by journalists, Subaru Society members and a handful of Motor Image Pilipinas executives, including deputy general manager Bob Palanca and national sales manager Joey Picadizo. I was joined in my vehicle by Traffic Stopper and Subaru marketing executive Gabey Lim, who made for a very entertaining and informative co-pilot.
The drive kicked off at around 7am from the Subaru Greenhills showroom. We took Marcos Highway, eventually making our way toward the jeepney- and tricycle-packed streets of lower Antipolo. Past that, however, it was truly a sight to behold--the view, the weather, the blur of the guardrail to my left as I sped past its entirety. Everything was perfect. I have to give props to the Forester 2.0i-L: Its grip on those Tanay curves was superb, as was the substantial kick in its acceleration thanks to its Sport mode. I hate to be overdramatic, but I don't think I had ever felt more in control than I did driving the Subaru in Tanay for the first time.
Continue reading below ↓
Recommended Videos
I could barely hide my excitement when we began the off-road portion of our drive. I tried my best to contain the grin creeping up on my face the rougher the trail got, lest I look like a complete idiot to the Traffic Stopper sitting next to me (had I been alone in the vehicle, I'd have probably been shouting in glee). The Forester's X-Mode really made life easy for a relatively inexperienced off-roader like me. The brakes, the traction and the AWD assistance made driving off the beaten path nearly effortless. Embarrassingly enough, I did find myself lodged in the mud for a short period of time. Thankfully, X-Mode got me out of trouble before the rest of the vehicles behind me caught up. Otherwise, I would have been that new guy who drove straight into the mud and got stuck.
After showing off the Forester's water-fording capability, Motor Image treated us to a steak lunch by the river. I sat down at a table together with some members of Subaru Society for lunch, and interestingly enough, none of them had really gotten the chance to play around with their Forester's off-road talents. Most of them were family guys taking some time off to get a little dirty with their crossover. Some had had to promise their wives they wouldn't wreck the family car. I was the kid at the table. I didn't own a car (never mind a Subaru), so where did I fit in all this? It didn't matter; we were all just there for the drive.
Exhausted from the previous night, I gave up the wheel on the way back. I fell asleep to the thought of one day returning to these roads in my own vehicle, ideally behind the wheel of a BRZ or a WRX STI (one can dream, right?). But if there's one thing I learned traversing the twists and turns of Tanay for the first time, it's that this route isn't about what car you drive or how fast you go. It's all about good company, fresh air, and soaking in that beautiful view (no, not referring to Traffic Stoppers).
I opened my eyes and I was on EDSA stuck in traffic, like a swift kick to the nuts. Welcome back to reality.
Photos by Drei Laurel