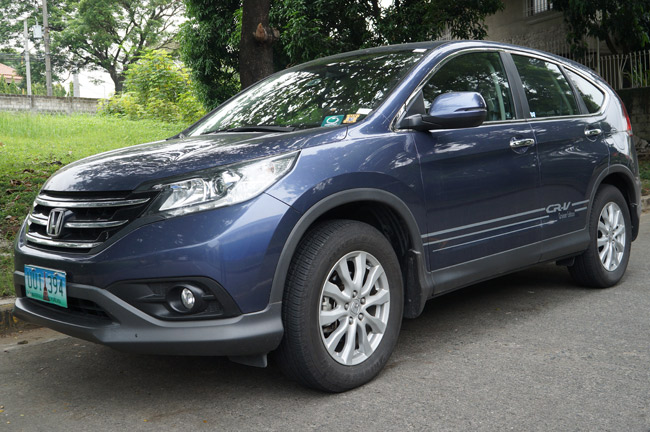 Guys of a certain age remember the first-generation Honda CR-V Sound Cruiser. It was a special-edition CR-V that had a Kenwood head unit, and Kenwood speakers attached to the roof. It was kind of cool, because it came from an era when stock car-audio systems sounded blah, and having a name like Kenwood installed lent a lot of cachet to a particular model.
So when Honda Cars Philippines introduced a new compact SUV variant called the CR-V Cruiser Edition, we booked a test drive right away. But there was a clarification from the distributor: This CR-V is a Cruiser and not a Sound Cruiser. This means that it still has a flashy Kenwood head unit, but not the speaker upgrades. What it does have is GPS navigation built into the audio head unit. Oh, okay.
The CR-V was delivered, and we spent a few days tinkering with its stock navi system. It listed all the pertinent destinations and it served its purpose. But we realized it felt a little...redundant. And a little lacking. That's because the de facto navigation most of us use nowadays is Waze: It's free, has traffic info, and has constantly updated maps. But Waze isn't without its flaws. Its ease of use depends on how good your smartphone and data connection are.
Continue reading below ↓
Recommended Videos
The navigation of the Kenwood system, however, has its maps stored permanently in its memory card. You don't need data connection.
This had the makings of a good challenge. One day, we decided to see which was the better navigation system. We took our usual route to our Summit Media office, using both the CR-V's Kenwood unit and Waze at the same time.
To use Waze, we used a top-spec Samsung Galaxy Note 3, placed on a Samsung windshield mount. The Note 3's big screen was optimal for viewing maps and traffic info. We entered the same destination--Cybergate Tower 3 on Pioneer Street in Mandaluyong--into the Samsung-powered Waze and the Kenwood unit, and both maps found our office building easily (although the Kenwood lagged a bit). We tapped 'Go' and off we went.
We quickly learned that Waze is more adaptive in finding routes. Because we drove to the office daily, we already knew which path was the most efficient. Whenever we'd deviate and force each navigation system to recalculate, Waze 'learned' which route we wanted to take. The Kenwood system kept pointing us to EDSA, which is a more direct path but perennially clogged with traffic.
Both maps correctly named the streets we passed, so as far as accuracy goes, they're on equal footing. Because the Note 3 has such a good screen, the Waze maps looked more detailed on it. However, the Kenwood unit's simpler look had the advantage of being easier to read. And we think legibility is a big factor when you're being guided somewhere.
We eventually arrived at our destination, with Waze being closer to the predicted time of arrival.
In the end, the CR-V's Kenwood navigation system isn't a bad companion to have. It's well integrated and it features a host of other multimedia functions, like DVD playback and multiple music options. And it does everything you expect from a navigation device. Waze, on the other hand, does what the Kenwood system can, but with more useful info.
Our advice? If you want a Honda CR-V and your budget is a little tight, and you have a smartphone with a good data plan, you can get by with the non-Cruiser variants. Just enjoy the CR-V's smooth ride and comfortable drive. But if you're feeling generous with yourself, and you want the best CR-V there is, you can't go wrong with having a built-in navi system in the Cruiser Edition.
And dear Honda Cars Philippines, it won't hurt to bring back the Kenwood speakers.
Below is a summary of the pros and cons of each navigation system.
Honda CR-V Cruiser Edition's Kenwood head unit
Pros
* It doesn't need data connection.
* No battery issues; it can run as long as your CR-V is running.
* Comprehensive maps.
* User-friendly navigation interface.
* Simple look is easy to read.
* Good integration with head unit's audio functions. Minimal navigation instruction is still visible when using music functions.
* Many multimedia options.
Cons
* Maps have to be updated via memory card.
* No traffic info.
* The rest of the software interface--like music functions--is a bit tacky.
* The Kenwood navigation system means a premium of P40,000.
Waze app
Pros
* Gives you user-generated traffic info.
* Since users continuously provide updates, maps are quite detailed.
* The program itself is free.
* Intuitive interface.
Cons
* You need steady data connection to use it.
* The app drains battery quickly. If you're using an iPhone, keep it plugged in.
* Smooth operation relies on top-tier phones with powerful computer chips and big screens.
* Having a windshield mount as well as charging cables adds clutter inside.
Photos by Dinzo Tabamo