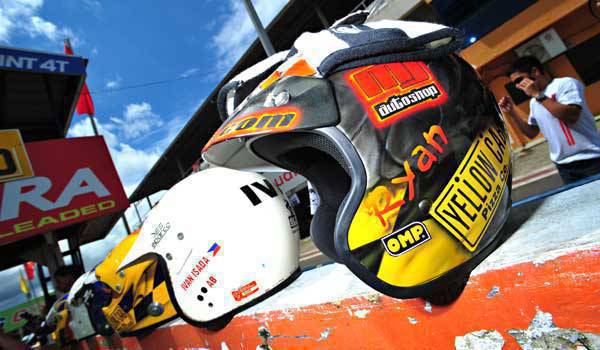 When Concept One/Wheel Gallery and Chevrolet Philippines (The Covenant Car Company) cook up an event, their choice of main ingredients--14 Philippine racing champions and two Chevy Cruze race cars--guarantee smoking-hot results!
The idea for the Race of Champions can be credited entirely to prominent aftermarket figure Sam Liuson, owner of Concept One.
"Philippine motorsport is a fragmented industry and a lot of guys are claiming to be the best of this and that," Sam said. "So I thought, let's bring all of these young and old champions together and see who the real champion of champions is. We contacted individuals who were legitimate PTCC (Philippine Touring Car Championships) or PPCC (Philippine Production Car Championship) champions from the past and the present. We also invited champions from other racing disciplines like rally cross, karting and drifting."
He then presented the idea to car companies and said Chevrolet and Subaru (Motor Image Pilipinas) "immediately caught the vision and hopped on what was to be the Concept One Race of Champions." Mini also joined to use the race to demonstrate the power, manoeuvrability and agility of its products.
"What better way is there to gauge our wheels and tires than by having them driven hard and accessed ultimately by racing experts themselves?" Sam added.
Continue reading below ↓
Recommended Videos
The Concept One Race of Champions was conceived as a supporting event to draw crowds to the first leg of the 2010 PTCC and PPCC held last October 3 at its interim venue--the Batangas Racing Circuit (BRC)--while the series' target venue, Clark Speedway, completes renovations to portions of its track.
The first round of the Race of Champions brought together more than a dozen of the country's past and present racing champs for a time attack-style shootout on the 3.5-kilometer track of the BRC. Ace racers Popong Andolong, Doby Atilano, Edgen Dy-Liacco, Mandy Eduque, Ivan Isada, Pepon Marave, Paeng Nodalo, Ferdie Ong, Alex Perez, Mike Potenciano, George Ramirez, Louie Ramirez, Jojo Silverio and new Chevrolet endorser Ryan Agoncillo were challenged to drive two Chevrolet Cruze 1.8 LT cars--upgraded with Concept One 18-inch wheels, Nitto 555 tires and less restrictive exhaust systems--around the hot, seven-turn technical circuit as quickly as they could.
When the smoke settled, George Ramirez posted the best lap time of 2:13.34, a scant half-second ahead of Mike Potenciano's time of 2:13.87. Pepon Marave came in third with a best time of 2:14.56, just enough to snag a podium finish from Jojo Silverio, who otherwise clocked 2:14.68. Louis Ramirez was unquestionably the most consistent competitor, dispensing both laps in identical time--2:17.09!
A special treat for the motoring journalists covering the event was a media challenge where each one could take one timed lap in the same Chevrolet Cruzes that the champions had just driven. We're happy to say that Top Gear Philippines did its fans and readers proud by taking home the first two places in the media heat; with columnist Brian Afuang and this writer taking first and second places with for clocking in 2:21.67 and 2:25.18, respectively. Tet Andolong of Business Mirror nabbed third place with 2:25.64, nudging media favourite Jeff Reyes of Philippine Star out of the top three by just one-fifth of a second. Trophies were Concept One Monoblock wheels, each one autographed by all the champions present.
Both Chevrolet Cruze units performed flawlessly during the ROC and media runs, attesting to the dependability of these rock-solid cars and the readiness of their platforms for track use.
"The turnout of the event was overwhelming," Sam said. "Everyone was thanking me for coming out with the idea. But I can only attribute the success of this concept and execution to God."
If you missed all the excitement of the first staging of the Race of Champions, catch the next one on November 21 at BRC. Visit this website for updates. Don't say we didn't invite you!
Photos by Mikko David
[gallery]606[gallery]