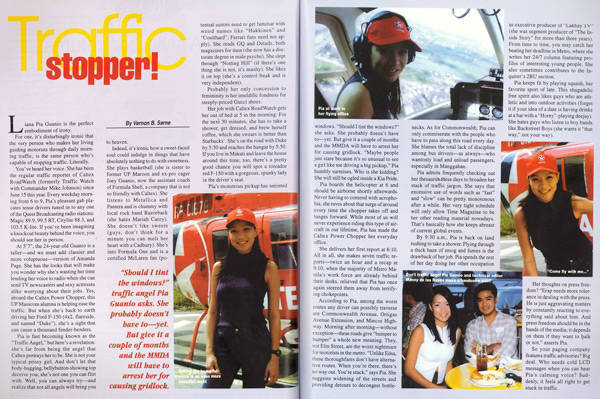 One of the most popular sections in our magazine is Traffic Stopper, which features good-looking women in the auto industry as well as those outside the business who just happen to have a thing for cars. When I first joined Top Gear Philippines in February 2006, this was one of my crazy ideas for the magazine. I still remember the suggestion being met with hostile objections from the rest of the staff.
The staff felt a serious car magazine had no place for profiles and photos of women. They had a point, to be honest, but ultimately gave in to my impassioned pleas. And so Aliya Parcs became our very first Traffic Stopper, coming out in our April 2006 issue. If you still have a copy of this issue, check it out and you will see how crudely the layout was put together. I remember asking Aliya to just show up at some random venue with her Nissan Patrol. She was even wearing flip-flops when she arrived. Neither I nor the staff knew exactly what to do with the new section. We didn't have a peg whatsoever.
As the months and years went by, however, the Traffic Stopper section gradually grew on every member of the team. These days, we find pleasure in looking for a worthy subject. Modesty aside, to be a Traffic Stopper is now sort of a flattering badge of honor among the female members of the motoring community.
Continue reading below ↓
Recommended Videos
But where did I get the idea for Traffic Stopper?
Today, I was reminded just where exactly. Philippine Star motoring editor Manny de los Reyes, who used to write with me for the now-defunct Automotion magazine, did the reminding when he posted on his Facebook wall a story I had written about Pia Guanio for the magazine back in 1999. (Manny is the guy pictured with Pia in the layout.) The article's title? "Traffic Stopper."
Back then, Pia was a traffic reporter for Caltex RoadWatch, giving regular Metro Manila traffic updates from 6am to 9am, Mondays to Fridays. Every day, she'd climb aboard the bright-red Caltex Power Chopper to survey the traffic situation throughout the metropolis. And when she got back on land, she drove her toreador-red Ford F-150. Needless to say, this was all before Eat Bulaga! and Vic Sotto.
I wrote then:
Liana Pia Guanio is the perfect embodiment of irony. For one, it's disturbingly ironic that the very person who makes her living guiding motorists through daily morning traffic, is the same person who's capable of stopping traffic.
So there. The idea of gorgeous traffic-stoppers was forever embedded in my subconscious. And hence was born our Traffic Stopper section seven years later.