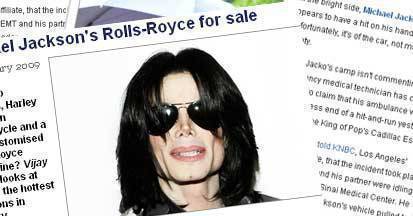 Michael Jackson was not exactly a car nut but he made headlines with his wheels anyway.

As the world mourns the passing of the King of Pop, TopGear.com.ph looks back at stories Michael Jackson shared with his most popular cars.

1. The Rolls-Royce on the (auction) block

In February, news broke about Michael Jackson's plans to auction off his 1999 Rolls-Royce with an interior wrapped in 24-carat gold along with a bunch of his memorabilia. The car was expected to fetch £100,000 (roughly P7.9 million). In April, however, Jackson was said to be suing Juliens' Auctions for putting his items up for bidding without his consent.

2. Another auction confusion

In 2004, Michael Jackson also had an episode of 'auction confusion' involving his Arnage Red Label Turbo. Reports said the auctioneers were not sure whether or not the King of Pop was ready to give up the car . The Bentley is in Jackson's "What More Can I Give" music video. Bids were expected to reach as much as £270,750 (roughly P21.4 million).

3. The ambulance encounter

As news of his death spread, reports about Michael Jackson's health problems over the past months sprouted out. In April, an emergency medical technician reportedly complained about Jackson's chauffeur-driven Cadillac Escalade hitting his ambulance just before the driver fetched the King of Pop at the Cedars-Sinai Medical Center in Los Angeles.

4. Bumblebee wannabe?

Michael Jackson revealed one of his showbiz dreams in March 2004 when he said he wanted to star in a film where he would take the role of a man that turns into a car driven by a boy. Would Optimus Prime have taken him in?

5. Going for the green machine

Pop stars are known for their high-flying lifestyles which often translates to high carbon footprints. In 2007, Michael Jackson joined the ranks of Earth-saving celebrities as he was seen riding around Beverly Hills on board a Toyota Prius .
ADVERTISEMENT - CONTINUE READING BELOW ↓
ADVERTISEMENT - CONTINUE READING BELOW ↓
Recommended Videos