At Baselworld 2019, Citizen announced limited-production editions of its flagship lineup of sports watches. Promaster, the pinnacle of the company's technical innovations, was launched in 1989 for the demanding use of sportsmen and professionals.
Meanwhile, Citizen's Aqualand line was the first dive watch to have an analog depth gauge that logs maximum depth. It served professional divers well before the first dive computers were developed a few years later. Even with the availability of complex and sophisticated wrist-mounted computers, divers still strapped their Aqualands on the other wrist as a backup device.
The Promaster lineup, as they were collectively called, was completed by the addition of the Altichron, which gave land explorers a wristop altimeter, and the Hawk series, useful for pilots and jetsetters tracking multiple timezones with a chronograph. In a span of 30 years, Promaster became an array of specialty tool watches for land, sea, and sky.
ADVERTISEMENT - CONTINUE READING BELOW ↓
After decades in evolution and development, Citizen now exclusively uses Eco-Drive, the company's light-powered technology, on its Promasters. Power efficiency and energy storage has improved significantly such that all integrated electronic circuits for its sensors, radio antennas, GPS receivers, and display functions have adequate electrical reserve for several months, even when kept in total darkness. Any light source, even dim moonlight, can charge its lithium-based battery. The most advanced calibres can enter battery saving mode, continuously keeping accurate time, for years. Its latest versions have electronically triggered protection from impacts, apt for the watches' intended usage.
Three watches were chosen among the finest models from each Promaster segment, then their designs were tweaked specially for this 30th anniversary. All of the limited editions have the anniversary logo etched on the case back as well as their corresponding production number for each series.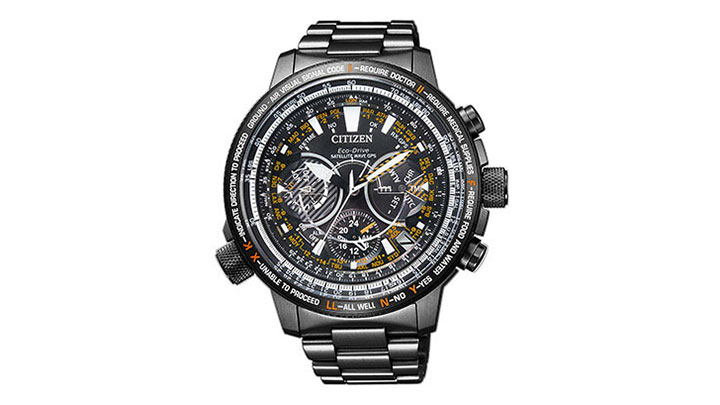 ADVERTISEMENT - CONTINUE READING BELOW ↓
Recommended Videos
For their sky series, Citizen has since dropped the Hawk moniker. It is now named after its new technology for updating the time and time zone, using satellite synchronization rather than land-based radio control. This system overcomes the limitations for radio-controlled date and time updating which is dependent on terrain, location and proximity to ground-based atomic clock transmitters located all over the world.
The Satellite Wave GPS Promaster 30th Anniversary Limited Edition can be manually synched under a clear sky, anywhere in the world. Once it locks on a satellite signal overhead, it takes merely three seconds to update local time, date and time zone using Citizen's own algorithm. That's more than twice the speed of other manufacturers' satellite data acquisition.
Limited to only 1,989 pieces, it houses the state-of-the-art Eco-Drive Cal. F990. It has a twin-coil, high-speed motor for faster hand revolutions and a Light Level Indicator to measure light intensity saturating the solar cells. When it can't detect any luminescence, it will go into energy saving mode, making a fully charged battery last five years.
ADVERTISEMENT - CONTINUE READING BELOW ↓
The dial is multilayered. A transparent floating layer on top of the main dial has a polygonal cutout in the middle, with the minute and second hands sweeping over the top, and the hour hand under it. On its outer margin, world city names are printed according to their time zones. It is almost invisible and offers a clear view of the subdials underneath it, displaying a 24-hour time, watch mode, and other functions. Predominantly black, with white and orange markers, legibility is good because of the contrast, but it may appear busy because of the tiny fonts and abundant imprinting.
Same theme for the bidirectional rotating bezel, that has a multitude of graduation marks for an aviation slide rule calculator, an invaluable tool when aircraft instruments and their redundant backups fail. The bezel insert has an inscribed legend for ground-to-air visual codes which are used to communicate signals to rescuers in the air when stranded on the ground. The case and bracelet are made from proprietary Super Titanium with a black, scratch-resistant Duratect DLC/MRK finish.
ADVERTISEMENT - CONTINUE READING BELOW ↓
For a huge watch, measuring 47mm across and 18mm thick, the titanium construction makes it light on the wrist and hypoallergenic, even with the Duratect surface hardening. Citizen not only pioneered the use of titanium for watches, it has mastered forge pressing, machining, and polishing it. This watch has the most advanced movement, inside the lightest, toughest case; which justifies its $2,500 (around P127,000) price tag.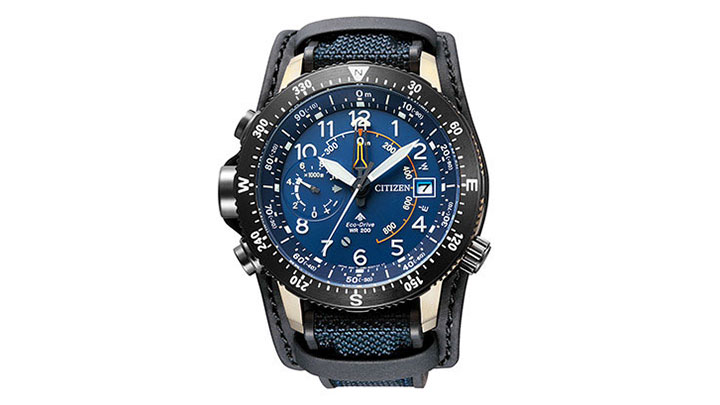 ADVERTISEMENT - CONTINUE READING BELOW ↓
The Citizen Eco-Drive Altichron Promaster 30th Anniversary Limited Model uses the same Super Titanium case, but this one is coated with Duratect MRK Gold on the case and Duratect DLC/MRK on the bezel. The strap is made from durable nylon, with a removable urethane back pad that should protect the wearer from frostbite when the watch is worn in extremely cold weather.
The blue dial complements the blue straps and contrasts with the pale gold case. Land-based adventurers can easily view compass headings and altitude changes on the analog dial's simple layout. Altitude is displayed utilizing three hands, in increments of 2.5 meters, 100 meters, and 1,000 meters, and is lumed in a different color from that of the minute and hour hands. It can measure up to 10,000 meters above sea level, all the way down to 300 meters below sea level. This will also be limited to 1,989 pieces and available for $975 (around P49,500).
ADVERTISEMENT - CONTINUE READING BELOW ↓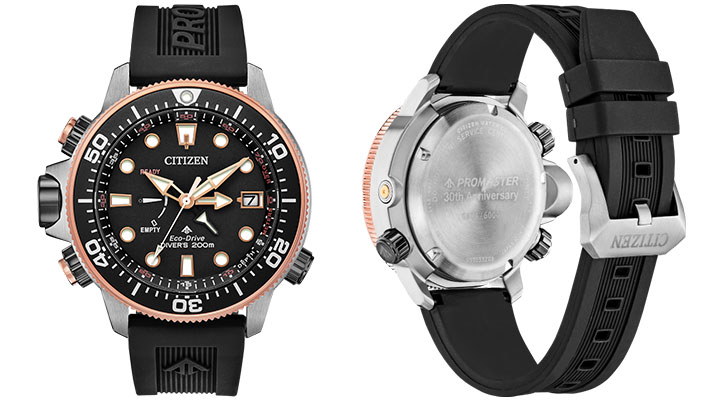 Unlike the two other anniversary watches, the Aqualand 200m Promaster 30th Anniversary Limited Model, doesn't sport a sapphire crystal, which may be more resistant to scratches, but shatter easily with a sharp strike. Aside from that, its mineral crystal allows excellent clarity of view, especially on the edges where a 0-70 meter depth gauge is marked on the rehaut. Due to how it is manufactured, synthetic sapphire crystal has a sharp angle on the periphery where it mounts to the case, thus distorting the image of the dial underneath. The sparse dial layout only has one subdial that indicates battery power reserve. In addition, the iconic Aqualand is compliant with ISO and JIS diver's watch certifications.
ADVERTISEMENT - CONTINUE READING BELOW ↓
The whole left side of the brushed stainless steel case is occupied by the depth sensor and the depth gauge's screw-locked push buttons, while the screwed down crown is located at the 4 o'clock position. The rose gold, ion-plated, unidirectional bezel matches the rose-gold hands and hour markers and contrasts with the black anodized aluminium bezel insert. It retains the hulking proportions of the original Aqualand and still buckles on with conventional urethane straps. This gorgeous watch should appeal to a wider audience, so it's not as limited at 6,000 numbered pieces, and more affordable at $775 (around P39,400).
These Promasters celebrate and exhibit the leading edge of Citizen's technologies and put them ahead of the competition. Chosen as indispensable tools, by those pushing the boundaries of exploration on land, sea, and sky.