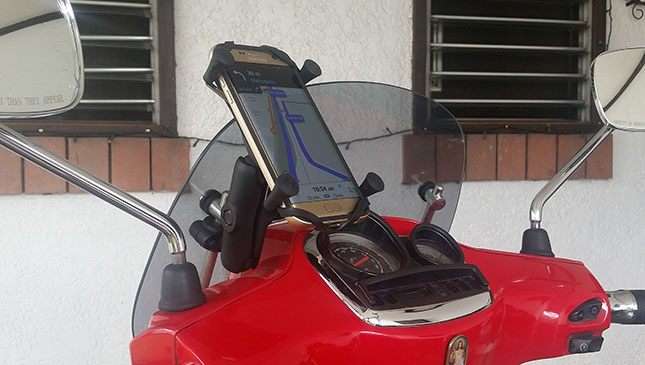 No one is exempted from Metro Manila's monstrous traffic. As it gets worse every day, cars, trucks and buses are not the only ones that suffer in gridlock but motorcycles, too. These two-wheelers are helpless when they turn into a single-lane road only to find themselves trapped for hours.
Clever riders have found a solution to this problem by using the popular traffic-buster Waze.
With reliable mounting equipment, riders can make use of their smartphone or tablet by placing them securely on the bike's windscreen or handlebars, without fear of losing it to agaw-cellphone gang members. With so much precious data stored, many will agree that losing a phone is more painful than falling from a motorbike.
Continue reading below ↓
Recommended Videos
Gadget holders for motorcycles of different brands are now flooding the local market, but only few deserve attention. Aside from being able to hold a device securely, compact mounts must be durable, sturdy and stable to withstand the rain, sun, winds and even the bike's vibration.
These are the main selling points the RAM X-Grip. Made in the US, I bought my RAM X-Grip from Ride Manila so I can be guided by Waze to my destination while avoiding traffic.
By purchasing an extra ball base set, my RAM X-Grip can be fitted on my two motorbikes: a Vespa LX-S and a Yamaha MT-07.
The ball base on the Vespa can be securely fastened to its windscreen, while the other is on the MT-07's handlebar. In this black color, the base mount is so simple and small that potential thieves would hardly notice that it's there when the X-Grip is detached.
Placing my Samsung S7 Edge on the X-Grip is easy. Simply spread out the X-Grip's four spring-loaded steel arms and then slip the mobile phone in the center. Although the tips of the X-Grip's steel arms have rubber caps, I still secure my phone with a rubber tether to make sure that it would not move from its position every time the riding gets rough. It's for added peace of mind.
The Samsung S7 Edge has buttons on its left and right edge, but none of those are hampered by the X-Grip's steel arms. Priced at P3,350 per set, the X-Grip can accommodate phones and tablets of varied sizes. As a bonus to me, my S7 Edge is water resistant so it can take the rain without encountering problems. The same with the X-Grip because it's made of corrosion-free materials. Moreover, it was also designed to withstand a bike crash.
The Waze app is normally programmed for four-wheeled vehicles. So when you use it on a motorcycle, you can see minutes being slashed away in the ETA (estimated time of arrival) since these two-wheelers can squeeze their way through traffic otherwise known as lane splitting.
With the RAM X-Grip mount, there's no need to pull over just to bring your smartphone out from your pocket to view Waze in the midst of traffic. Just ride along and let time fly!
Fellow riders, can you think of a better way of surviving traffic than this?