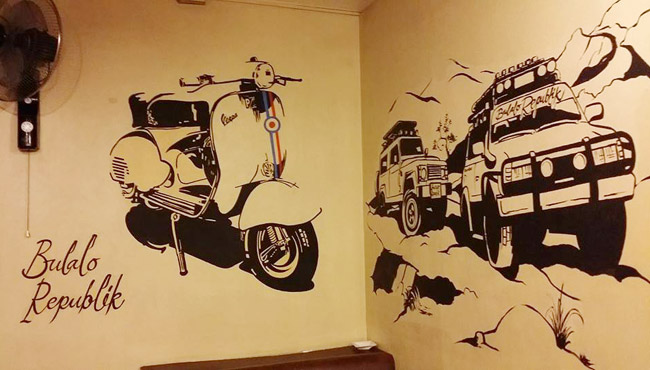 Put cars in anything and you have our attention. Car-shaped cake? We want a slice, please. Car-inspired alcoholic beverage? Pass us a shot. Car-themed shirt? We'll have one in our size, thank you very much.
So if a restaurant uses automotive art for its interior decor, we definitely want to visit it and try its menu (whatever it is). It's merely a bonus if said restaurant happens to serve food we actually love. Like bulalo, for instance. It is for this reason our colleague Alvin Uy, the hard-working organizer behind the Manila International Auto Show, sent us these photos of Bulalo Republik, a tastefully decorated restaurant in Quezon City that serves everyone's favorite beef shanks.
The eatery certainly had us at the first sight of its Vespa-and-Land Rover mural. But go inside and there are more framed tributes to every guy's motoring passion. The clincher, for us, is a door adorned by a painting of the Stig, which looks like our tamed racing driver is watching over the place.
We have no idea what else Bulalo Republik serves, but we're itching to give it a go one of these days. It's located at 97 Don Alejandro Roces Street in Quezon City, and is open every day from 10am to 12 midnight.
Continue reading below ↓
Recommended Videos
Photos from Alvin Uy