Apart from affordability and practicality, there's one more thing that most people look for when they search for viable alternative transport vehicles: portability. It's what makes gizmos such as bicycles and electric kick scooters (EKS) viable as 'last mile' solutions.
That's what Unagi's foldable EKS, the Model One, brings to the table. It's built with a mix of aluminum, carbon-fiber, and magnesium alloy, which makes it lighter than the usual pure-aluminum structures that other scooter makers use. Its 12kg frame is also incredibly easy to carry around thanks to its 'One Click' folding mechanism. This allows the EKS to fold and lock in "one smooth, satisfying click." We can imagine.
What makes the Model One even more enticing is its looks. Its design is sleek, simple, and classy. Some may consider that an unnecessary bonus, but it'll be hard to argue that it won't feel nice riding in a fashionable scooter like this.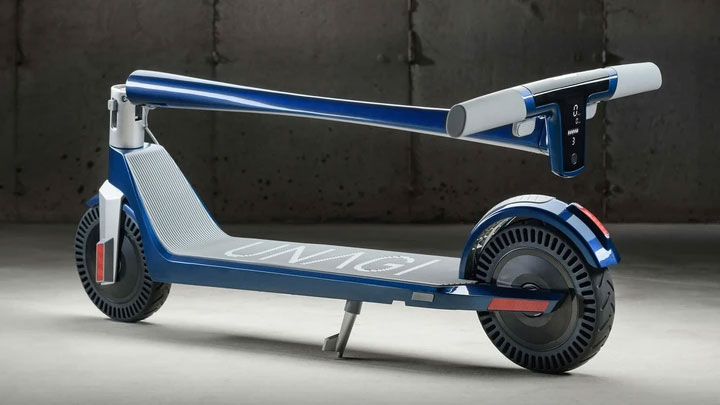 Continue reading below ↓
Recommended Videos
Now, the Unagi Model One isn't just all about the looks and that special one-click feature—it's a pretty capable scooter, too. It's powered by a 9,000mAh lithium-ion battery that enables a maximum range of about 25km. Charging time supposedly takes around four to five hours.
It can also be had with either a single- or a dual-motor setup. With a single motor, the scooter produces 500W and 16Nm of torque. With a pair of motors, it then generates 1000W and 32Nm. How's that for math, huh? 
Both models come standard with three riding modes: Beginner (15-18kph), Advanced (18-21kph), and Professional (21-27kph). It also comes with built-in headlights and taillights and a kickstand. Its maximum loading capacity is at 125kg, and it's recommended for users not taller than six and a half feet.
The single-motor Model One costs $840 (about P40,500) while the dual-motor scooter is priced at $990 (around P47,800). A bit expensive, but the figure's still not that far off from other readily available EKS models in the market. What do you make of it, commuters? Is this something you'd want to try out here on our roads?