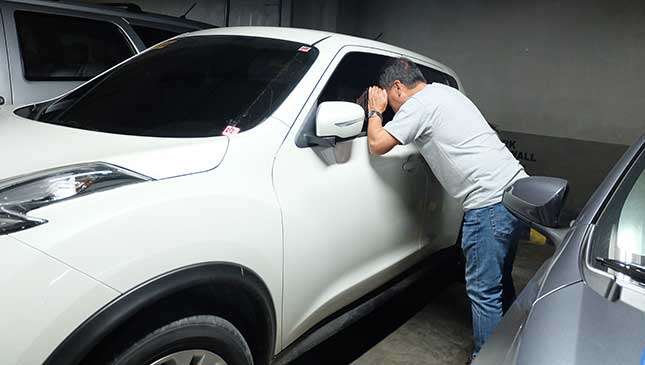 It seems the criminals are back on the streets, many of them preying on belongings and gifts stacked inside parked cars.
Probably out of desperation, several of those victimized by the so-called 'basag-kotse' criminals in shopping malls, wet markets, tiangges and other densely populated areas are not only seeking help from the police, but also from the media.
These past days we've been receiving reports of cars windshields smashed, and the owners' laptops, gym bags, polo shirts and even Christmas giveaways taken by thieves.
Being ordinary citizens, all we can do is endorse the victims to the police for proper action. Media men are not trained to investigate theft and robbery, nor have the authority to arrest the perpetrators. Unless it's a case of in flagrante delicto, or the crime is ongoing, only then can we do a citizen's arrest. But we become frustrated when we learn that parking security and police authorities are often at odds in investigating cases over the issue of jurisdiction. And many 'basag-kotse' cases are not reported by the victims to the police. So what's new?
Continue reading below ↓
Recommended Videos
In the meantime, let's rely on this old yet reliable adage: Prevention is always better than cure.
Here are 10 helpful tips to prevent you from being victimized by car thieves:
1) Always park your car in a strategic location. Look for a well-lit area and, if possible, leave your vehicle near the exit or entrance of the parking area within the line of sight of the cashier in the payment booth.
2) Be observant and always on the lookout for suspicious-looking people. If you notice a person nearby is not letting you out of his sight while you're loading gifts into your car, you might be in trouble.
3) Don't leave important documents and valuables inside your car. Don't be complacent. Even if your car has dark window tint, it's not a guarantee that the culprits will not be able to detect the goods inside the vehicle.
4) Hide your belongings. If you have to leave things inside the car, cover them completely with newspapers or floor mats before locking the doors. This is important particularly with hatchbacks that don't have a rear cover in the cargo area.
5) Avoid having a regular pattern for your movements. Leaving the parking area for long, fixed hours makes your car and belongings vulnerable to thieves. Try making a quick stop just a few meters away where you can observe the surrounding areas of your vehicle before proceeding to your office building. And it won't hurt to check on your car several times during the day.
6) Be friendly to vendors with permanent stalls near the parking area. Aside from watching your car 24/7, chances are they will recognize potential criminals who will likely conduct reconnaissance before staging their heist. More often than not, 'basag-kotse' members operate in threes—a striker, a lookout and a backup.
7) Double-check your car before leaving the area. Remote-controlled door locks are not 100% foolproof. There are those that malfunction, especially when the batteries are already weak. There's also a chance that the remote key might accidentally be pressed while in your pocket, thus unlocking the door of your car without you knowing it.
8) Invest in a dependable car alarm system. Make it a habit of regularly checking if the alarm still functions according to its specifications because weak batteries, again, may cause the system to fail.
9) Randomly visit your car. Give your car a surprise visit every now and then. Let's hope you're not "lucky" enough to chance upon scumbags breaking your car windows using old spark plugs.
10) Have emergency numbers on hand. Leave their contact info in your wallet or hand bag—police, barangay hall, homeowners association, family members and close friends so they can respond quickly to the incident.
When a crime is committed, time is always of the essence for those pursuing the perpetrators. Who knows, the thieves might still be around the corner desperately waiting for a taxi ride with their loot.