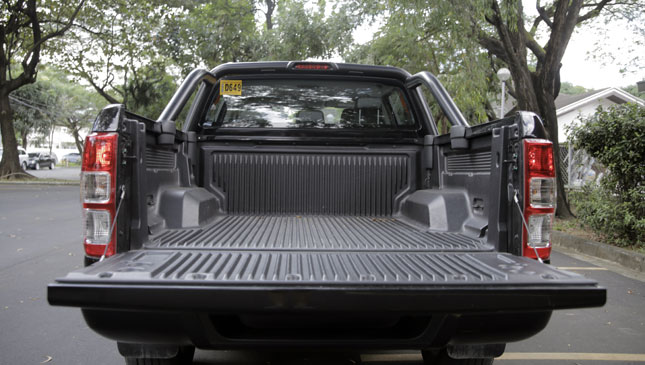 The purpose of the pickup truck bed is to carry large bulky objects. Back in the olden days, these vehicles came as two-seaters and with only two doors to maximize cargo space. Now, things have changed and a pickup truck has other duties such as ferrying passengers, requiring four doors, and seating for up to five people.
ADVERTISEMENT - CONTINUE READING BELOW ↓
No manufacturer offers the regular pickup truck in two-door configuration unless you intend to buy in fleet volumes. So here is a list of ways to maximize your four-door crew cab pickup's bed space.
1) Use square plastic box containers. These will occupy the corners of the bed space, which normally is not used when loading big, bulky cargo.
2) Stack your cargo. You can actually stack these plastic containers by having the heaviest at the bottom layer and the lightest at the top. I don't recommend going over two layers though, and make sure that they are well secured.
3) Use straps. Ages ago, pickup beds came with latch-down rails. Nowadays they come with tie-down points on the bed corners. Do use a proper load-rated ratchet strap for the job.
4) Bed gate extenders are an option. In some instances your cargo maybe a bit longer than the pickup bed's tailgate when dropped. The safe solution is to use a bed gate extender—a device mounted on your pickup bed that extends a barrier all the way to the position of your tailgate when it is in a dropped position.
ADVERTISEMENT - CONTINUE READING BELOW ↓
Recommended Videos
5) Have you considered removing your camper shell? Camper shells for truck beds were all the rage until people realized the difficulty of installing and removing them when the need for larger cargo space arose. If you regularly haul large items you might want to reconsider buying a camper shell. With that in mind…
6) You can use bed covers instead. There are many secure bed covers available now which involve minimal effort while removing, reinstalling and storing them when the need for tall cargo room arises.
7) Install draw-type hitches. So you managed to fill up the bed with your cargo and still have some small items to store. Draw-type hitches can be installed in the rear of your pickup for cargo trays with great loading capacity. These were originally designed for removing tow hitches for trailers or recovery winches. The idea is you simply pull a pin and change the attachment for your intended purpose.
ADVERTISEMENT - CONTINUE READING BELOW ↓
8) You can tow a trailer. More room, more bed space. This one's self-explanatory.
Do understand all of these options have limitations based on the design of your pickup truck, and that overloading will dramatically change how your vehicle performs. So, know what you're doing and always read your owner's manual.