Hazy, cloudy, oxidized, yellowing headlights bother me. They make a car look so bad and uncared for. They can even affect the resale value of your entire car. In this article, I'll give you information on how to restore headlights, and how to protect them against oxidation afterward.
These days, cars have gotten so good that they last quite a long time. Galvanized steel and aluminum panels allow them to resist corrosion, unlike before when they would rust after a few years. Cars can now last decades without panels corroding. Engines also last with only the required periodic maintenance. Modern-day headlight lenses, however, seem to lose their luster in just a few years.
And when they do, they turn cloudy and hazy. If left unaddressed, they can get so bad that light from lighting units inside is hardly able to penetrate through them. This is because of the material that the lenses are made of these days—polycarbonate plastic. This material is very sensitive to sunlight and prone to degradation from UV rays.
The lenses do come with a layer of UV protection from the manufacturer, but it doesn't last very long. Once it wears out, the plastic lenses start to degrade. As the headlight lenses become cloudy and yellow with oxidation, the light beams become dull and hazy rather than the sharp, clear beams that helps you see clearly at night. This results in diminished vision and depth perception, which may delay evasive actions you might need to take while driving.
Continue reading below ↓
Recommended Videos
The OEM protective coating against UV rays eventually oxidizes. This causes a buildup of oil, grime, debris, and other contaminants that your car comes into contact with on the road. Because of sunlight and the heat from the lighting units, these contaminants get baked into the plastic headlight lenses. Intense heat from the sun then bakes the said contaminants into the plastic headlight lenses.
Moreover, the heat coming from the bulbs also contribute to this 'baking' phenomenon, but in this case, it's baking contaminants into the inside of your headlights—which means you need to be wary of oxidation not only on the external part of your headlights, but also within. That said, because oil, grime, and debris don't easily find their way inside your headlights, this isn't much of an issue.
Here's a relevant question: Why do manufacturers allow this to happen? Isn't it within the reach of current technology to build long-lasting headlight lenses?
Yes, technology can certainly prolong the life of these lenses, but do note that carmakers only test their lenses for five years of longevity. The US government, which governs the largest single market for cars on the planet, requires manufacturers to make headlight lenses last for only three years before they become cloudy and hazy.
To a certain extent, headlights—even when they've become cloudy and hazy—can be restored to look brand-new. To do this, you must not allow the plastic lenses to degrade to the point that they develop cracks. We can restore cloudy, yellowing lenses, but we can't do anything about cracks.
When you reach the point that your headlights have minute cracks called 'crazing,' the only way you can make your headlights look new is to replace them. To reiterate, you must catch the oxidation before cracks set into the lenses. A set of brand-new headlights these days can cost tens of thousands of pesos—or much more than that for luxury cars. So, it's not a bad idea to restore original headlights and to minimize the damage before the lenses crack.
Step-by-step guide: Restoring plastic headlights lenses
1) Clean the surface of the lens.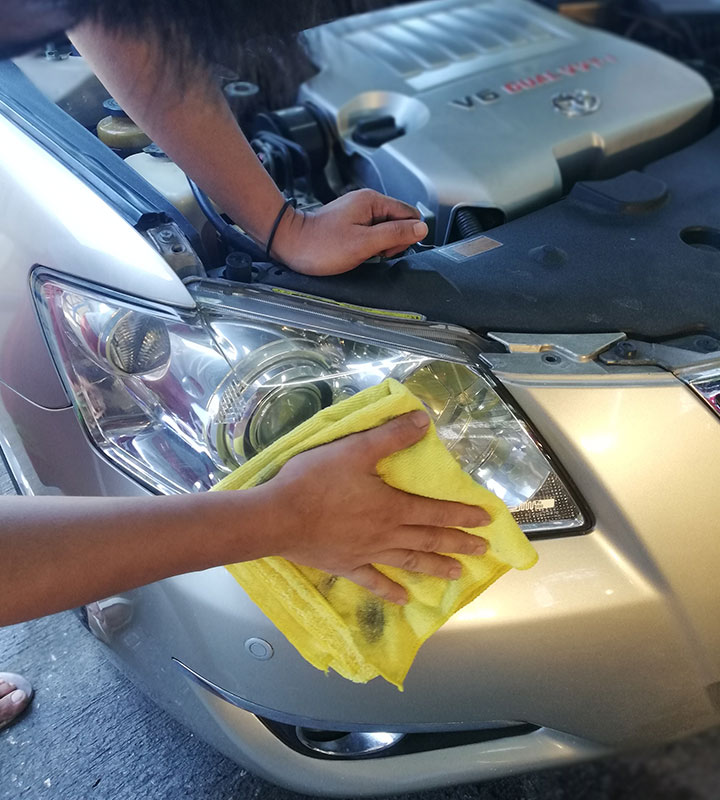 2) Remove the top layer of oxidation by using abrasives. Wet-sand the lens with 1,000-grit sandpaper, then 2,000-grit sandpaper, then with 2,500-grit sandpaper.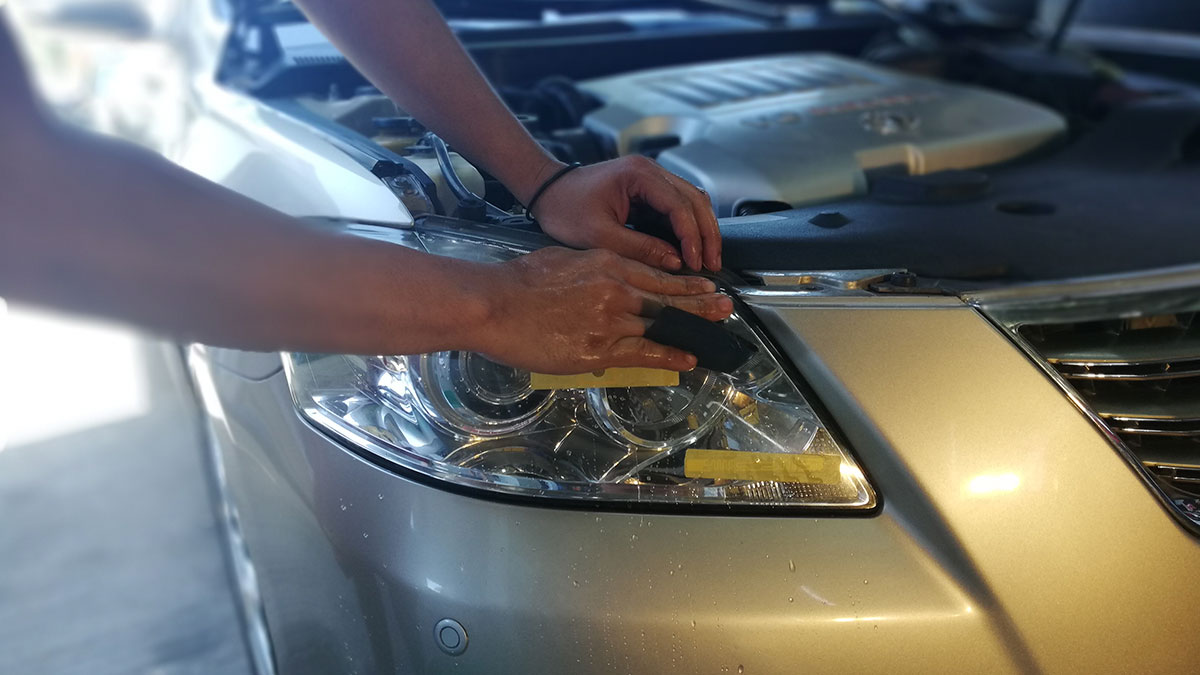 3) Remove the next layer of oxidation using rubbing compounds.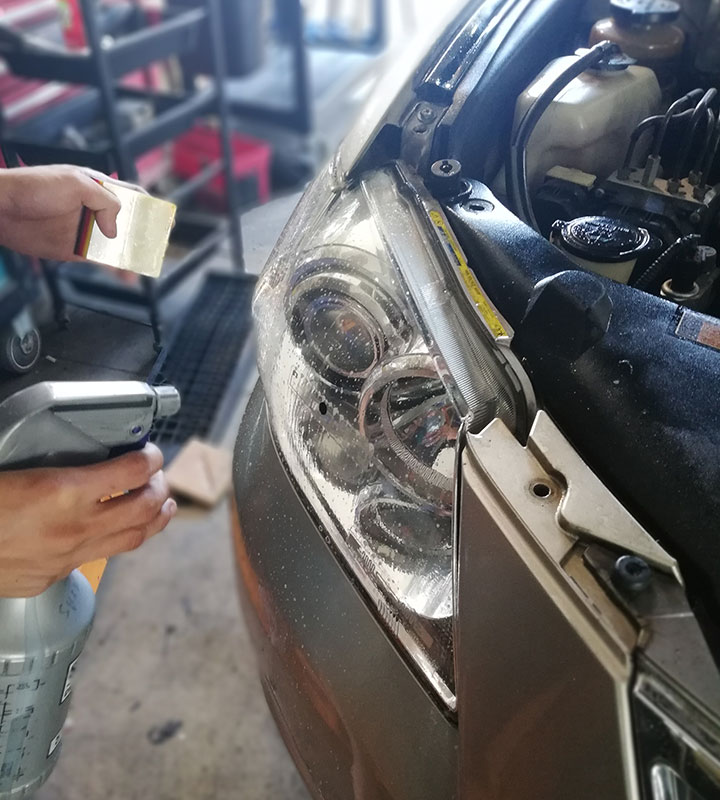 4) Polish the lens using metal polish.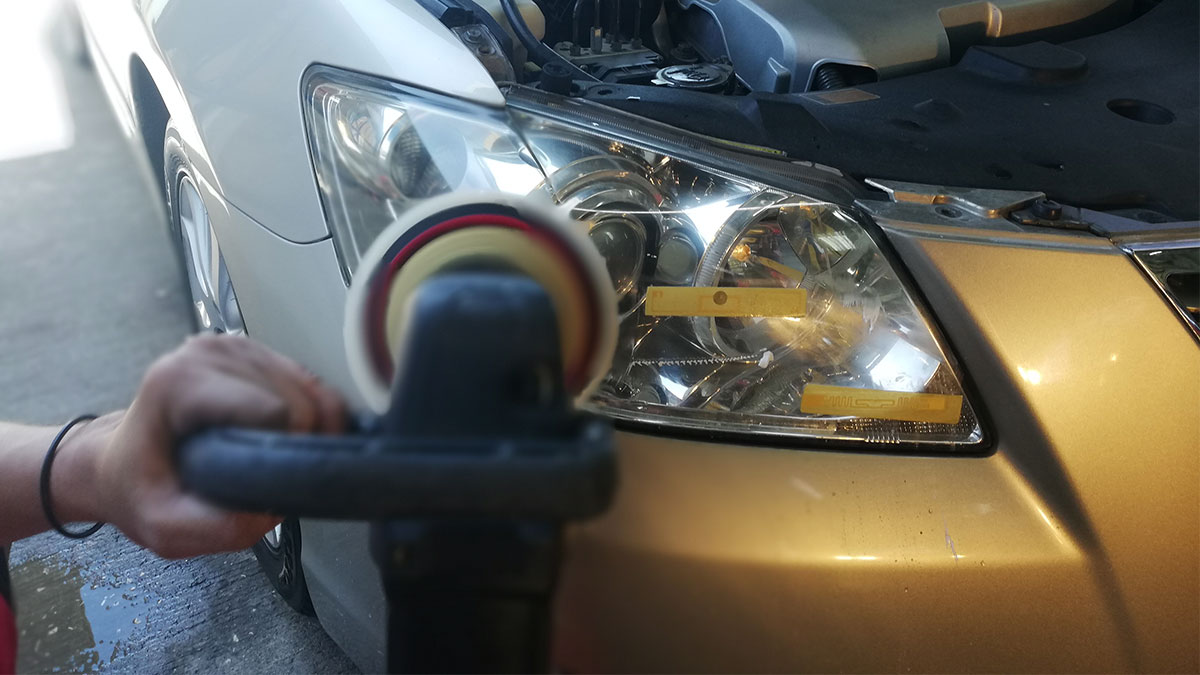 5) Apply UV protection.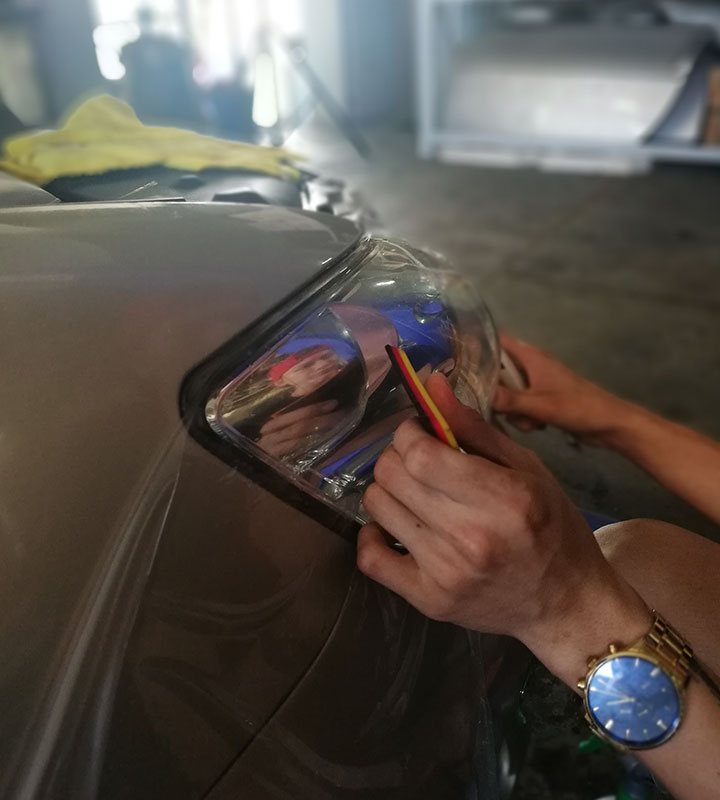 If you have the time, the tools, the patience, and the skill, this can be done at home by yourself. You can get the appropriate abrasives and rotary buffers, then sand and polish the headlight lenses until they look brand-new. Sanding and polishing needs to be done slowly, methodically, and patiently; otherwise, you're just going to scuff the headlight lenses. Botch this job, and you just might need to buy some brand-new headlights in the end. If you're like me and you're better at telling somebody how to do something rather than doing it yourself, I suggest you have the sanding and polishing done by a competent body shop.
Once the headlights have been sanded down and polished until they look brand new, you now need to give it UV protection to make it last. There are a few ways to do this, each of them varying in terms of costs and longevity.
What can keep plastic headlight lenses looking new
1) Spray-on UV protectant
There are spray-on UV protective coatings that are available at car-care shops for a couple of hundred pesos. You can spray some of this UV protectant on, let it dry, wipe off the excess, and perhaps apply a second coat. However, store-bought UV protectants only last a few months. You need to reapply regularly and periodically.
2) Clear coat
Clear-coat paint sprays are available just about everywhere, some for less than P100. These you can apply to the headlights to keep them from oxidizing, or you can have an auto shop spray your newly buffed headlights with clear coat. Itt will last more than a year, maybe even a couple of years. But despite its name, clear coat will diminish the optical clarity of your headlight lenses. To the naked eye, they'll look fine, but once you have light going through them, you will notice that the light is not as sharp as with lenses that have not been given a clear-coat treatment.
3) UV protectant clear film
This is the option I would recommend. There are many shops these days that offer vinyl wraps for cars. Most of them also offer clear UV protectant film for headlights. It's like the tint used on windows. Your headlights get measured, then a piece of film is cut to spec, and stretched and applied over the lenses. Some of these films have warranties against yellowing and clouding for up to 10 years. What's even better is that some shops offer complete packages where they'll sand, polish, and buff your headlight for you. You drive in with cloudy, yellowing headlights, and for a few thousand pesos and an hour or two of your time, you drive out with your headlights looking brand-new.
I would also recommend applying this film to brand-new headlights as a preventive measure against oxidation. I would even recommend them for old glass headlights because they offer a level of protection against breakage from stones and pebbles. If you're interested in this kind of protection, there are many car shops around the city that offer these products and services.