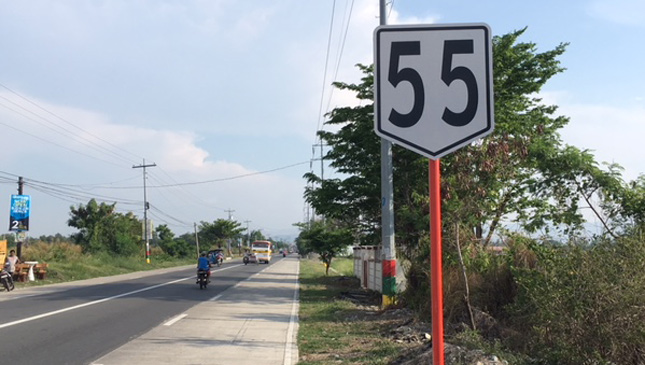 Picture this scenario: You are driving along a provincial road at around 60kph--a reasonable speed, given the conditions and the law. Suddenly, you are pulled over by municipal police who allege you are driving above the speed limit, which they claim is 55kph, as denoted by a white sign marked '55' in a black downward arrow on the side of the road (see photo above for reference).
You stare puzzlingly back at the officer, not knowing what to say because you didn't even know what that sign meant. It's easy to see how confusion may arise. Could it be the speed limit as alleged by the police officer? Could it be just a private sign put up by someone? The ambiguity is prevalent and therein lies the problem. Let's now discuss what it's supposed to mean, and what the implications of such signs are.
Continue reading below ↓
Recommended Videos
Back when there was no set of uniform traffic signs and symbols, these could mean absolutely anything. This is why in November of 1968 the United Nations Economic and Social Council drafted and agreed on what has come to be known as the 1968 Vienna Convention on Road Traffic and Road Signs and Signals. Its aim was to completely standardize the signage of signatory nations (of which the Philippines is one) into a uniform set of symbols, allowing for anyone driving in any country to decipher what signs meant, regardless of any language barriers.
In a sense, it became the international language of the road. Such was its importance that then president Ferdinand Marcos ratified the convention in Presidential Decree No. 207, making the Vienna convention part of the law of the land.
The convention mandates that all road markings remain uniform. As an example, speed limits are to be denoted by a black number with a white background, surrounded by a red circle (see illustrations below).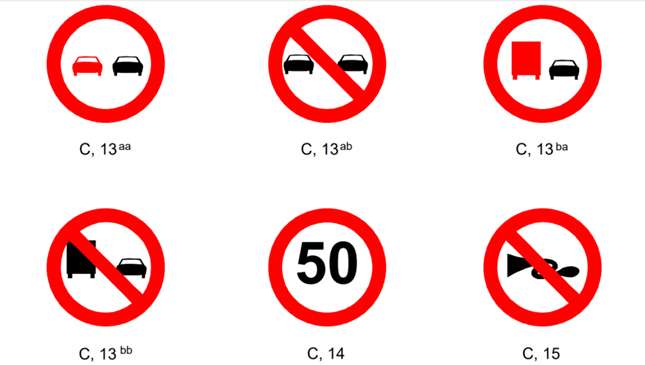 So what does this mean? This means that despite the best efforts of the officer that caught you, the sign above cannot be considered, in any way, a speed limit sign. In fact, this black number on a white sign is merely a highway designation. According to Anna Mae Lamentillo, chairperson of the Build Build Build Committee of the Department of Public Works and Highways, it is the official designation of the National Primary Road from Dagupan to Tarlac (N55).
What about those signs that read AH26 (see photo below)? AH stands for Asian Highway, a regional transport cooperation initiative by the United Nations Economic and Social Commission for Asia and the Pacific whose sole purpose is to coordinate the development of the international highways in Asia as a tool to facilitate international trade and regional integration. AH26 is the route number given to the Philippine segment of the highway network.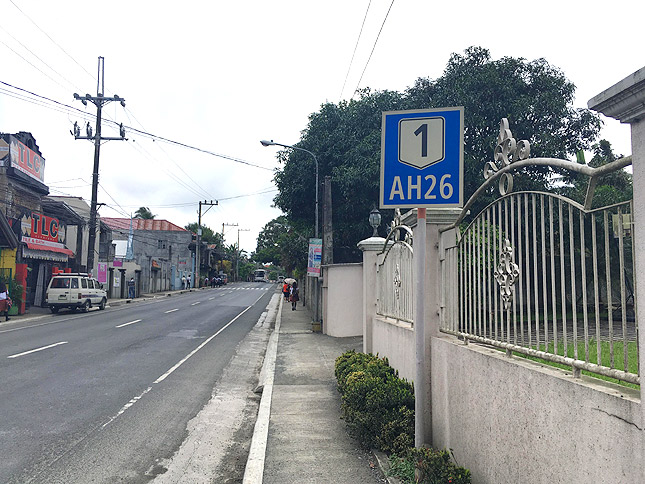 So now that you know the difference between these and the standard road signs, just remember a simple rule: Prohibitory signs are enclosed in a red circle. Anything else is not and cannot be considered a speed limit, no matter how hard the officer that pulls you over tries to dress it up as one.
For hassle-free motoring, familiarize yourself with local ordinances in the places you will be passing, as some local government units have their own rules for speed limits and other traffic related prohibitions. Don't even get us started with the convoluted mess that is color-coding. That's a whole different monster entirely.