The two-lane roads going up to Angono, Rizal from East Bank Road wind up, gradually scaling, dipping occasionally, only to continue putting distance and elevation between my destination and the centers of Metro Manila. The breeze up there is a few degrees cooler, even under a midday sun. Surrounded by a sea of gray road, greenery, and red earth, it's easy to forget that the hustle and bustle of a major metropolis is a stone's throw away.
Jenny Enopia, 49-year-old mother of two, makes her humble home in these parts. A former security guard at De La Salle University in Taft (serving from 2003 to 2017), Enopia opened her arms and home in March to a famous resident of DLSU—Archer the cat.
For those of us who live under a rock (me included), Archer is the recently (and literally) graduated mascot of the university; one of the many cats that calls the DLSU grounds home. The ginger feline is cared for by the DLSU-PUSA (Professors for the Upliftment of Society's Animals) and its self-proclaimed 'Pusaporters'.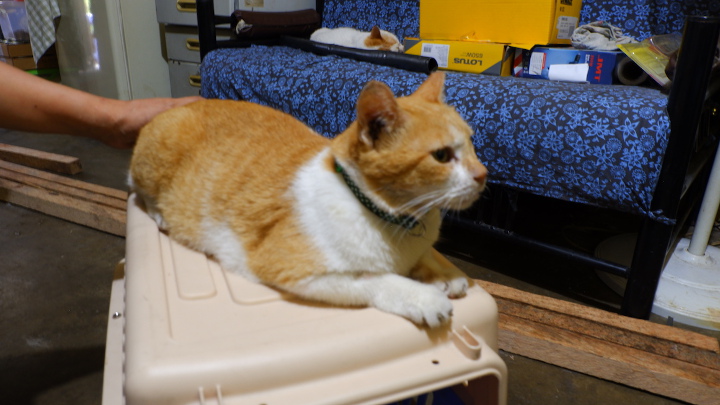 A cat lover since her childhood days, Enopia would take in pusakals (which is short for pusang kalye, or street cat in Filipino) and care for them, a habit she developed in elementary school and continued into her work life. "Wala pa akong mga anak noon, may pusa na 'ko," she said. So when she and Archer first crossed paths in 2013 at DLSU's Henry Sy Sr. Hall, she quickly bonded with the two-month-old kitten (who she at first nicknamed 'Yanyan'), informally becoming his adoptive mother. She remains one of the few who can pet and carry the sometimes moody cat without getting scratched or bitten.
Continue reading below ↓
Recommended Videos
 The distance separating DLSU from Enopia's home in Angono is roughly 30km. In 2008, tired of the lack of commuting options to and from work, she got a motorcycle and became a rider with the help of her husband. At first, driven by concern for her safety, the idea of quitting her job instead of risking commute via motorcycle arose. Gently dismissing the thought and determined to see this option through, she said: "Pag binigay ni Lord ang bagay na hinihingi mo sa kaniya, kung talagang para sa 'yo, para sa 'yo 'yon…. Kahit na nasa loob ka nga ng bahay, kung oras mo na, mamamatay ka talaga."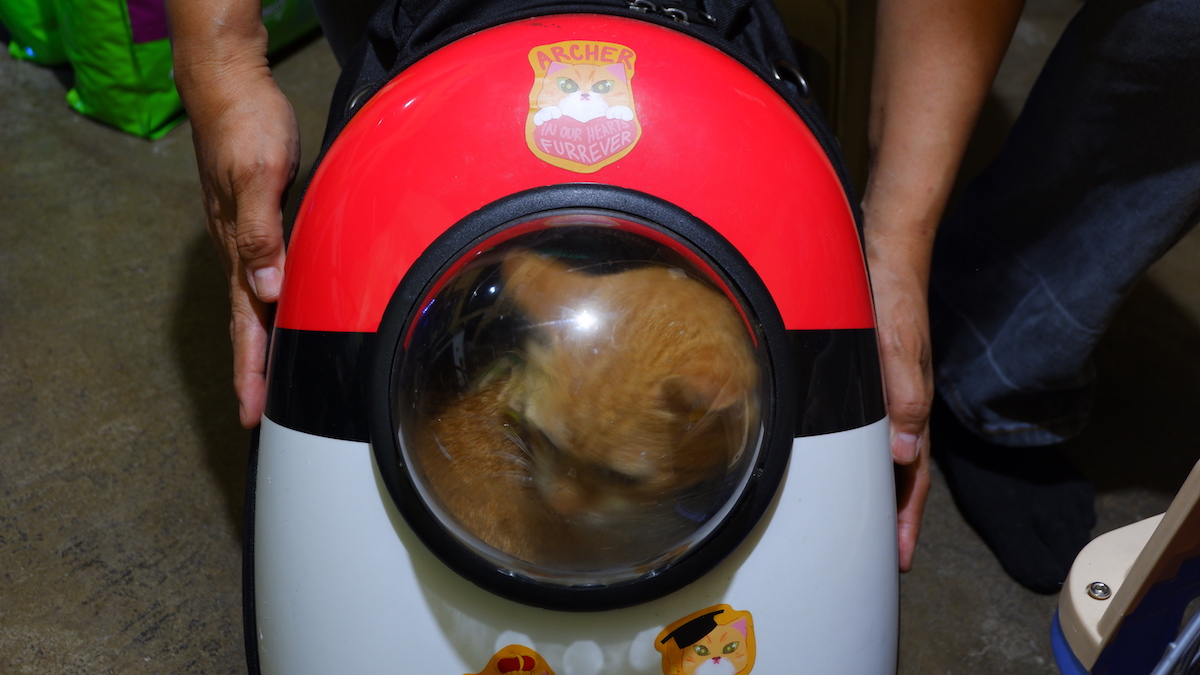 From August 2008 to July 2017, Enopia used her trusty Honda Wave 125 to get her to and from work. She started every morning for nine years—from Monday to Saturday—the same way. Waking up at 3:30am to leave for work by 4:30am, and arrive in time for her shift at 6am. When the shift ends at 6pm, she rides her semi-automatic motorcycle back up to Angono. She gets home about three hours later, the travel time varies depending on her errands along the way.
One Saturday morning in March 2017, she experienced an accident that caused her to resign from work unwillingly. "Pagdating ko sa labasan, bago ako kumaliwa, hindi ko na nakita iyong daan. Talagang blackout. [Naramdaman] ko na lang na bumagsak ako sa [bangketa]. Buti na lang walang sasakyan na tumama sa 'kin." The long commute home, which used to take only one and a half hours a few years back, had become too tiring. The doctor she saw for a mild fracture in her foot told her that what she went through was a side effect of exhaustion and lack of sleep.
Resigning from her security job meant that Enopia had to say goodbye to Archer. She remembers saying goodbye by placing the cat on the security booth's counter and making promises to visit. She knew DLSU-PUSA would take good care of the tabby but still jokingly offered to adopt the cat. "Malabo na mangyari 'yon kasi 'yan ang mascot nila," she said.
It came as a surprise when one of the members of DLSU-PUSA reached out to her about adopting Archer. They opened up to her about Archer's kidney problems and fatty liver, which needed more intensive care. She accepted the offer and brought Archer home along with generous donations from DLSU-PUSA.
Even when she was still a security guard, she worked hard to balance her roles as mother, pet owner, and employee. Before leaving home, she made preparations and gave her cats (now four including Archer) fresh food and clean water. On the road, she keeps a level head and pace, taking care not to overspeed or hurry.
Last Thursday, as part of her adoptive cat mom duties, Enopia took Archer to the vet on her motorcycle in a custom cat backpack. Because of her dedicated love for Archer, his liver is now back to normal and his condition continues to improve.
For her care (which extends even to animals), we greet Jenny Enopia (and of course the many caring moms out there) a warm Happy Mother's Day!