Okay, we already see you raising a white flag and giving up on Metro Manila traffic. Now you're beginning to weigh your other options to get around: motorcycle or bicycle?
We all know motorcycles give you more speed. Bicycles, while slower, guarantee a healthier lifestyle and a cleaner environment. More pros and cons: Motorcycles, since they have engines and electrical components, can be more costly to maintain, but if you're on a bicycle, you might end up bullied by other road users coming from behind because you're moving too slowly. Oh, and motorcycles emit noise while bicycles operate in silent mode.
So, what's your pick?
If you're having a hard time deciding, a German mobility company says it can give you the best of both worlds in one innovative package.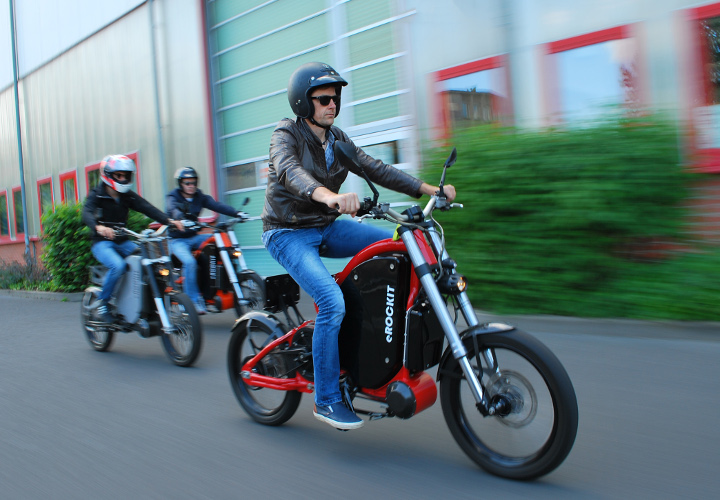 Continue reading below ↓
Recommended Videos
Meet eRockit, whose bikes are now the talk of the town in many parts of Europe. The company refuses to call its product an 'electric motorbike,' although the two-wheeler draws energy from lithium batteries.
Instead, eRockit says its offering is a 'human hybrid' model that runs on an electric generator system and human muscle power combined. To achieve the performance of a traditional motorcycle, the power from the rider's pedal-pushing is multiplied by the compact electric generator mounted on the mid-frame of the unit. The company adds that the bike's battery pack still needs to draw power from charging stations.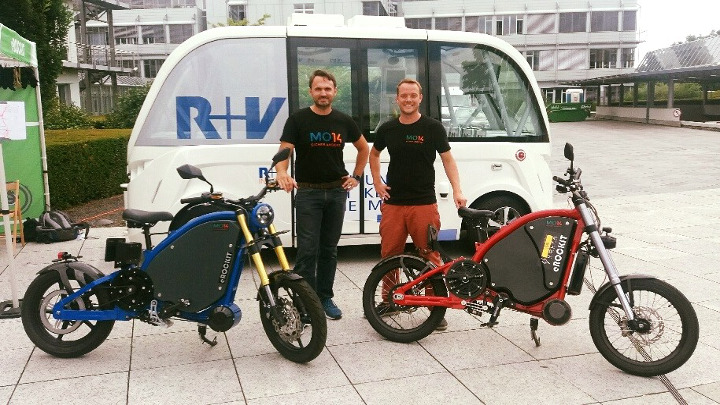 What makes the eRockit bike unique from other e-bicycles, e-scooters and e-motorcycles now flooding the market is its ability to amplify or enhance the available power with the use of pedals. In other words, the rider still needs to continue pedaling for the bike to move, and the unit could speed up by quite a bit from the additional power provided by the generator.
According to the official website, the eRockit bike can reach a top speed of 80kph and is capable of traveling about 120km on a full charge. It also emits minimal noise.
If you observe the photos here, the configuration of the eRockit bike highlights the combined features of a bicycle (pedals, single seat, and large chassis) and a motorcycle (large tires on alloy wheels, big inverted fork, robust frame, large round headlamp, and a full-size front brake rotor). This two-wheeler is operated like a basic bicycle, although it can outrun regular electric bikes, with its maximum power output ranging from 250W to 500W.
eRockit started in 2009, and over the years, it has subjected its hybrid two-wheelers to testing in real-world conditions. In recent years, it has been winning awards for its revolutionary mobility system.
The eRockit bike definitely looks more costly than a regular e-bike because of its unique technology. And yet we would not be surprised if some Pinoys purchased it not only because of its innovative specs, but also to make a statement. But here's the big question: Will eRockit's hybrid bicycles find their way to the Philippines?